Jennifer Lopez just shared her skincare routine and it's surprisingly simple
Ever wondered how JLo's skin looks so good? Wonder no more, thanks to JLo Beauty...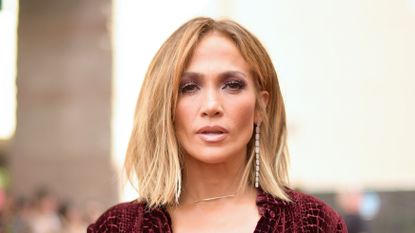 (Image credit: Matt Winkelmeyer / Staff via Getty Images)
It's no secret that Jennifer Lopez has incredible skin. So when we found out she was launching her own skincare line, JLo Beauty, we sat up in our seats a little.
A few months ago, she gave fans a sneak peek inside her skincare night routine with a video posted to Instagram, in which she removed a full face of make-up and talked through her evening skincare routine.
This week, she took to Instagram again to share her morning skincare routine. And it's only four steps long. We break them both down for you here.
Inside Jennifer Lopez's morning skincare routine
J. Lo starts with her brand's That Hit Single gel-cream cleanser (opens in new tab). "The morning cleansing is really, really important to set your face for the whole entire day," she says in the video.
The next step covers what we're all likely wondering: how does she get that glow? Apparently, through the That JLO Glow serum (opens in new tab). "People go, 'How do I get that glow, how do I get that glow?' I put it in a bottle and say, 'Here, there it is," she says while rubbing it into her skin. "This is like vitamins for your face."
Third up is That Big Screen sunscreen (opens in new tab), or what Jennifer calls "a secret ingredient." She tells viewers that from the time they're very young they have to wear sunscreen to preserve their skin. This sunscreen doubles as a moisturizer and was designed to use under makeup.
Finally, she takes a That Inner Love (opens in new tab) supplement. "Skincare is an inside job," she says.
Inside Jennifer Lopez's evening skincare routine
To start off her evening skincare regime, JLo uses her That Hit Single Cleanser ($38 (opens in new tab)), a gel/cream formula that removes make-up and rinses away to leave you with soft and healthy-looking skin.
Next, JLo applies her That JLo Glow Serum ($118 (opens in new tab)), which is designed to hydrate, tighten and brighten the complexion. "Every one of our products leaves you with a little bit of a glow when you're done," she explains. That's right, the woman has quite literally bottled her signature glow for us mere mortals, admitting that she sent the formula back to the lab 23 times until it was perfect.
Last up in her routine is a good moisturizer in the form of That Big Screen ($54 (opens in new tab)) by day and That Blockbuster ($58 (opens in new tab)) by night. "One of my secrets to, I think, keeping me as youthful as people like to say I look, I believe is from SPF 30 and using it every single day as my moisturizer," JLo explains. "I've done it since I was in my early twenties without missing a day." Watch the video in full for yourself below.
What are the JLo Beauty products?
Due to everyone wanting a piece of the JLo glow, orders are already delayed because of the high demand, with some products not shipping until the end of January. So you'd best get your order in the queue now if you want to get your hands on JLo Beauty any time soon.
Happy glowing!
Rebecca Holland is a travel and food writer based in Chicago. She has written for the Guardian, New York Times, Architectural Digest, Food & Wine, Wine Enthusiast and more. She is currently a graduate student at Northwestern's Medill School of Journalism. When not working, you can find her eating her way through Chicago's neighborhoods, or in non-pandemic times, traveling around the world.