The brand used to prep First Lady Jill Biden's skin for her first White House interview
The skincare brand is also loved by Jennifer Aniston, Demi Moore and Victoria Beckham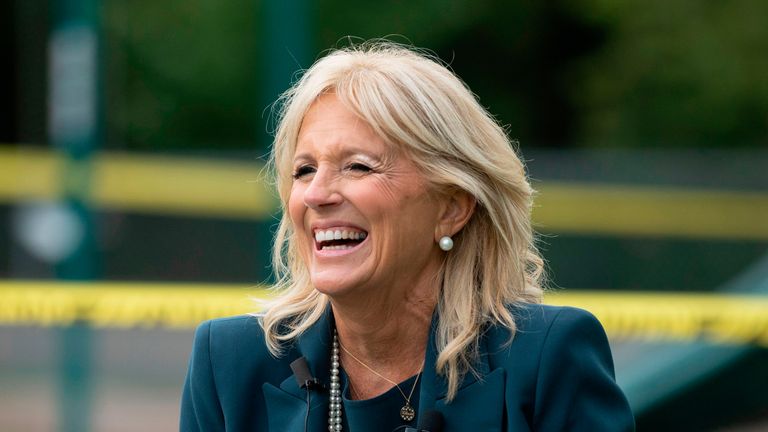 (Image credit: JIM WATSON / Contributor via Getty Images)
Last week saw the release of President Joe Biden and First Lady Dr Jill Biden's first interview since they entered the White House in the latest issue of PEOPLE.
Dr Biden has already made history as the only First Lady to have a job during her time in office, while this was the secret meaning behind her inauguration corsage.
And now, the luxe skincare brand behind her beauty look for the cover, which was created by make-up artist Casey Geren, has been revealed. 
Other celebrity fans of the brand include Jennifer Aniston, Demi Moore, Victoria Beckham and Priyanka Chopra, to name but a few – so it's clearly a big hit with the A-list.
More from woman&home:
The brand in question? None other than British skincare brand 111SKIN.
"111SKIN has had the privilege of being included in the self-care routines of many famous and accomplished women," said the brand's founder Eva Alexandridis, "but to be a small part of the day for First Lady Biden was a particularly poignant and meaningful moment for us."
Meanwhile Geren said of the day, "I love the products and was very excited you all wanted to be part of it!" Keep reading for the three 111SKIN products he used on the First Lady's skin.
Shop the 111SKIN Products used on Dr Jill Biden
Admittedly it's not the cheapest skincare brand on the market, but hey, if it's good enough for the First Lady...
Are you already a fan of 111SKIN?