This 'miracle in a bottle' castor oil has received thousands of 5 star reviews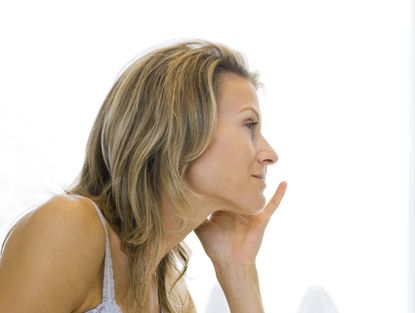 Reviewers are going wild for Kate Blanc's organic cold pressed castor oil which promises to stimulate the growth of eyelashes, eyebrows and hair.
Attempting to lengthen eyelashes is a key part of a lot of people's beauty regimes but how many of us have a bottle of castor oil in our make-up bags?
Well you might be adding this dreamy product to your shopping list in the very near future when you hear the reviews.
MORE:10 alternatives to invasive cosmetic surgery
Kate Blanc's organic cold pressed castor oil only costs $9.99, and is easily shipped to the UK, so we'd say it is worth a try.
If you're wondering how you go about applying the oil, which you'd imagine could be quite messy, we have good news. The oil comes with an eyebrow and eyelash kit to allow for simple and easy application. Suddenly it's even more appealing!
One reviewer described it as a 'miracle in a bottle' and said, 'I had almost no lashes when I started using this product a month ago, and now, I have been accused of using false eyelashes! I had brittle and short eye lashes, and now I have full thick lashes! I applied this product at night religiously (It also removes residue when applying if you use waterproof mascara) for 30 days and the difference is profound! Even my husband noticed!'
Another customer said, 'Awesome for skin, lashes and brows. I've been using it nightly for 6 years, consistently, and the results speak for themselves. I'll always use castor oil.'
The benefits don't end there, however, with the product also claiming to help with acne and brittle hair.
One person said, 'Great product ! It's pure and can be used to improve many things, very happy with my purchase! I use it on my hair for dry and brittle ends, eyebrows, eyelashes for growth & skin for a silky smooth touch .. It's amazing I recommend this product, fast shipping too!'
Another very happy customer said, 'I bought this oil to help with some scar tissue development after my son was born. It has helped deplete the tissue and I feel back to normal! In addition, I've used it on my lashes and eyebrows to stimulate growth, and although I'm usually a skeptic, I have to say I've noticed a difference.'
A final person said, 'This product has not only lengthened my lashes - but also has thickened them and made them BEAUTIFUL. I am also trying to grow out my brows and it has made that a breeze! Note: a little bit goes a LONG WAY.'
You can buy Kate Blanc's cold pressed castor oil from Amazon. (opens in new tab)
Will you be joining the hype? It's hard to resist after reading the reviews!