15 of the best autumn fragrances to make you feel warm and cosy all season long
These autumn fragrances smell so good, you might just want to wear them all year round.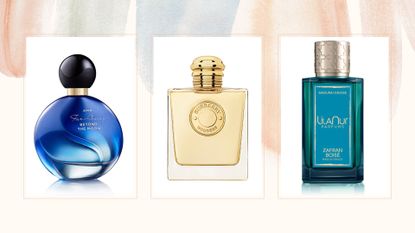 (Image credit: Future / Stephanie Maylor)
If you subscribe to the notion of seasonal scents, then autumn fragrance marks a shift towards richer, sultrier blends, peppered with creamy, spicy, smoky and gourmand elements. One spritz of these autumn aromas will evoke the quintessential cosiness of the season, like being swaddled in a chunky knit blanket. Mmm.
There are, generally speaking, two types of people: those who cling to summer, mourning the end of Aperol sundowners and long sunny weekends by wearing flip-flops well into boot season. And then there are those who practically vibrate at the prospect of sweater weather, pumpkin-spiced lattes and cosy evenings spent watching The Holiday (it's never too early IMO!). One look at our team's bulging coat cupboards will tell you we're 'Team Autumn', but even those forever-summer babes must yield to the universal urge to ditch their best fruity perfume and other such scents for summer in favour of something a little deeper and sultrier as the clocks go back. "Christian Dior once famously said that, 'Fragrance is the ultimate fashion accessory; you are never truly dressed without a fragrance,'" says Carl Groenewald, Dior Parfums UK Ambassador. "As we change the clothes we wear, we too can change the fragrance we wear to suit the seasons." Jo Malone CBE, founder of Jo Loves agrees. "If you wear a beautiful linen shirt in summer, it requires a different scent to you wearing amber-coloured cashmere in winter. It's wonderful to take your fragrance up a notch and add a bit more spice or heaviness to mimic the fabric and time of the year."
This autumn, we're pleased to report there's an abundance of gorgeous fragrances to, well, fall for. Whether you want to revisit autumn's archetypal classics, or update your signature scent with one of the blockbuster new launches from big-name brands, scroll through our selection of the best autumn fragrance finds that will keep you warm this season.
15 autumn fragrances, as chosen by our beauty team
Why you can trust Woman & Home Our expert reviewers spend hours testing and comparing products and services so you can choose the best for you. Find out more about how we test.
New-season launches
LilaNur Parfums Zafran Boisé EDP
RRP: £225 / $285 for 100ml
Honey, incense and aromatic spices like cinnamon may sound a little, dare we say, festive, but the reality hints more towards late summer evenings with a touch of bonfire night thrown in for good measure. We like the smokiness – it's warm, not bitter – balanced by sweet touches like honey and dried rose petals, which interestingly reveal themselves more as the fragrance wears on. Every time we have worn this over the last fortnight, we've received a compliment. A nose-catching autumn fragrance that makes for one of the best perfumes for women and men alike.
DKNY Be Delicious Orchard Street EDP
RRP: £37 / $51.10 for 50ml
If you find heavy fragrance for autumn as unwelcome as pumpkin-spiced-everything, we've got the light yet seasonally appropriate scent for you. The latest Be Delicious incarnation starts off fruity and bright, opening up into cool, sweet jasmine, before a soft mossy, leatheriness kicks in. If you tend to go against the beauty grain (highlights in summer? No thanks, I'm going brunette!) then this will appeal. Think of it as a sort of entryway into the season – straddling the bright and breezy vibes of summer and the cool, crispness of autumn.
Avon Far Away Beyond the Moon EDP
RRP: £16 / $20.44 for 50ml
A 50ml eau de parfum for less than £20? Yes, you read right. Avon – the masters of affordable fine fragrance and the best cheap perfumes – have done it again, with a distinctly autumnal white floral fragrance. Created using a higher concentration of fragrance oil, it certainly packs a punch in terms of projection and longevity. Although also one of the best floral fragrances, the difference between this and Dior's is day and night. Literally. Beyond the Moon centres around belle de nuit flower – a nocturnal flower that blooms by the light of the moon. It's richer and creamier, vanilla-y with a lingering layer of sandalwood.
Jo Loves Amber Lime & Bergamot A Fragrance Parfum
RRP: £115 / $155 for 100ml
You can always count on Jo Loves to concoct a classy little number. For the die-hard Jo Malovers out there, let's play a little aroma association. If Pomelo is high summer, sunkissed skin, la dolce vita, then Amber Lime & Bergamot perfectly encapsulates the transition to autumn. The intoxicating combination of fresh citrussy bergamot and mandarin intertwined with the warmth and elegance of amber, cedarwood and suede hark to those still-warm autumn evenings. Like LilaNur, it's a unisex scent, and an impressively long-lasting perfume. We could still smell it on our skin after showering, which was a welcome treat.
Viktor & Rolf Good Fortune Elixir
RRP: £97 / $133.90 for 50ml
We're obviously being lured in by some savvy marketing – whether that's the potion-esque bottle, the faceted, amethyst-inspired cap or even the name itself – but there's something bewitching about this autumn fragrance. As an elixir, it has a higher concentration of oils than the original eau de parfum, which means this is an absolute beast when it comes to projection and staying power. As for the ambery fragrance, we can't imagine anyone disliking it. The first spritz is sparkling and sweet, almost bubblegummy. After a minute, that gorgeous jasmine comes to the fore, and then what's left is creamy vanilla and lingering sandalwood, perfect for after-dark seduction.
Dior L'or de J'adore Perfume Essence
RRP: £144 / $170 for 50ml
One for luxury lovers. If you have the cash to flash or want to treat a loved one, this is the perfect floral for autumn. Director of Dior Fragrance Creation, Francis Kurkdjian sought to isolate and pick out particular J'adore flowers – orange blossom plays a big role, as well as plush jasmine grandiflorum and centifolia rose absolutes. Compared with its J'adore and L'or predeccessors, smelling this is like wearing a blindfold - everything about the fragrance is heightened, tightened and intensified. If you don't normally do florals because you find them too sweet or powdery, you'll be pleased to know this essence is warm, sensual and certainly feels more modern than your average flower-forward fragrance.
RRP: £135 / $160 for 50ml
Rose perfumes are the Marmite of the olfactory world. They're not usually our bag but we have to admit, this is one of the loveliest ones we've ever smelt. Inspired by the idea of a rose garden at dusk, it's elegant, a touch spicy and almost gothic. Exotic roses are given a nice thwack of white pepper and a mossy undercurrent to keep things earthy and fresh. On a purely superficial level, it looks rather lovely too. Anything that doesn't subscribe to the roses = pink bottle mandate immediately earns maximum cool points from us.
RRP: £91 / $105 for 50ml
Gourmand fragrances, which use notes that smell almost-edible, feel most at home in the colder months. This one centres around a trio of vanillas (a woody vanilla infusion, vanilla caviar and vanilla absolute, in case you were wondering), which feel fitting for a season of bountiful gluts. If vanilla, three-ways sounds a bit cloying, fear not – the effect is creamy, not sickly-sweet, and the lavender brings some nice freshness to the base. It's one of the best lavender perfumes for anyone who wants a nod to the note without smelling like a sleep spray. It's also certainly addictive. P.S. This is the first refillable perfume from Burberry, which also deserves some eco props.
RRP: £80 / $90 for 30ml
A Pina Colada top note sounds distinctly summery, but dark, aromatic sandalwood keeps things nicely balanced and ups its suitability for autumn wear. Another gourmand fragrance, Rise includes a little more foodie variety – and sweetness – than Burberry Goddess. Here pineapple intertwines with toffee. For us, that initial coconutty hit provides some much-needed escapism, a nice bonus when summer holidays are well and truly wrapped up. Close your eyes, spritz and you might just feel as if you're poolside, cocktail in hand.
Autumn fragrance classics
RRP: £92 / $130 for 50ml
Plenty of autumn fragrances describe themselves as addictive but this genuinely offers us the same dopamine bump as our top daily vice, because guess what? It smells like coffee. More like a sweet mocha than a 8am black americano, but if you like a brew, chances are you'll find this as moreish as we do. It's got heady florals and vanilla to balance things out, and is distinctive enough that people will probably know what you are wearing. While the glitzy bottle has an air of the night about it, we find a spritz offers a nice energy kick on gloomy mornings.
RRP: £140 / $205 for 50ml
Byredo founder Ben Gorham never just makes perfume, he creates concepts. This sounds a little pretentious but we Beauty Eds lap that kind of thing up. And even if you don't, just know that this brand never puts out a duff scent. This is described as being like the "last perfume on earth" with a distinctly Eastern-inspired cocktail of fig, Sichuan pepper, resins and plum. Whenever we wear this it gives us wood and spice overload, bringing to mind bonfires and incense, which does feel a bit end of days. But also just like a truly excellent, distinctive autumn scent.
Jo Malone London Cypress & Grapevine Cologne Intense
RRP: £106 / $124 for 50ml
Instead of the usual warmth, this autumn fragrance feels a bit chilly. Specifically, like walking in a forest, taking lungfuls of crisp air. It's green and bracing without relying on citrus for freshness, which is clever. As a cologne intense, this is more luxe and long-lasting than other Jo Malone scents. It's one of the best Jo Malone fragrances, if you ask us.
Escentric Molecules Molecule 01 EDT
RRP: £45 / $85 for 30ml
Not strictly an autumn fragrance (we wear it all year round). But it does come into its own during chillier months when the Iso E Super ingredient that reacts with your body to create a unique smell seems to kick into high gear. It smells different on everyone, but many find it musky, woody, and enduring for an EDT. Don't expect fireworks, it's nicely low-key, but others will notice it, so definitely do expect people to ask what it is.
Chanel Coco Mademoiselle EDP
RRP: £99 / $135 for 50ml
This was the fragrance our Beauty Editor wore going into sixth form. It was the fragrance she wore when she met her now-husband at the start of Year 13. It also was the fragrance she wore on their wedding day 10 years later, almost to the day. So it will always carry back-to-school vibes. Sparkling citrus top notes and a rich, sensual medley of deep patchouli, vanilla and white musk make this a classic ambery scent that feels so right for autumn.
D'Orsay Fragrances Dandy Or Not G.A. Eau de Parfum
RRP: £110 / $124 for 50ml
A relative newcomer to our collection, this comes from a heritage French brand (Est.1830) and we're so glad it's arrived on our shores. D'Orsay's 16 gender-neutral scents are all worth a sniff, but this is our favourite, marrying hazy 'last days of sunshine' vibes with sexy spice and notes including grapefruit, black tea, cardamom, and leather. This may be under the radar now, but we doubt it will be for long. Our advice? Get in and make this your signature scent before everyone else discovers it.
How we tested the best autumn fragrances
This list is split into two categories; new discoveries for autumn 2023, and our all-time favourites. This means each and every one of these autumn fragrance offerings has either been worn by one of our team for months, if not years, or (in the case of the newbies) at least a day or two, to test how they wear, dry down and how long they linger on the skin.
They have also been assessed on price vs strength, as there's no fair comparison between eau de toilette vs parfum. And of course, we have had to take into account those all-important aesthetics, dressing table-worthiness, and, as we gear up for the festive season, their unique giftability.
What fragrances are good for autumn?
"For the autumn and winter months, l prefer a more sensual fragrance," admits Groenewald. "A fragrance that compliments the warmer clothes and materials, such as cashmere, that we may be wearing at this time of year." Groenewald suggests upping the perfume ante as the weather gets colder. "This could mean changing your signature fragrance from a light Eau de Toilette during the fresh spring and summer months to a warmer Eau de Parfum during the cooler autumn months and then to an intense Parfum during winter."
According to Rebecca Herd, fragrance expert from The Perfume Shop, the notes themselves denote seasonality. "We suggest changing your perfumes with the seasons based on the ingredients within the perfumes themselves. For example, in the spring and summer months you may go for a perfume with floral and fruit ingredients, whilst in autumn and winter you may want to choose a perfume with warming ingredients such as vanilla, amber and sandalwood," she says.
Does the changing weather affect how autumn fragrance smells?
"Heat makes a perfume's ingredients dry down quicker, meaning you would be able to smell the middle and base notes quicker as the top notes of the scent would be the first to react in the heat," explains Herd. In autumn, the opposite is true, so Herd suggests choosing something heavier than an Eau de Toilette. "Eau de Parfum or Parfum are made with higher concentrations of essential oils. These perfumes usually have a woody base note, such as sandalwood, cedarwood or Benzoin, which really last on the skin."
Jo Malone agrees. "When I am in Dubai and it's quite hot, the fragrance develops very quickly, whereas in autumn in London the water evaporates slower, so you need to be slightly more patient with your fragrance." The plus side, she admits, is that this means it will linger for longer.
What are the big autumn fragrance trends?
"Bolder and more intense fragrances are set to be trending for the cooler season ahead," reports Groenewald. Their aim, he says, is not to overpower, "but simply to attract more attention."
This power perfume trend is echoed in the types of fragrances that are gaining popularity, according to Herd. "Going into autumn/winter, we will see notes reminiscent of the '80s and early '90s, as we see more Parfums and Elixirs in the marketplace."
View the latest Look Fantastic discount codes from woman&home's voucher team to get some money off your fragrance purchases.
Sign up to our free daily email for the latest royal and entertainment news, interesting opinion, expert advice on styling and beauty trends, and no-nonsense guides to the health and wellness questions you want answered.
Stephanie Maylor is a Beauty Editor working across five national magazine titles, with almost 15 years' experience in the industry. She has written for many brands, including woman&home, Grazia, Now, More!, Fabulous, NW, Woman, Woman's Own, Woman's Weekly, Essentials, Best, Chat, and OK! online.
In 2010 she launched her own beauty blog, which was shortlisted for Best Beauty Blog in the 2011 and 2012 Johnson & Johnson Beauty Journalism Awards. She has interviewed many high profile industry experts and celebrities including Alesha Dixon, Twiggy and Christina Hendricks.