111Skin Space Defence Bright Eye Lift Gel review: perky eyes and a unique complex
111Skin Space Defence Bright Eye Lift Gel is your swish new way to cheat 8-hours sleep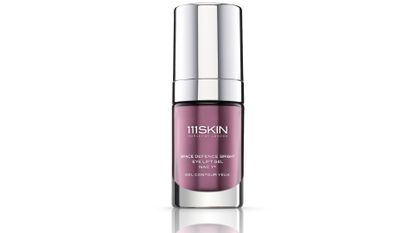 (Image credit: 111Skin)
Just like a gulp of coffee pings our brains into action, this caffeine infused eye gel uses a complex of skincare ingredients to refresh the eye area and brighten the skin around our peepers
Reasons to buy
+

Tightens and lifts

+

Helps brighten

+

Refreshes the skin

+

Reduces the appearance of puffy eyes
Reasons to avoid
-

It's expensive

-

Contains fragrance

-

Takes a while to sink in

-

Leaves skin a little tacky
When you find the best eye cream (opens in new tab), it's unlikely that you'll let it go. So, imagine our excitement when we finally got our hands on the cult 111Skin Space Defence Bright Eye Lift Gel. With a huge fan base, this is for people that want to tighten and lift the skin around their eyes, as well as reducing the appearance of tired and dehydrated looking peepers.
That's everyone right?
So, what is it like? Well firstly go easy, as you only need a tiny amount. The gel spreads quickly and gives you the feeling you get when you pop on a soothing eye patch. Skin feels instantly hydrated and almost glossy. It did take a long time to sink in, but we liked that as it enabled us to massage the area and remove water retention, which reduces the appearance of bags. Our skin felt a lot tighter, more lifted and genuinely looked brighter without the need for a smothering in the best foundation (opens in new tab).
However, the texture was tacky and we're not sure that using a caffeine-based eye product would be something we'd do every day, as well as night. Just like copious amounts of coffee can dehydrate the body, caffeine infused skincare can do the same to your skin. Ultimately, It's a short-term fix. The product contain lots of moisture loving ingredients to combat the drying effect of caffeine, but we'd personally save this as a treat for when we needed it most. If we could afford it.
111Skin Space Defence Bright Eye Lift Gel formulation
Specifications
Price: £110
Targets: Puffy, tired and ageing eyes.
Star ingredients: NAC Y2, Niacinamide, Caffeine and Vitamin B complex.
We have to be a little careful with exaggerated claims from skincare brands but there is no doubt that 111Skin Space Defence Bright Eye Lift Gel immediately improves the appearance of the eye area. This is down to the powerful NAC Y2 complex, which was originally formulated to help patients skin repair after trauma. NAC Y2 contains three ingredients that can improve antioxidant levels within our skin, and it is used in this eye cream to help reduce inflammation and boost radiance.
Another skincare hero that can't be questioned is niacinamide and this sits within the formula to reduce fine lines, dryness and pigmentation. Products that contain niacinamide are reliably some of the best eye creams for wrinkles (opens in new tab), too. You will also find caffeine, which is known to shrink the appearance of dark circles and puffiness. We personally wouldn't overuse caffeine in skincare, as we can find it to be drying, however it is worth noting that there are a lot of hydrating ingredients packed inside this cream that can counteract this effect.
Texture and Immediate effects
We loved its gel like texture, it smooths on beautifully, instantly cooling the eye area. It feels like you've applied one of those bio-cellulose eye masks - you know the gel ones you tend to pop on the morning after a shed load of wine? Even after staring at a screen for hours on end, our eyes still felt refreshed and a bit like we'd placed cucumbers over our lids, but they remained open.
You only need a tiny amount, which is good when a product like this is so expensive, it spreads really well and half a pump will more than do.
The gel does take a while to sink in, giving us time to massage the area and really work it into our puffy eyes (opens in new tab). This enforced massage will also be helpful for anyone who is never quite sure how to apply eye cream (opens in new tab) - you have no choice but to do it properly. Once absorbed it leaves a cooling effect and the skin looks more lifted, brighter, and eye bags appear smaller.
Who should buy 111Skin Space Defence Bright Eye Lift Gel?
If money is not an issue but tiredness is, then this is for you. The light yet hydrating formula could make this one of the best eye creams for wrinkles (opens in new tab), particularly if you also have oily skin and don't want anything too rich in the area. It also gives your skin an instant lift and cools down inflammation that can be caused by a lack of sleep.
All about beauty, Lydia House has been writing about creams and complexions for over a decade. Contributing to titles such as Women's Health, Grazia, Stylist and The Evening Standard, Lydia also uses her vast knowledge of the industry to consult leading health and beauty brands like Rituals, Tisserand and The Inkey List. Spending her working life obsessing over ingredients and formulas, Lydia believes that feeding your skin from within is just, if not more important, than the lotions you slather on. And even with a busy life and work schedule, she will always find the time to fit in a pampering session (or two).