Learn how to apply eye cream to get the most from your routine
Wondering how to apply eye cream for best results? Check out this guide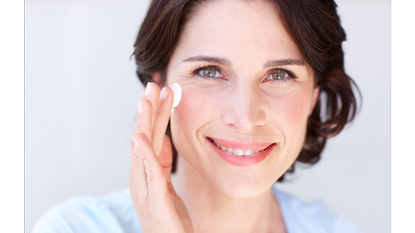 (Image credit: Getty Images)
There's something comforting in a routine, from knowing how to apply eye cream at the night's end to moisturizing before bed; it's as good for the skin as it is for the soul. However, it's all too easy to go on autopilot—such is the nature of routine. As a result, we might be unaware of the common application mistakes that we could be making. One such example is exactly how we apply product—your best eye cream, for example, around the eye area.
The skin around the eye is susceptible to a range of problems that include dark circles, crow's feet, and puffy eyes (opens in new tab). Additionally, as consultant dermatologist Dr Justine Hextall (opens in new tab) tells us, "it has fewer oil glands and is thin, so it is more vulnerable to dry skin (opens in new tab) and dehydration. The best eye cream can make the skin barrier less effective, which in turn makes the area more prone to irritation."
This doesn't necessarily mean that you need to use a specialist eye product though, she says. If your primary concern is dryness and you're using a fragrance-free moisturizer formulated for sensitive skin on the rest of your face, if you want, it can be taken up a notch and used around the eyes.
For most other skin scenarios, an eye cream is a safer and gentler bet as it's likely to have been created with the specific sensitivities of the eye contour area in mind. Meaning it's unlikely to include common irritants such as perfume—although you should certainly take time to carefully check its label and ingredients list before parting with your hard-earned cash.
Whatever option you decide to go with, here's your 5-point eye-cream application plan to help you achieve the best results.
Before you start: choose your texture wisely
Opt for lightweight formulas such as serums and gels. "Avoid heavy creams that just sit on the skin," recommends holistic therapist and facialist, Katie White (opens in new tab). "These can lead to puffy eyes in the morning." It's worth noting that if you're particularly prone to puffiness, it can be beneficial to try avoiding eye creams altogether in the evening. Be sure you're picking the eye cream that suits your needs too, whether its the best eye cream for dark circles, or finding the best eye cream for wrinkles.
If the skin around your eyes is especially dry (for example, in the winter), really focus on your ingredient selection. "Instead of overcompensating with too heavy a moisturiser, we should be thinking about how we hydrate the skin," explains Dr Hextall. "Be smart with it. For example, ceramides are great for strengthening the skin barrier and long-term hydration, shea butter is very similar to the fats in our skin, while hyaluronic acid holds up to a 1000 times its weight in water, which is great for attracting moisture. Adopt a multilayered approach."
1. Gently cleanse skin
To allow your product of choice the space to shine, the skin around the eye needs to be thoroughly but carefully cleansed. Before just going in to wash your face, over-cleansing is a common mistake that Dr Hextall sees regularly; she recommends opting for a non-drying milk and avoiding foaming options, which can be harsh and drying.
If you've been wearing makeup during the day, use a micellar water or specially formulated eye makeup remover before reaching for the richer hydrating cleanser (opens in new tab).
2. Apply eye cream first after cleansing
If you apply your other products before your eye cream, you risk them getting onto the eye area and preventing it from being fully absorbed.
Another benefit of applying a hydrating eye product first is that it can protect the eye contour from irritation caused by the stronger active ingredients in your skincare routine. "If you're using a prescription-strength retinoid for acne on your chin, for example, it may creep over to the eye area during the night," explains Dr Hextall. And it's not just what you intentionally put on your face; if you touch your eyes while sleeping, irritative ingredients in a hand cream could potentially transfer over. In either of these scenarios, eye cream can act as a sort of semi-barrier to possible discomfort.
If you're using an eye cream or a safe-for-the-eye-area face serum containing active ingredients—such as a retinoid or vitamin C—consider applying a hydrating eye cream or fragrance-free face moisturizer for sensitive skin underneath, as well as on top of it half an hour afterwards. This can lessen the sting of the actives and, if new to your regime, can help increase your tolerance to them.
3. Don't use too much, a pea-sized amount is fine
It's true how a little really does go a long way, so apply a less-is-more attitude when it comes to eye cream, as using too much can lead to puffiness. Blend your chosen product together using your fingertips and dot it onto the line of the orbit (meaning the bone that forms your eye socket, or the area that your sunglasses would usually cover).
4. Gently pat it on with your ring finger
On delicate skin you need a gentle touch. As, according to Katie, the ring finger is "the lightest finger," you should use this digit to "press, rather than rub, the product in."
For those of you who wake up with puffy eyes frequently, you can opt to (very) delicately massage your eye cream in to stimulate lymphatic drainage around the area. "Gently sweep skin from the inner corner outwards," recommends Dr Hextall. Follow up with a cooling eye pack if needed for an extra swelling-reducing boost.
Ayesha is a freelance beauty writer and when she's not contributing to woman&home she can be found writing about all things cosmetics, hair and self-care in her role as Senior Features Writer for Get The Gloss. She also writes a monthly hair column called 'Who, What, Hair' (which combines her love of puns and buns perfectly), in addition to a column exploring the new and exciting options now available for women of darker skin tones called 'Not Fair'. She's also been shortlisted for a number of awards including Best Online Beauty Journalist at the Johnson and Johnson Journalism Awards.