6 unforgettable winter holidays that aren't skiing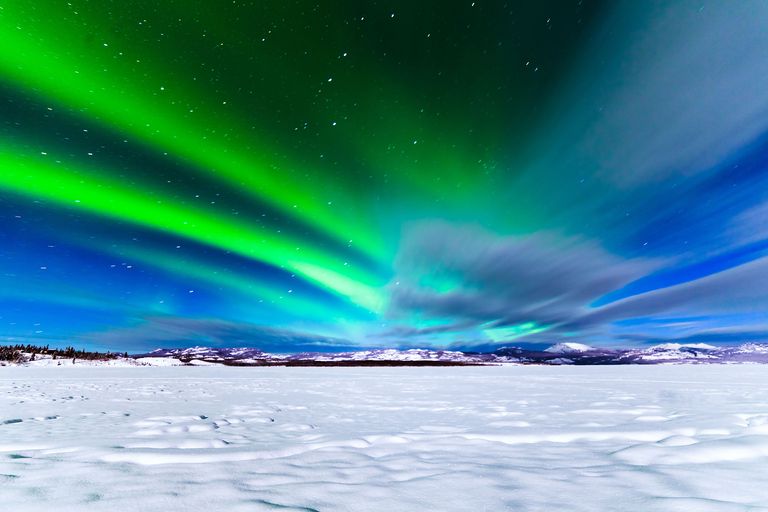 (Image credit: Alamy Stock Photo)
Not everybody wants to ski or snowboard, but that doesn't mean you shouldn't visit wintry locations during the colder months...
Here are the best non-ski winter holidays on offer right now.
1. Have an active break in La Plagne, the French Alps
Famous for its excellent ski runs, there's more to La Plagne than hurtling down a mountain on a couple of sticks. From escape rooms to spas, there's plenty for the non-skiers to enjoy. If you're still after a spot of adrenaline, you could try fat-biking cross country or even make use of the Olympic bobsleigh track and speed down slopes at 50mph.
For something more sedate, there's snowshoeing in all manner of landscapes, from rocky canyons to pretty alpine villages. For kids, there's lots to do – try the resort's new Land Rover driving experience for 11-17 year olds, and don't miss out on a husky sled ride with some energetic furry friends. Get more information on activities here.
More like this: The best places to go in DecemberMore like this: The best places to go in January
2. Explore Iceland's unique landscapes
'The Land of Ice and Fire' isn't just atmospheric by name. Iceland is one of Europe's most intriguing isles, with geothermal activity underground and volcanic craters still occasionally spewing out red-hot lava. Its black beaches are a unique sight, often found covered in chunks of ice that glow as the sun sets on the horizon, and the craggy cliffs and rock stacks are a dramatic view. Not to mention the numerous waterfalls that, come the colder months, tend to freeze over in an impressive display of icicles.
Explore this land with TUI, which offers three-night holidays to Iceland staying at the Storm Hotel on bed and breakfast basis from £426 per person when booked online. Price is based on two adults sharing and includes flights departing from Gatwick airport on the 1 December 2019 and transfers. More information here.
3. Explore Antarctica by ship
Always wanted to see one of the poles? Then book onto an Antarctic cruise this winter with Riviera Travel. It's technically summer down at the South Pole during the northern hemisphere's wintertime, but this is the best time to visit the Antarctic.
More like this: Amazing winter cruises to book for a dreamy escape
You'll fly into Buenos Aires and head down to Ushuaia, the city right at the tip of the continent, before boarding your vessel to cross the Drake Passage. The ship then sails onto the South Shetland Islands and the Antarctic Peninsula, where you'll hop off to meet penguins and seals, as well as see huge icebergs and glaciers in the ocean.
If you're feeling brave, take a dip in the icy cold oceans, visit a research station called Port Lockroy where just four people man the island each year, and head out on zodiac boats to seek out orcas in the water. Sadly, due to climate change placing the poles in grave danger, this is a once-in-a-lifetime experience.
The cruise departs 3 January 2020 and costa from £8,999 per person. Find out more here.
4. Take a wintry city break in Russia
City breaks aren't just for warm weather destinations. Russia has two very different, incredibly interesting cities well worth a few days each of your time – and in winter they are beautiful. Travel with Newmarket Holidays on their Moscow and St Petersburg tour and you'll get to explore these two enigmatic Russian cities with expert guides.
In Moscow, see Red Square, explore the Kremlin, snap pictures of the colourful St Basil's Cathedral covered in snow and take in a show at the world-famous Bolshoi Theatre, where the ballet might well move you to tears.
In St Petersburg, you can delve into art in the vast Hermitage Museum and stroll its atmospheric canals until nightfall. There's the option to visit Catherine Palace, too – an exquisite blue and white Baroque building with stunning artworks inside and beautiful gardens.
The tour departs throughout November, December and January and can be booked from £939 per person. Find out more here.
5. Have a Canadian adventure in the Yukon
Canada is one of the many countries on Earth that knows how to do winter really well. This North American nation really embraces the cold, and in the Yukon there's plenty to entertain when the snow sets in.
More like this: Active holidays for all abilities
Expect snowmobiling across gorgeous wintry landscapes (this province has thousands of acres of pristine wilderness to explore), snowshoeing for those who want to get active, and the Yukon's most famous pastime: dog-sledding. Huskies are the main form of transport up here at certain times of year and there are big races that take part over a matter of months and thousands of miles, so visit a centre where the dogs live and train, and take to the forests on a sled pulled by four to eight excitable pups.
For a more relaxed atmosphere, check into the Northern Lights Resort and Spa for some aurora spotting and a night or two of pampering. Winter has never been so chilled… Find out more about winter in the Yukon here.
6. Go to Gstaad for fairy-tale scenes
The Swiss mountain resort of Gstaad is as picturesque as it gets. The main resort, set 1,050 metres above sea level, is dreamy with wooden chalets surrounded by snow-sprinkled pines and numerous mountain peaks in the distance.
While it's one of the biggest ski resorts in the country, and has the longest season, there's plenty more to do here. Spend a day (or three) in the spa of one of the many luxury hotels; try horse-riding through the snow in beautiful Swiss countryside; or even opt for a hot air balloon ride to see it all from above.
Book into the Alpina Gstaad for a sublime full-service spa, great views out to the surrounding mountains and an outdoor heated pool.