14 alternative ideas for a girls' weekend away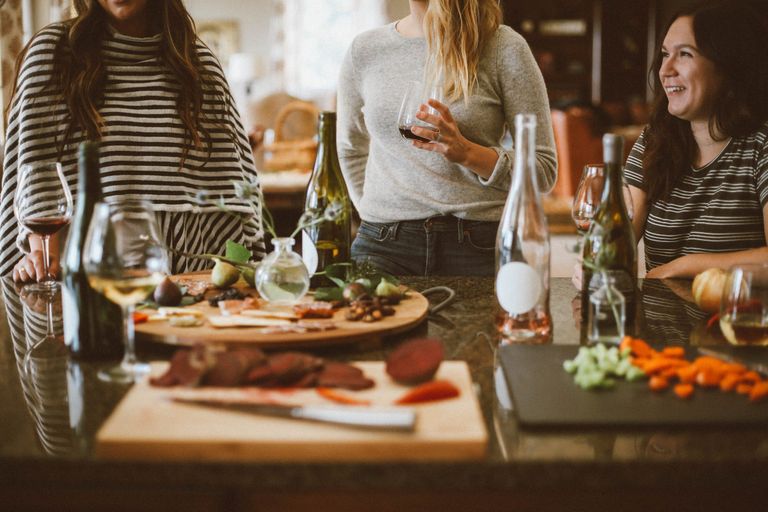 Your next girls' weekend away doesn't have to be like the rest... Try one of these alternative girls' holiday destinations for an unforgettable trip.
1. Visit a Dark Sky Reserve in the Channel Islands
So the British weather isn't known for being reliable for stargazing, but there's no harm in taking a punt and hoping for clear, sparkling skies on your next girls' weekend away. The tiny island of Sark, near Guernsey and Jersey, was designated the world's first Dark Sky Island in 2011 thanks to its serious lack of light pollution. This means, when the sun sets and the clouds part, there are millions of twinkling stars visible with the naked eye.
Should you not be so lucky with the weather, though, Sark is still a gorgeous place to spend your girls' weekend. It's tiny, car-free and unbelievably quiet when the day-trippers have gone home. Hire bikes and cycle along the island's main central road, explore it's tiny coves and beaches, and have afternoon teas or gin and tonics al fresco when the sun shines. We love Stocks Hotel for a long weekend stay – it's small but perfectly formed, with manicured lawns and a lovely outdoor pool.
More like this: 25 of the top staycation destinations in the UK
2. Book a London theatre break
With so many incredible shows on all year round, London is the ultimate location for a girls weekend away if you're a theatre lover. Whether you want a singalong musical, a dramatic play or a belting opera, there's something for everyone in the English capital.
More like this: The best theatre breaks in London
Favourites include The Lion King at the Lyceum Theatre, Wicked at the Victoria Apollo orThe Phantom Of The Operaat Her Majesty's Theatre. Book into a lovely restaurant for dinner, head to a show then finish with cocktails on a rooftop bar.
3. Get crafty in Toulouse, France
Get something more out of your girls' weekend away with a GoLearnTo trip to Toulouse. Their four-day jewellery making break is an ideal way to get your creative juices flowing while catching up with friends. You'll have two days of jewellery tutorial, using materials such as bronze and clay, and access to the jewellery studio to work on your own pieces.
Your home for the weekend is a beautiful 19th-century farmhouse, sitting among 50 acres of countryside in southwest France. Plus, you'll get to sample the delights of Gascony, a foodies' heaven with wonderful game meats like wild boar and exceptional French wines.
Read more: How to take your hobby on holiday
4. Set sail on a bite-sized cruise
Cruises don't have to be long-haul schleps. A girls' weekend away on a mini cruise is the perfect solution for groups with different interests. If you'd rather relax and while away the days with a good book, you can stay on board the ship, while those who fancy getting more active can disembark and head out for some sightseeing.
More like this: The best mini-cruises between 2 and 4 nights
Riviera Travel runs a brilliant five-day cruise to Amsterdam, taking in the famous tulip fields during growing season (between March and May) as well as the creative, quirky Dutch city. Sightseers should beeline for the Anne Frank House, a sobering exhibition on the girl's life and the plight of the Jews in WWII. For something more light-hearted, head to the Kattenkabinet – an art gallery in a classic Amsterdam townhouse focusing on paintings and sculpture all relating to cats. There are even a few resident moggies roaming around.
Read more: The 8 trips every woman should take in her sixties
5. Go island hopping on the Isles of Scilly
Step onto the Isles of Scilly and you'll immediately feel a world away from Britain. Flung off the far southwest coast of Cornwall, this archipelago has its own microclimate, some spectacular Caribbean-worthy beaches, and a totally different pace of life. Come here for your girls' weekend away and you might just find it hard to leave.
Getting there is part of the adventure – take the Night Riviera from London to Penzance, then hop on the Scillonian ferry or take the thrilling 20-minute helicopter ride over to main island, St Mary's. From there, you can embark on an idyllic island-hopping adventure, as boats leave for the other islands regularly (depending on the tides). Go to St Martin's for exceptional fish and chips and a vineyard tour, head to Bryher for wild walks, and visit Tresco's spectacular manicured botanical gardens.
More like this:Isles of Scilly hotels and accommodation: the best places to stay
6. Venture into the unknown...
Would you book a mini break without knowing where you'd end up? Pioneering travel company Srprs.me organise trips as cryptic as their name: they book you a city break to a secret destination, and don't tell you where you're going until you're at the airport. You tell them your budget, and a few places that you don't want to visit, and they look after your flights and accommodation – only giving you a small hint of your destination a week before departure, when they tell you what kind of weather to pack for.
It might sound a bit stressful, but it's actually great fun: all the important bits have been sorted, so all you have to do is look forward to discovering somewhere new. It's a great idea for a break with the girls because it keeps everyone guessing – and you all get a great surprise!
Read more: Why I booked a weekend break to a surprise destination
7. Retreat to a holiday cottage (with wine, of course)
Holiday cottages aren't just for romancing couples, you know: grab your girlfriends and head into the countryside, armed with a boot-load of food and wine. Canopy and Stars has some of Britain's best remote boltholes – all with gorgeous bedrooms, beautiful locations, and every creature comfort you need for a fantastic stay.
The Lodge in Cumbria sleeps six and has blissful river views, walking paths on its doorstep, and a hot tub in the garden. What more could you want from a girls' weekend away?
8. Walk the beautiful Jurassic Coast
Head down south to stretch your legs on the Jurassic Coast, the gorgeous collection of beaches between Exmouth and Dorset. On a three-day guided walking trip with HF Holidays, you'll visit the fossil-rich beaches that give this coastline its name, stroll atop sunny cliffs, and swim in the idyllic Lulworth cove - pictured below.
This trip is designed for medium-level walkers, so it's perfect for an active girls' weekend away. All meals are included, as well as accommodation at West Lulworth House – a beautiful property with swimming pool, well-stocked bar and uninterrupted sea views.
More like this: The best hotels in Dorset
9. Lend a hand with the National Trust
The National Trust's Working Holidays give you a great excuse to get outdoors – lending a hand with conservation, landscaping or wildlife surveys. Gather a few like-minded girlfriends and join the Trust on a weekend break, for a behind-the-scenes look at its most popular properties plus a big dose of the feel-good factor.
You could assist with outdoor conservation at Buckinghamshire's Cliveden, or let off steam on an 'extreme gardening' weekend. You'll work alongside friendly people from all walks of life, and stay in one of the Trust's lovely holiday cottages.
More like this:The best destinations for solo travel
10. Learn yoga with a pro
If it's serenity you crave, sign up for a weekend yoga retreat in the beautiful British countryside. You'll find lots of options at Yoga Weekends, which connects hotels and retreats with yoga devotees all over the UK – plus some overseas options too.
You could bring in the New Year on a yoga weekend in Sussex, or practise pilates and meditation in sunny Oxfordshire. There are trips suitable for beginners, intermediates and yoga experts, as well as introductions to mindfulness too.
11. Go vineyard hopping – in England!
British wines have never tasted better, so now's the time to immerse yourself in the fruits of our fair country. Sussex's mild climate and good soil provides an optimum environment for growing grapes, so viticulture here has really taken off in the last two decades. There are gorgeous sparkling wines from the likes of Bolney and Rathfinny – you can stay in the latter at their Flint Barns accommodation – and plenty of delicious whites, reds and roses all over.
If you've got time, and money is no object, book onto the Sparkling Sussex five-night wine tour by Historic Sussex Hotels, who'll put you up in two of their stunning five-star properties and cart you from bottle to bottle, and treat you to a night at the world-renowned Glyndebourne opera. Elsewhere in the UK you'll find lovely Llanerch Vineyard just outside Cardiff, and Three Choirs in Gloucestershire, and the wines of Camel Valley in Cornwall are regular award-winners.
Read more: The best vineyard tours and wine tasting holidays around the world
12. Let your hair down in Dubai
If European city breaks just don't cut it anymore, give Dubai a go. It's seven hours from the UK, but there are some fantastic flight deals out there – and cheap upgrades too (Emirates regularly has sales). Great shopping, beautiful beaches and incredible nightlife await – not to mention year-round sun.
While summer is the cheapest time to visit, it's also the hottest (reaching up to 55 degrees) – but this is the time to find spa deals, bargains at all the top hotels, and discounts in all the big malls as they gear up for the summer sales.
13.Have a mini adventure in Italy
Why stay in one place on your girls' weekend when you could take an escorted tour and hit multiple destinations in a short space of time? Opt for a long weekend in Italy with Riviera Travel and you'll explore Italy's best-kept secret: Piedmont. Glorious capital Turin has connections with the Savoy family, while Alba has spectacular chocolate and truffles (the fungal kind) on offer.
You'll sample wonderful Piedmont wines – save space in your suitcase for a few, too – and learn about the winemaking process, as well as explore the National Automobile Museum. Fiat have their headquarters here, so the automotive industry is a big part of Turin's history, plus you can see the test track where The Italian Job was filmed.
14. Get on your bike (without breaking a sweat)
Don't let the word bike put you off – this is hardly cycling. E-bikes are very muchin now, with Saddle Skedaddle introducing electric bikes on all their cycling holidays. This makes for a joyous way of getting around – you have all the speed of the bike, but without the need to sweat, as the electric motors helps power you along. Their trips can be guided or self-guided, and they can even tailor a cycling holiday exactly to your needs.
Choose this for a girls weekend away in Britain or mainland Europe and you'll be able to cycle from hotel to hotel, via lovely pubs and quaint villages, enjoying the countryside and great outdoors.
More like this:The best UK vineyards where you can sample some delicious English sparkling wine
You won't have to carry your luggage with you either – it will be transported from place to place behind the scenes, so all you need to worry about is where you're going to have those sundowners after a hard day's cycling.