Will there be The Tourist season 2 and which cast members could return after *that* finale?
The Tourist season 2 could happen after all following this intriguing finale twist...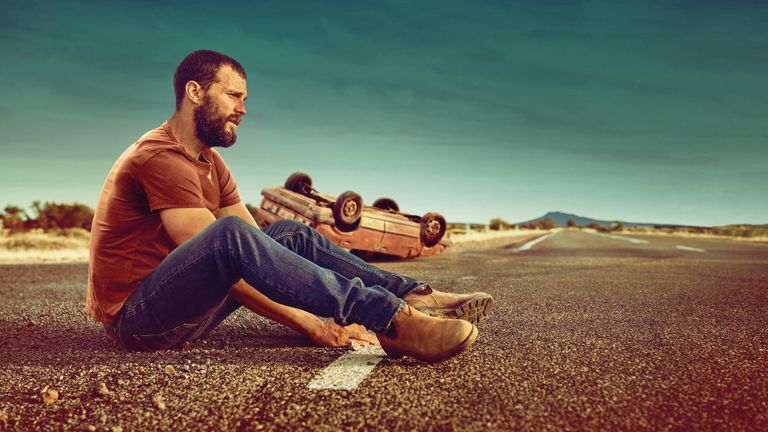 (Image credit: BBC)
By Emma Shacklock published
The Tourist season 2 might not have been confirmed yet, but there'll be plenty of thriller fans hoping for some serious answers after *that* final episode.
Written by Jack and Harry Williams, who also wrote recent ITV crime drama, Angela Black, as well as The Missing, The Tourist is set in Australia and tells the tale of the titular tourist known early on as The Man (Jamie Dornan) as he attempts to uncover his past. With amnesia meaning he can't remember his own identity, he's helped by probationary police officer Helen Chambers (Danielle Macdonald). Narrowly escaping death several times after being pursued by criminal Kostas and his men, The Man can't help wondering what in his past life has led to this terrifying present.
Though the horrific secrets he learns might mean some viewers want The Tourist ending explained after *that* final episode, they'll be fans who can't help hoping for a second season to fully wrap up the chilling storyline. But will there be a The Tourist season 2 and if there is which of the main cast members could return?
*Warning: spoilers ahead!*
Will there by a The Tourist season 2?
Fans of The Tourist will no doubt already be eagerly wondering if the show could end up returning for a similarly heart-stopping and dark second season. Sadly, though, it seems thriller lovers will have to content themselves for now with the twists and turns in fellow dramas such as Landscapers or The Girl Before. The Tourist season 2 has not yet been confirmed or announced and the show was originally described as a mini-series which traditionally have a stand-alone plotline.
However, given the popularity of the gripping outback-set show and a certain rather emotional moment in the The Tourist ending, there could be the potential for this to change if the networks and creators choose. The ambiguity of the final scene in The Tourist season 1 does round off the mystery, though it's left unclear exactly how things will end for the primary characters, Elliot Stanley, formerly known only as The Man, and Helen Chambers.
As The Tourist ending drew to a close fans saw Elliot wracked with guilt upon discovering the appalling crimes of his past. Not only can he not forgive himself, it seems Helen can't forgive him either, despite their bond in previous episodes. Having broken up with her fiancé Ethan to go to Elliot's aid, many fans might have hoped to see Helen grow closer with Elliot after all they'd been through together.
But his criminal past is hard to move beyond and she says goodbye to the man who described her as his only friend. Struggling to cope with recent events, Elliot proceeds to take a bottle of pills and drink alcohol alone. Whilst some viewers might have feared he is attempting to take his own life, things soon take a more hopeful turn when Helen is convinced by her co-worker that everyone deserves a second chance.
Texting Elliot a burrito emoji, Helen references a past conservation between them during which it was light-heartedly revealed that burritos make him happy. As Elliot struggles to reach his phone, it's all too easy to fear that he will never read that olive branch message, but, just in time, he does.
Smiling down at Helen's text in the dark it seems that having his friend back in his life again has given Elliot a sense of hope. Whether or not it comes too late remains unknown, as his fate is ultimately left to the audience's imagination as the credits start to roll.
The ultimate road trip song brought to you by Jamie Dornan. The Stan Original Series The Tourist is now streaming, only on Stan. pic.twitter.com/oB2AP935soJanuary 2, 2022
See more
There will likely be more than a few viewers left screaming at the screen at the lack of a concrete resolution, but this of course means that should the creators wish to film a The Tourist season 2, there is space to go from there. A potential second season could reveal what actually happened to Elliot, if he and Helen ever reunited and how they might work to move past what he did.
All that is currently known about Elliot is what he's pieced together alongside information from Lena Pascal. Though the antagonists chasing him might no longer be a threat, given his criminal connections in the past, there are plenty of avenues a follow-up season could go down. Whether it's watching Elliot digging still deeper into his past or seeing him sucked back into a life of crime, we can't help hoping that there might be a The Tourist season 2 announcement after all…
Which The Tourist cast members could return?
If the creators and networks do go on to announce The Tourist season 2 then there are several characters fans could hope to see return—as well as many who definitely aren't expected to be seen on screen again. Perhaps the most prominent of all The Tourist cast members are Jamie Dornan as Elliot and Danielle Macdonald as Helen.
If a Tourist season 2 does come to pass then these two characters are the most key. With Elliot's life in the balance the question of whether he survives or not would seem a critical point to address in a second season, as would his relationship with Helen and what the exact nature of it is going forwards.
Though Elliot is somewhat of an anti-hero given all the terrible things he's done, any second season would also need some major antagonists. Unfortunately, it's unlikely that much of the original The Tourist cast could be back for a very good reason. Alex Dimitriades who played criminal Kostas, Kamil Ellis who played police officer Rodney Lammon, Shalom Brune-Franklin who played Luci Miller and Ólafur Darri Ólafsson who played Billy could only return in flashback or memory form as their characters died during The Tourist.
However, Damon Herriman who played detective Lachlan Rogers and Victoria Haralabidou who played Lena Pascal are The Tourist cast members who could possibly appear if a season 2 was announced. Neither died on screen and Lachlan is destined for prison given his murder of Rodney Lammon so would likely have a motive for revenge on Elliot and Helen for exposing his crime.
Whilst Lena is unlikely to ever want to see Elliot again after all he did to her, but she knows an awful lot about his crimes. If Victoria did return to The Tourist cast as Lena, her character could end up revealing even more about his former life than he already knows. With so many possibilities open to creators, there's certainly scope for The Tourist season 2 should they decide to return to the story.
As fans wait patiently in case of any seriously exciting announcement, there's plenty of time to catch-up on similarly spell-binding crime series, from Shetland series 6 to BBC's Showtrial.
The Tourist airs in the UK on BBC One at 9pm on Sundays and episodes 1-6 are available to watch now on BBC iPlayer.
Emma is a Senior Lifestyle Writer with five years experience working in digital publishing, ranging from book publishing to magazines. She currently looks after all things Lifestyle for Woman&Home, GoodToKnow and My Imperfect Life.
Before she joined Future Publishing, Emma graduated from the University of Warwick with a Bachelor of Arts degree in English and Comparative Literary Studies. After leaving education, she started out her publishing career in the world of books, working as a Publisher for an independent digital publisher specializing in back-list and debut commercial fiction novels. With a huge book list and a passion for bringing the best stories to the broadest audience possible, Emma filled her spare time with reading the latest best-sellers and catching up on hit adaptations.
In 2017 she joined TI Media as a fiction writing coordinator on Woman's Weekly and Woman's Weekly Fiction as part of the features team. From here, she used her love of books, working to bring short stories to our dedicated readers and began writing for the books pages of Woman, Woman's Own and Woman&Home, as well as online features ranging from genre round-ups to travel pieces for womanandhome.com.
After honing her skills, Emma branched out online in 2020 when Future gave her the opportunity to focus on digital-first. When she's not writing about the next big lifestyle trend, she enjoys cooking, long walks and watching as many crime dramas as she can!