Shetland series 6—who's returned to the cast and how to watch the hit BBC show?
Shetland series 6 has seen DI Jimmy Perez battling personal grief during his most high-profile case yet.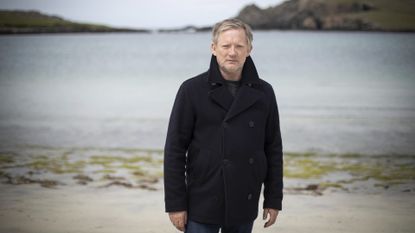 (Image credit: BBC)
woman&home newsletter
Sign up to our free daily email for the latest royal and entertainment news, interesting opinion, expert advice on styling and beauty trends, and no-nonsense guides to the health and wellness questions you want answered.
Thank you for signing up to Woman & Home. You will receive a verification email shortly.
There was a problem. Please refresh the page and try again.
Shetland series 6 has delighted fans with the return of many favorite cast members as DI Jimmy Perez and his team find themselves pushed to breaking point after a murder strikes right at the Islands' heart.
Inspired by Vera writer Ann Cleeves' bestselling Shetland Island mystery series, BBC's Shetland has amassed a loyal fanbase ever since it landed almost a decade ago. Now it's back bigger and better than ever as DI Jimmy Perez mourns the death of his mother Mary Perez, all whilst attempting to solve one of the most high-profile murder investigations of his career. But though the murder of local lawyer Alex Galbraith is already an intense case for the team, they must also contend with the return of a fellow Shetland cast member to the picturesque islands. Anyone who's loved the dark twists and turns of fellow Scottish crime drama, Guilt series 2, or can't help playing armchair detective watching BBC's Showtrial, then Shetland series 6 is one to catch up on this autumn.
But who has returned to the cast of Shetland series 6, what can fans expect from the remaining episode and how can you watch it on TV?
*Warning: spoilers for Shetland series 6 ahead!*
Who is in the Shetland series 6 cast?
Shetland series 6 cast list:
DI Jimmy Perez—Douglas Henshall
DS Alison 'Tosh' McIntosh—Alison O'Donnell
DC Sandy Wilson—Steven Robertson
Duncan—Mark Bonnar
Cassie Perez—Erin Armstrong
Cora McLean—Anne Kidd
Logan Creggan—Stephen McCole
Sgt Billy McCabe—Lewis Howden
Donnie—Angus Miller
Kate Kilmuir—Neve McIntosh
Donna Killick—Fiona Bell
Alex Galbraith—Jim Sturgeon
Eve Galbraith—Cora Bissett
James Perez—Benny Young
Carrie McAndrew—Lois Chimimba
Dedicated fans of the hit Scottish drama were left hoping against hope for the return of their favourite characters in Shetland series 6 ever since the show's renewal was announced. And for those who feel the show just wouldn't be the same without DI Jimmy Perez and his full team, they weren't left disappointed as all of the main regular actors are back in the Shetland series 6 cast.
This includes Douglas Henshall as DI Jimmy Perez, Alison O'Donnell as his right-hand woman DS Alison 'Tosh' McIntosh and Mark Bonnar as Duncan Hunter, who might also be familiar to long-time fans of Unforgotten.
But these familiar faces amongst the Shetland series 6 cast are not the only ones to have triumphantly returned. Stars Steven Robertson (DC Sandy Wilson), Erin Armstrong (Cassie Perez) and Anne Kidd (Doctor Cora) also help to create some of the latest season's most intense and emotional scenes.
Meanwhile two other returning Shetland cast members have truly shaken things up, with Fiona Bell and Neve McIntosh back on the islands this series as Donna Killick and Kate Kilmuir.
Perhaps the most prominent of the Shetland series 6 cast members is Douglas, who plays primary character, Jimmy. A widower with a stepdaughter Cassie, whose biological father, Duncan, has contact with her, Jimmy's personal life has been through the wringer across the five series so far.
Opening up to the BBC about the new series, Douglas reflected that grief is very much a part of his character as Jimmy mourns the loss of his mother, Mary Perez.
"We open with the funeral of his mother so there's a big thread of grief which runs through this series for Perez," Douglas explained, before going on to discuss the relationship between Jimmy and Duncan as they both raise Cassie.
Douglas continued, "I guess it's just something you don't see on television often - two dads trying to bring up a daughter together. They've been forced into this situation and, regardless about how they feel about one another, they very much love their daughter, Cassie."
According to Express.co.uk, Douglas has also expressed his belief that the brilliant Shetland cast and crew are the reasons behind the show's international appeal.
"Part of me doesn't know and doesn't want to know [why]," he said, adding, "But another part of me knows we've got one of the best crews on the planet on this job and the chemistry between the cast is good."
He continued, "The writers are the same ones we've had all the way through from the pilot to now so that kind of consistency helps. The ambition of the show has always remained high and we always want to improve ourselves and it's a happy place to work."
Meanwhile, Douglas' co-star Mark Bonnar has addressed in a BBC interview the impact that returning character Donna Killick will have upon Duncan in Shetland series 6. The two had once had an affair and it was an attempt to cover this up which saw her commit a brutal murder, making her arrival on Shetland a major series moment for this returning Shetland series 6 cast-member.
Mark said, "Duncan's busy trying to excuse her for what she did or try to understand what motivated her to murder because he was close to Donna at one point. Perez and the team are very wary about Donna's return because it stirs up so much emotion on the island for everyone concerned because it was a horrible thing to happen. So the police are none-too-chuffed about it but Duncan kind of sees it as an opportunity to build a few bridges or provide some kind of support."
And whilst Mark and Jimmy must contend with Donna's return, the detective is not alone as he also investigates the high profile murder of lawyer Alex Galbraith this series. Jimmy's trusted right hand woman, DS Alison 'Tosh' McIntosh played by Alison O'Donnell is also a major character fans will be glad to see back on their screens.
Alison revealed to the BBC, "She has become so much more mature and capable. There's a pay-off here for the trust Perez put in Tosh when he first promoted her at such a young age. It was lovely for me to explore those aspects of her and to work with material that really allowed her to shine in her work."
Fans of the show will be enjoying every moment of watching the Shetland series 6 cast back on our screens as they race to track down a dangerous killer over the coming weeks.
Where is Shetland filmed?
Though some might have wondered whether or not Shetland was actually filmed in the same place it's set, others won't be surprised to learn that it is indeed filmed on the islands off the Scottish coast. The stunning seascapes and rolling landscapes of this archipelago certainly make for an atmospheric backdrop for the grisly and heartbreaking murders that have taken place throughout the series.
If you're a fan of the TV series #Shetland, why not follow in the footsteps of some of your favourite characters with a look at the Lerwick locations featured in the show. Read more: https://t.co/EtETgDbeUy @djhenshall @AnnCleeves pic.twitter.com/4PHbG0NSrANovember 17, 2021
See more
As reported by the Radio Times, Shetland producer Eric Coulter previously revealed to RadioTimes.com that Shetland is very distinctive and would be challenging to match with anywhere else, though the show does also film interiors in Glasgow.
He explained, "Most of the exteriors will be in Shetland, and we'll have some interiors in Shetland also, but we'll do quite a lot of the interiors back in Glasgow".
"The landscape of Shetland is so particular that to try and match those exteriors is quite difficult. There is an area about an hour from Glasgow called Loch Thom which we do film as an exterior location for Shetland, but that's really the only area we can use. Any kind of major exterior work really has to be Shetland," Eric disclosed.
"It's got very few trees. It's very open, it's quite gentle, the hills aren't very high – and everywhere you look there is water. You're never more than three miles away from water. So that undulating landscape and the water are really particular to Shetland and that's very hard to match anywhere else."
The Shetland team are understood to shoot the exteriors of Lerwick police station actually at the real police station there, in the main town of the islands. And it seems filming in Shetland is something the cast members very much relish, as Douglas Henshall told the BBC how much he enjoyed going back there.
"Well obviously it's wonderful to be back but it was tricky at the start because we all went into our own self-imposed lockdown again," he said, adding, "It's been great being on location in Shetland and out in the fresh air. Being outside again has been wonderful."
He also revealed that shooting the show on location wasn't without its challenges. As reported by Express.co.uk, the Shetland series 6 cast member explained, "It's tough doing a show like Shetland - we're away from our families for weeks on end so we all support one another. I think when you have all of those things, then you have the chance of making something memorable. And then there's a little bit of luck too."
Whilst fellow Shetland star Alison O'Donnell told the BBC that she loved spending time on the islands, declaring, "I feel so lucky that I've been able to spend so much time here. It's under my skin and I can see myself visiting again and again. I loved it when I could hire a car and spend days driving from one insanely beautiful spot to another."
What more can you expect from Shetland series 6?
Shetland series 6 is back with a vengeance and anyone who thought that things couldn't get more emotional or dramatic for DI Jimmy Perez has already been proved wrong. From the series 6 premiere where Jimmy was mourning at his mother Mary Perez's funeral, the twists and turns of the investigation have put him under intense pressure throughout the series.
Mary Perez's loss and Jimmy's attempt to cope permeate this series as he contends with the grief that has spread across the island after a high-profile murder and the return of a despised killer. Shot at his own home whilst on the phone to his daughter Merran, lawyer Alex Galbraith's murder strikes at the Shetland Islands' heart.
As he and the team investigate, Jimmy has also had to contend with the uproar at the return of convicted murderer Donna Killick (Fiona Bell), who killed local teenager Lizzie Kilmuir. Released on compassionate grounds as she's dying of cancer, Lizzie's sister Kate Kilmuir (Neve McIntosh) is determined to force Donna off the island and Jimmy has questioned whether Alex securing her release was a possible motive for murder.
However, Fiona's return to the Shetland series 6 cast Donna has also spelt trouble for Jimmy personally. Not only does he co-parent his stepdaughter Cassie with her father Duncan (Mark Bonnar) who previously had an affair with Donna, but his Detective Constable Sandy Wilson has now betrayed his trust by leaking police photos of Lizzie Kilmuir, Donna's victim.
As a close friend of the family, he's been struggling all season with Donna's return after being confronted by Tosh about being responsible for the leaks, he begs her not to tell their boss. Keeping secrets from Jimmy isn't a good idea, but Sandy's been suspended before back in Shetland series 5 so it could be the only way the PC can keep his job...
In the latest episode of Shetland series 6, things also took a shocking turn for one returning cast member, as viewers saw Donna ask Duncan to help her die. And it seems as though he went through with her request, giving her a mug of hot chocolate that appeared to have been dosed with medication before telling Jimmy to tell him Donna had taken her own life.
However, Jimmy is no fool and the experienced detective tells Duncan to take the mug to the sink to lay down an explanation for why his fingerprints are on it. But will he cover up for Cassie's dad? Or will his police instincts kick in as the series draws to close?
Meanwhile, when it comes to the investigation into Alex's murder, Jimmy finally seems to be making some substantial progress. And it looks as though it's all linked to missing girl Carrie-Ann's disappearance years previously.
Alex was paying for her father's care home costs, making a wary Tosh suspicious. In episode 5 Sister Carolyn admitted that she'd been friends with Carrie-Ann over 20 years ago and implicated Alex in the missing girl's death before being attacked herself.
With so much trauma to be worked through in the following episodes and Carrie-Ann potentially the key to it all, fans can expect some serious surprises as the truth is finally unveiled in the Shetland series 6 finale.
Why did Donna kill Lizzie in Shetland?
For long-time Shetland fans, it won't come as a surprise to learn that Fiona Bell as a returning cast member spells serious trouble for DI Jimmy Perez in the form of her character Donna Killick. However, if you're new to the atmospheric Scottish drama, then Donna's past crimes and her very current conflict with her fellow Shetland Islanders might need a little detective work to fully unravel.
Shetland series 6 has so far shown two very opposing responses to Donna, with Sandy Robertson unable to put his personal grief to one side and leaking police pictures of Lizzie Kilmuir's dead body, whilst Duncan formed a bond with the convicted murderer.
Both regular characters have encountered former wildlife sanctuary manager Donna Killick before, during her first Shetland appearance back in series 4. Here she eventually admitted to Jimmy that she was the murderer of Lizzie. This came after Duncan had been questioned after his DNA was found on a scarf used in the murder and despite not being guilty, Mark Bonnar's character was indirectly connected to the appalling crime.
It was revealed that Donna and Duncan had an affair and that Donna's desperation to keep their relationship and her pregnancy a secret from her abusive partner that led to her silencing Lizzie for good. In a parallel to Duncan and Jimmy being connected by their love for daughter and step-daughter Cassie, Duncan and Donna share a child.
Now Donna is back on the Islands, having been released from prison on compassionate grounds and her actor Fiona Bell's return to the Shetland series 6 cast has brought some seriously gripping moments to the show.
Donna killed Lizzie in Shetland to protect a secret that has long been public and given her health, it's thought unlikely that she could be involved in Alex Galbraith's death. However, her death and Duncan's involvement could see Jimmy faced with an impossible choice to make in the Shetland series 6 finale.
How to watch Shetland on TV
If you're looking to catch-up on Shetland series 6 on TV then the BBC is the place to go. Each gripping episode will be broadcast at 9pm on BBC One on Wednesdays, with the new series premiering on 20th October 2021. Shetland series 6 will also be available to watch afterwards on BBC iPlayer so if you're unable to tune in live, there's plenty of time to get up to speed on all the atmospheric scenes, chilling twists and heartbreaking moments for Jimmy and his team as they edge ever closer to revealing Alex Galbraith's murderer.
How many episodes of Shetland 2021 are there?
Anyone still wondering how many episodes of Shetland 2021 there are before we discover what really happened to Alex Galbraith doesn't have too long to wait. Shetland series 6, like all the previous series aside from the first, is six episodes long. This means that the Shetland series 6 finale is set to air on Wednesday 24th November 2021 and that, very sadly, there is just one more episode left.
Will there be another series of Shetland?
If you already can't wait to be transfixed by mysterious reveals and emotional moments after Shetland series 6 ends, then there's good news as there will soon be another Shetland series to add to your binge-watch list. Back in 2019, the BBC announced that they'd renewed Shetland for two more series, the current series 6 and the yet-to-be-aired series 7. Shetland Series 7 will also have six hour-long episodes, allowing plenty of time to enjoy the unravelling of another equally intriguing case by our lead detective.
Which Shetland cast members could return for series 7?
Just like with any long-running series, fans will have their ultimate favourite Shetland cast members and it seems we won't have to bid a tearful farewell to at least one of them in Shetland series 7. The Shetland cast already returned to the Islands for filming, with Douglas Henshall taking to Twitter in August 2021 to share his excitement.
He declared simply, "Very happy to be back in Shetland filming series 7. #Shetland" before going on to Tweet a photo the next month, showcasing their filming set-up on the Islands.
Very happy to be back in Shetland filming series 7. #ShetlandAugust 31, 2021
See more
Unfortunately, it's not clear from the photos just which fellow Shetland cast members could've been back filming alongside Douglas. Though the current show regulars Douglas, Alison, Steven and Mark have returned year after year ever since Shetland series 1.
This could suggest that all four, as well as many more recent regular or recurring characters such as Cassie and Cora could also feature again in Shetland series 7. However it remains to be seen exactly how they will make their appearance, as depending on how things go in the Shetland series 6 finale, some cast members could find their storylines taking them in a very different direction.
Some days we get so lucky. If you look closely you can see Fair Isle in the background. #shetland pic.twitter.com/2J7WoG80fYSeptember 29, 2021
See more
Sandy might not still be a serving police officer any longer if Tosh reveals the truth about his betrayal to Jimmy. Whilst Duncan could find himself facing a prison sentence if Jimmy decides to expose his involvement in Donna's death. That in turn could place him at odds with Cassie, torn between her two fathers, which might see her actor Erin Armstrong become a more pivotal figure as part of the Shetland cast.
For fans of the long-running show, Shetland is the epitome of an unmissable crime drama. But if you fancy more Scottish landscapes and equally chilling cases, then cast member Mark Bonnar's performance in Guilt and BBC hit Vigil are also well worth checking out as you wait for the Shetland series 6 finale next week!
Sign up to our free daily email for the latest royal and entertainment news, interesting opinion, expert advice on styling and beauty trends, and no-nonsense guides to the health and wellness questions you want answered.
Emma is a Royal Editor with seven years of experience working in digital publishing. Her specialist areas including literature, the British Royal Family and knowing all there is to know about the latest TV shows on the BBC, ITV, Channel 4 and every streaming service out there. When she's not writing about the next unmissable show to add to your to-watch list or delving into royal protocol, you can find Emma cooking and watching yet more crime dramas.