How returning Shetland cast member spells serious trouble for DI Jimmy Perez
The Shetland cast are back but the islanders are divided by the return of one familiar face.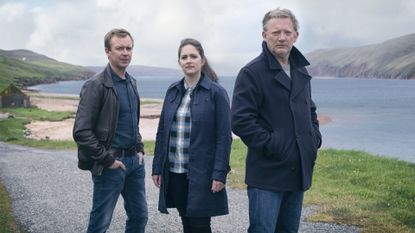 (Image credit: BBC)
The Shetland cast have captured fans' imaginations with their gripping performances ever since the show landed in 2013, but now there's one familiar face that's set to cause chaos for DI Jimmy Perez in the latest series.
For anyone still not quite over the Vigil finale or who has already raced through fellow Scottish crime drama, Guilt series 2, the premiere of Shetland series 6 couldn't have come fast enough. Now we're well and truly immersed in the atmospheric world of the hit BBC show once more as viewers saw DI Jimmy Perez struggling to cope with the loss of his mother, all while attempting to solve one of the Shetland Islands' most high profile murder cases. But the shocking shooting of Alex Galbraith also draws another familiar face into the frame. Long-term fans will remember the murderer who's returned and it seems the locals haven't forgotten either, as Jimmy and his team react to the news of her return.
But who's come back to the islands and how will it affect the rest of your favourite Shetland cast members in series 6?
*Warning: spoilers ahead!*
---
Who's returning to the Shetland cast?
Donna Killick played by Fiona Bell
Newcomers to Shetland might well be unfamiliar with the character of Donna Killick, who made her last (very memorable) appearance in Shetland season 4. However, the return of her actor Fiona Bell to the Shetland cast for series 6 has certainly made for a shocking twist. Back in series 4 it was uncovered that Donna had been trapped in an abusive relationship, but secretly began an illicit affair with Duncan Hunter behind her partner's back and became pregnant. Things took a dark turn after teenager Lizzie Kilmuir discovered Donna's affair and the wildlife sanctuary manager acted to protect herself and her unborn child and killed her, allowing an innocent man to go to prison for the crime.
Killing Lizzie, Donna initially managed to evade detection even after the case was reopened, though her former lover Duncan was hauled in for questioning after his DNA was found on the scarf used to kill Lizzie. Eventually, Donna's dark deeds caught up with her and she admitted to DI Jimmy Perez that she'd been responsible.
Arrested, charged and convicted, Donna's crimes might have continued to haunt many on the island, but now she's back. Fiona Bell has returned to the Shetland cast as Donna, who has been released from prison on compassionate grounds after being diagnosed with terminal cancer.
And it was Alex Galbraith, the lawyer whose murder series 6 focuses on, who helped secure Fiona's release. This soon raises the question for Jimmy and his team whether there could be a link between Alex's death and the fury of the locals at seeing Donna back on Shetland.
Though as the latest episode proved, Donna certainly doesn't think so, dismissing Jimmy when he asked if she felt any guilt about Alex's death. Instead, the convicted murderer chose to accuse Jimmy of "lying" at her trial. So whilst Donna's time on the show again might be limited, it seems she's not prepared to let things lie. But nor are the locals, spelling potential disaster for the weeks to come...
---
DI Jimmy Perez played by Douglas Henshall
As all long-time fans of the show know, the Shetland cast just wouldn't be the same without Douglas Henshall's brilliant portrayal of primary character, DI Jimmy Perez. The talented detective is as empathetic as he is determined and he's had a seriously difficult time in recent years.
Having lost his wife Fran, he has raised her daughter Cassie and come to terms with her biological father Duncan's presence in their lives. Whilst last season his blossoming relationship with Alice ended in horrific style after he uncovered that she was the one running the trafficking ring he'd been investigating.
Shetland series 6 opened with the funeral of his mother Mary and he'd barely had time to pay his respects before Alex's murder was called in. Now Jimmy faces conducting an investigation as anti-Donna campaigners continue to make their presence known.
Opening up to the BBC about the impact of Donna's return upon Jimmy, Douglas Henshall revealed that it's Duncan that the detective will mostly be thinking about.
"There are a lot of people on the islands, including the victim's family, who don't feel she should be allowed to come back here," Douglas explained. "Then there are other people who think there's no harm in her coming back to die. Perez is more worried about the effect it will have on Duncan more than anything else."
He added, "He's waiting to see what happens. There's some conflict within the team because Sandy [DC Sandy Wilson] is very close to the Kilmuir family and doesn't think Donna should be there at all."
With the investigation ramping up, his mother's death still to be fully processed and mourned and the potential ramifications of Donna's return upon Duncan, there's certainly a lot for Jimmy to contend with as series 6 continues.
---
Duncan Hunter played by Mark Bonnar
Perhaps one of the most affected by Donna's return outside of Lizzie Kilmuir's immediate family is her former lover Duncan. Duncan fathered Donna's son Alan Killick, as revealed by DNA testing in series 4, and it was her pregnancy that the murderer hoped would persuade Lizzie not to tell her husband about the affair.
When Lizzie refused, Donna killed the teenager and even after Duncan was eventually released after being accused, the consequences of what she did continue to make things complicated for him too.
Regular Shetland cast member Mark Bonnar, who expertly plays Duncan and might also be familiar to fans of Guilt and Unforgotten, spoke to the BBC about how Duncan continues to feel bound to Donna despite her appalling crime.
He said, "Duncan starts to feel a sudden sense of responsibility for what went wrong with Donna. However, as Perez said, although she was a victim of domestic abuse, she didn't kill her abuser, she killed a teenage girl, Lizzie Kilmuir.
"Duncan's busy trying to excuse her for what she did or try to understand what motivated her to murder because he was close to Donna at one point."
Mark continued, "Perez and the team are very wary about Donna's return because it stirs up so much emotion on the island for everyone concerned because it was a horrible thing to happen. So the police are none-too-chuffed about it but Duncan kind of sees it as an opportunity to build a few bridges or provide some kind of support."
Series 6 of #Shetland starts in just less than an hour! This one is a corker..👊🏻 hope you enjoy it x https://t.co/ojqmqopHj5October 20, 2021
See more
However, whilst Duncan might view Donna's return as an opportunity to make some form of amends for his part in what happened, he also has Cassie to think about. His connection to her makes Duncan someone for Jimmy to look out for, but whether Duncan will find himself drawn back in by Donna remains to be seen.
---
Kate Kilmuir played by Neve McIntosh
Kate Kilmuir is none other than murdered Lizzie Kilmuir's sister and she's enraged to see Donna Killick return to the Shetland Islands. A returning Shetland cast member herself, Neve McIntosh is perhaps best known outside of the BBC show for her role as Madame Vastra in Doctor Who.
But in Shetland she's a bereaved sister trying to show Donna that she's not welcome back home. Discussing what it was like getting into character again after all this time away from the series, Neve told the BBC that it was "strange".
"You've a lot of history to add - how they've coped, if they coped, have they truly come to terms with what happened? Are they happier now?" she pondered.
Neve revealed that in the latest series after all that has happened to her family, Kate "isn't in a great place". She went on to add, "I liked to think that she had found a way of coping but we start the story with Donna Killick being released from prison. Donna murdered Lizzie, Kate's sister and Kate is furious about it. Even though it's for Donna to die at home, Kate doesn't want her anywhere near."
With Alex Galbraith's murder occurring so soon after Donna's return, it's perhaps all too easy to wonder whether grieving Kate or anyone who supports her could have been responsible in revenge for his part in her release. Or could this just be a lucky coincidence drawing attention away from the real murderer?
---
DS Alison 'Tosh' McIntosh played by Alison O'Donnell
DI Jimmy Perez's right hand officer in the show is the wonderful DS Alison 'Tosh' McIntosh played by Alison O'Donnell and this time the show will be exploring her personal life in more depth. As revealed by the actor in an interview with the BBC, Tosh has formed a connection with Donnie (played by Angus Miller) and shared that she looks forward to shooting their scenes together.
Though despite her newfound happiness in her private life, she too is likely to be affected by Donna's return, knowing how much it impacts her close colleagues.
She explained, "It's tricky for Sandy who is very close with Kate Kilmuir and her daughter Molly. I think he feels pretty compromised by it all."
---
DC Sandy Wilson played by Steven Robertson
Though everyone is affected to some degree by Donna Killick's release, returning Shetland cast member Steven Robertson's character, DC Sandy Wilson, is still massively hurting after what happened to Lizzie. He's close to Kate and her family and conflicted about Donna's return to the islands, especially as it puts him in a difficult position as a police officer.
Steven told the BBC, "Donna Killick is really closely linked to Sandy and also ultimately the reasons he wanted to become a detective in the first place. Donna was found guilty of the historic murder of a local girl called Lizzie Kilmuir who was a friend of Sandy's.
"Lizzie's surviving family including her twin sister Kate are very good friends of Sandy's. The fact that Donna is being allowed to come back to the islands because she is terminally ill, and will not therefore serve the rest of her sentence in jail, is a bit of a bind for Sandy."
When asked how his character has reacted to news of Donna being back on Shetland, the star revealed that, "He's trying to think with his head not his heart this time around but Donna's case is an immediate challenge for him."
Steve went on to share, "He doesn't want Donna back for many reasons. Personally he doesn't want her back because she murdered his friend, Lizzie, but he also doesn't want her return to upset the Kilmuir family anymore. They've been through more than enough."
"He feels that everything Donna has done wrong should far outweigh her right to die on Shetland. He doesn't feel she deserves this grace period at the end of her life and he's pretty het up about it and very much against her release and return to the islands. It's a decision led by the heart and he would love to logically overcome it but this is very personal for Sandy," he said.
With his feelings towards Donna so intense, Sandy's journey could really be the one to watch as Shetland continues.
---
Cassie Perez played by Erin Armstrong
Alongside Douglas Henshall and Mark Bonnar as Jimmy and Duncan, Erin Armstrong has returned as their daughter Cassie Perez. Despite having taken Jimmy's surname, she is technically his stepdaughter and after her biological dad Duncan came back into her life more prominently, he and Jimmy have raised her between themselves.
Douglas remarked upon this to the BBC, explaining, "I guess it's just something you don't see on television often—two dads trying to bring up a daughter together. They've been forced into this situation and, regardless about how they feel about one another, they very much love their daughter, Cassie."
Whilst Mark agreed that the relationship the dads have forged due to their love for Cassie is key, disclosing, "I think their relationship is a success because they're sort of an odd couple and they've been thrown together by circumstance which is Cassie and they both love her very much."
And with both her fathers affected by Donna's return, who knows how it could also impact Cassie as the investigation continues.
Shetland series 6 continues on BBC One at 9pm on Wednesdays.
Sign up to our free daily email for the latest royal and entertainment news, interesting opinion, expert advice on styling and beauty trends, and no-nonsense guides to the health and wellness questions you want answered.
Emma is a Royal Editor with seven years of experience working in digital publishing. Her specialist areas including literature, the British Royal Family and knowing all there is to know about the latest TV shows on the BBC, ITV, Channel 4 and every streaming service out there. When she's not writing about the next unmissable show to add to your to-watch list or delving into royal protocol, you can find Emma cooking and watching yet more crime dramas.