BBC's Showtrial—is the dark legal drama based on a true story and who's in the cast?
Showtrial BBC explores two versions of the same story, but is arrogant student Talitha really a murderer?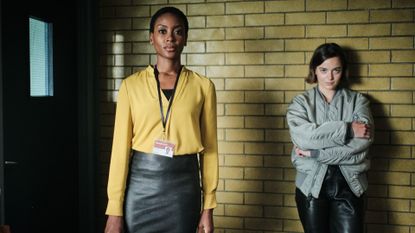 (Image credit: BBC)
woman&home newsletter
Sign up to our free daily email for the latest royal and entertainment news, interesting opinion, expert advice on styling and beauty trends, and no-nonsense guides to the health and wellness questions you want answered.
Thank you for signing up to Woman & Home. You will receive a verification email shortly.
There was a problem. Please refresh the page and try again.
The new Showtrial BBC drama explores both sides of a sinister murder case and as the lawyers fight it out in court the question of guilt and innocence isn't easy to determine.
Showtrial has landed and if the dark plotline, evocative themes and conflicted characters are anything to go by, it's set to keep us hooked over the next month. When Hannah Ellis goes missing in Bristol, it's not long before her disappearance becomes a full-blown murder investigation with fellow student Talitha Campbell arrested for the crime. Featuring a familiar face from hit show Vigil, Showtrial is perfect for drama fans who can't help being captivated by the shady dealings of ambitious lawyer Max in Guilt series 2 or who've found themselves attempting to guess the next twist and turn to be revealed in Angela Black.
But what is Showtrial about, is it based on a true story and how many episodes are there until we find out what *really* happened to Hannah?
*Warning: spoilers ahead!*
---
What is Showtrial about?
For those who love a courtroom legal drama, the BBC's Showtrial has all the intrigue you need to keep you second-guessing who is really the guilty party until the very end. Following a high-profile court case and the fight to determine guilt and innocence, Showtrial sees privileged Talitha Campbell arrested for conspiracy to murder after a fellow student Hannah Ellis mysteriously goes missing after a university ball.
The trial begins tonight at 9pm on @BBCOne. pic.twitter.com/dFvt8DfQIVOctober 31, 2021
See more
On the face of it, Talitha certainly seems like the prime suspect after cruel text messages she sent to Hannah are discovered by police. And that's not all, as the entrepreneur's daughter is presented to viewers as an unlikeable protagonist, making it all too easy to assume, just as the police have, that she's behind whatever happened to Hannah.
But Talitha isn't without her defenders and as the case is brought to court, duty solicitor Cleo Roberts is given the unenviable challenge of representing the arrogant student. To do this, she must fight to keep professional in the face of her new client's obnoxious nature and contend with the involvement of Talitha's powerful father Damian.
Showing both sides of the chilling set of events, viewers will get to see the equally impressive defence and prosecution cases as the lawyers battle it out to try and secure the verdict they believe is just.
BBC's Showtrial will also pose the question of how easily and how often wealth, prejudice and politics can affect the quest for justice, as Talitha finds both her gender and social status used as a weapon against her by the prosecution.
But is Talitha really innocent or is Cleo actually fighting to let a murderer go free? There are always two sides to every story and viewers will just have to form their own theories as BBC's Showtrial continues.
Is Showtrial based on a true story?
The BBC's Showtrial is a work of pure fiction created and written by Ben Richards, who also brought the hit Sky drama COBRA to life. Despite this, fans might be forgiven for wondering whether the courtroom drama is depicting actual events, as Showtrial contains some undeniably powerful and contemporary themes which not only make for a gripping watch, but likely resonate for many viewers.
Just as the ambitious Roy family in Succession are understood to have been inspired by elements of real-life figures, Showtrial can be seen to delve into very real questions surrounding the legal system.
Opening up to the BBC when Showtrial was commissioned, Ben revealed that the show explores how the justice system could be influenced by other factors besides the idea of truth and fairness.
"The right to a fair trial and the idea of reasonable doubt lie at the heart of a civilised society," he said. "Showtrial explores how they can be distorted by other factors, in a world where concepts such as fairness, doubt and reason are afforded such diminishing value."
His thoughts were echoed by World Productions CEO and Creative Director, Simon Heath, who declared, "It's great to be working again with Ben Richards, who uses the DNA of our true crime obsession to create a gripping fictional murder trial that shines a light on the failings of our justice system."
Who's in the Showtrial TV cast?
The Showtrial BBC cast:
Talitha Campbell—Celine Buckens
Cleo Roberts—Tracy Ifeachor
DI Paula Cassidy—Sinéad Keenan
Sir Damian Campbell—James Frain
DC Andy Lowell—Christopher Hatherall
James Thornley—Kerr Logan
Meera Harwood—Lolita Chakrabarti
Dhillon Harwood—Joseph Payne
Virginia Hoult—Sharon D Clarke
Hannah Ellis—Abra Thompson
The most prominent members of the Showtrial BBC cast are of course Celine Buckens, whose brilliant portrayal of Talitha Campbell consistently keeps viewers speculating about her character's guilt, and Tracy Ifeachor who plays her determined lawyer Cleo Roberts. Celine is perhaps best known for her breakout role in 2011 film War Horse, whilst Tracy has appeared in multiple US dramas over the years including Vampire Diaries spin-off, The Originals.
In Showtrial the two portray two women who've ended up working together to prove Talitha's innocence after meeting on the night of her arrest for conspiracy to murder Hannah Ellis, played by Abra Thompson. This partnership of sorts comes despite Cleo's concerns that Talitha's arrogance and disturbing lack of empathy over Hannah's disappearance won't go down at all well in court.
On the opposite side of the case is the team investigating Hannah's disappearance, headed by DI Paula Cassidy, played by Being Human star Sinéad Keenan. Paula's convinced that the spoiled teenager did away with Hannah and infuriated by the idea that Talitha could be about to use her family's wealth and connections to escape justice.
But with Talitha's estranged father Sir Damian Campbell, played by The Tudors' James Frain, lurking in the background, Paula knows she has to have a watertight case if she's to see Talitha go down for the crime. James brings the charismatic yet ruthless property developer to life in spectacular style, making it clear he's not to be trusted, though his fractured relationship with his daughter makes for an intriguing dynamic sure to be explored as Showtrial continues.
Meanwhile, Damian has friends in some pretty high places, including Meera Harwood, played by Vigil star Lolita Chakrabarti, the Shadow Minister for the environment and the mother of Talitha's old friend Dhillon (Joseph Payne).
The man whose decision determines if and when the Crown Prosecution Service will take forward the case against Talitha despite her family connections is James Thornley, played by Kerr Logan, who's acted in everything from Game of Thrones to ITV historical drama, Victoria.
James might have a history with Cleo Roberts, but his caution when it comes to approving Paula's case to go to court seems to stem from his concern about seeing the criminal walk free. Paula is supported in her attempt to convince him of her case's strength by her partner DC Andy Lowell (Christopher Hatherall), meanwhile James' boss Virginia Hoult (Sharon D Clarke) agrees that treading carefully could be the best approach.
Watch the Showtrial BBC trailer
Teasing all the drama, lies and conflicting views to come, the Showtrial BBC trailer was released on 21st October 2021. Opening with Talitha Campbell's arrest on suspicion of murder, the intensity builds as viewers see the teenager express no empathy whatsoever for missing Hannah Ellis.
Described by DI Paula Cassidy as a "rude, entitled, little cow", Cleo implores her new client to tell her exactly what happened the night Hannah disappeared, as dark scenes flash in and out, giving scant glimpses at what could've taken place.
"The jury will hate her," Sir Damian Campbell tells Cleo, giving a shockingly damning opinion on his own daughter's character. As the sinister Showtrial trailer draws to a close, it's the property developer who utters the equally fatalistic line, "It won't be decided on the evidence, but on her".
Whether or not Talitha's coldness will count against her in court, it seems Cleo has her work cut out if she's to secure an innocent verdict...
How many episodes of Showtrial are there?
Already fans might be eager to see Talitha's fate be determined but whether the teenager is guilty or innocent remains to be seen as Showtrial will unfold over five gripping episodes shown on a weekly basis. Each BBC Showtrial episode will be an hour long, giving plenty of time for viewers to immerse themselves in the dark side of the case and begin to draw their own conclusions as the lawyers present their evidence. Though this will require patience from viewers as they wait for the highly-anticipated finale, the twists and turns will be kept all the more unexpected and chilling in this extended format.
Where to watch Showtrial
Showtrial premiered on BBC One on Sunday 31st October at 9pm and the next four episodes will air at the same time each week. So don't forget to mark your calendars as the BBC show's gripping finale is set for 24th November, where it's expected that the grisly truth of what really happened to Hannah Ellis will finally be unveiled. Whether that means Talitha will spend the rest of her life in prison isn't at all clear cut, but it seems she's definitely hiding something...
Sign up to our free daily email for the latest royal and entertainment news, interesting opinion, expert advice on styling and beauty trends, and no-nonsense guides to the health and wellness questions you want answered.
Emma is a Royal Editor with seven years of experience working in digital publishing. Her specialist areas including literature, the British Royal Family and knowing all there is to know about the latest TV shows on the BBC, ITV, Channel 4 and every streaming service out there. When she's not writing about the next unmissable show to add to your to-watch list or delving into royal protocol, you can find Emma cooking and watching yet more crime dramas.