When did Grace start on ITV and which cast members have returned in the Peter James drama?
The Grace ITV adaptation is back on our screens after over a year and sees DSI Roy Grace facing some of his most disturbing cases yet…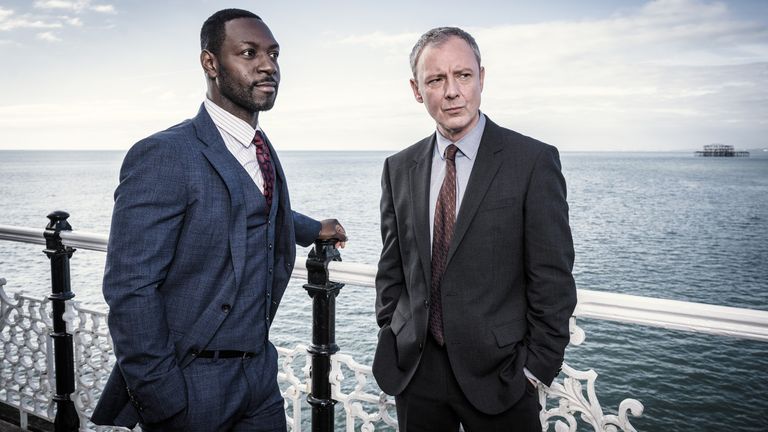 (Image credit: ITV)
The Grace ITV adaptation has returned after over a year and Detective Superintendent Grace has some seriously sinister cases on his hands.
From the new BBC show inspired by the Life After Life book to the Killing Eve book ending being changed, there's nothing quite like brilliant book-to-TV adaptations to fascinate viewers. Now the Grace ITV show is back with John Simm returning as the titular detective Roy Grace.
Set in Brighton, the series is inspired by Peter James' book series. If you loved the first instalment of the show last year then this compelling crime drama is sure to take you on a rollercoaster ride of tension and emotion this spring.
But when did Grace start on ITV, what is it about and which cast members have returned to the adaptation?
*Warning: Spoilers ahead!*
When did Grace start on ITV and is it a repeat?
Fans of the Grace ITV drama might well be a little confused as well as delighted to see John Simm make his triumphant return as DSI Roy Grace. Season 2 of Grace started on ITV on Sunday, April 24th 2022 with what has been described on the ITV Hub as its second series. Though some UK-based Grace viewers might have been left wondering if the recent episode of the ITV show is the same as previously aired, excitingly it's a brand new instalment in Roy Grace's story and not a repeat.
However, this episode titled Looking Good Dead and adapted from the Peter James novel of the same name reportedly landed for US viewers in 2021. This was just a few months after audiences were captivated by the sinister events of the first ever episode of the Grace ITV show, Dead Simple, that March.
So whilst US fans enjoyed part of season 2 a little earlier, UK viewers are now finally getting to see DSI Grace back where he belongs, solving crimes and bringing justice in the city of Brighton. And the adaptation has certainly hit the ground running with the second instalment, as Grace finds himself thrown in at the deep end when the possibility that a serial killer is on the loose makes solving multiple deaths even more of a race against time than usual.
What is Grace on ITV about?
If you've yet to dive into the Grace ITV drama then you might not know that the show is based upon the best-selling book series by Peter James. But however you've found yourself drawn into these compelling storylines, the main character of Roy Grace remains the anchor that everything else surrounds.
The Detective Superintendent who's generally known by his surname alone is determined to bring down Brighton's criminals whilst working through his grief, confusion and anger at the disappearance of his wife Sandy years earlier.
With no idea what happened to Sandy and suspicions circulating about his own involvement in her disappearance whispered around him, Roy has been plagued with rumours over the years. As the book series progresses, the matter of what happened to Sandy is kept up as an intriguing plot-thread with more details given and it will certainly be interesting to see whether if more Grace ITV series are commissioned, show fans could get to see this unfold.
In the show so far, Grace is aided in his deductions at work by close friend and colleague Glenn Branson and their loyal team of detectives, with his superior ACC Alison Vosper always keeping an eye on things.
Each Grace episode brings the events of a single DSI Grace novel to life on screen, with the first ever instalment adapting Dead Simple. This saw a stag night prank go horribly, horribly wrong when a close-knit group of friends are fatally injured: all except for one of the wealthiest members of the group who was also the groom.
The latest episode, Grace episode 2, Looking Good Dead saw two apparently unconnected deaths, that of a woman killed in Brighton and a man who found a disc on the train and unwittingly found himself a disposable witness to the murder. Grace season 2 episodes 1-4 are understood to all have been based on four of Peter James' best selling DSI Grace novels.
This includes the recent instalment, Looking Good Dead, as well as Not Dead Enough, Dead Man's Footsteps and Dead Tomorrow.
This means that whilst TV viewers might have weeks to go yet before they see all of these gripping plotlines play out on ITV, book fans will already have a tantalising idea of what is set to come in Grace season 2. Of course, as with so many of the best book-to-TV and best book-to-movie adaptations, changes are bound to have been made and this was certainly the case with aspects of the season 1 premiere.
The Not Dead Enough book focuses on the death of a wealthy socialite and although all the evidence found leads Grace directly to her husband, he was many miles away at the time. A reported sighting of Sandy also sends Grace's head spinning as he attempts to solve the crime.
(opens in new tab)
Not Dead Enough by Peter James, £4.99, Amazon (opens in new tab)
Grace is frustrated when his prime suspect in the death of a beautiful socialite—her husband—appears to have cast iron alibi. Alongside his case, Grace is left in shock after reports claim his missing wife Sandy has been spotted after nine years.
(opens in new tab)
Dead Man's Footsteps by Peter James, £4.99, Amazon (opens in new tab)
With his business failed and his life in tatters, Ronnie Wilson decides to reinvent himself after the terrorist attacks of September 11, 2001. Only his old life isn't left completely behind him as Grace steps in to investigate after the remains of a woman are found dead in a storm drain years later...
(opens in new tab)
Dead Tomorrow by Peter James, £4.99, Amazon (opens in new tab)
Roy Grace is on the case after the body of a missing boy is found off the Sussex coast without vital organs. Not long after this more bodies are discovered as the detective finds himself racing to save further lives as the investigation leads him into the world of traffickers.
Meanwhile in Dead Man's Footsteps sees a fair bit of time-hopping, taking readers back to September 11th 2001 when crook Ronnie Wilson seeks to start over again and escape his debts. Then six years later a woman's body is found in a storm drain and it's not long before Grace is uncovering a potentially deadly connection…
And if Grace episode 4 closely follows the Dead Tomorrow book, then viewers could expect to see a tale of black-market organ smuggling and a gang of child-traffickers being firmly fixed in Grace's sights in his quest for justice.
Who's returned to the Grace cast?
Perhaps the most prominent member of the Grace ITV cast is John Simm, who's perhaps best known for his roles in Life On Mars and Doctor Who. In the detective drama John plays DSI Roy Grace, who's dogged in his pursuit of criminals and whose personal life is in some ways just as devastating as some of his cases.
Opening up to Express.co.uk (opens in new tab) and other press about his role, John discussed how he always aims to leave the darker themes of the show behind after filming.
"As soon as I take the suit off, it's gone," he said. "We're actors. With the parts you play, sometimes, you can't take it home with you or else you will be in a lot of trouble."
He went on to suggest that the role was "meant to be" after being offered it shortly after moving to Brighton himself.
"We'd started looking for a house and then while I was doing Macbeth in Chichester, I got the call asking if I wanted to play this Brighton detective and I couldn't believe it, I rang my wife and said, 'You're not going to believe what I've just been offered!'," he said. "So, it just all fell into place, it was obviously meant to be."
Grace's partner in crime fighting, DS Glenn Branson, is portrayed by Richie Campbell, who's appeared in everything from The Bill to Waterloo Road.
Returning to join John and Richie as their fellow Brighton police officers are Rakie Ayola as ACC Alison Vosper and Laura Elphinstone as DS Bella Moy. Meanwhile, Amaka Okafor plays DC Emma-Jane Boutwood and Brad Morrison stars DC Nick Nicholl. But whilst there are plenty of familiar faces returning to the Grace ITV cast, there are also a few newcomers for season 2 that will make serious waves.
The first of these is Line of Duty star Craig Parkinson as another police officer (although thankfully, not a corrupt one this time) by the name of Norman Potting.
In both book and show he's not always the most politically correct or tactful of team members, though he's loyal to Grace and gets the job done. Another newcomer to the Grace cast is a central love interest for the titular DSI and someone who is arguably more adept at fitting into his hectic and dangerous world than Sandy ever was.
Cleo Moray is a Senior Anatomical Pathology Technician at the Brighton Mortuary and is played by Zoë Tapper who was a member of the Rules of the Game cast earlier this year.
How many Grace episodes are there?
Just like with The Long Call ITV and the recent Our House episodes, the new Grace ITV drama consists of four episodes. Each of these are two hours long but sadly for anyone who enjoys binge-watching their way through their favourite new shows on demand, all of the Grace episodes haven't been released on the ITV Hub.
Instead they'll be airing on a weekly basis on Sundays on ITV at 8pm and will only then become available to watch on catch-up. The new Grace ITV episodes will also reportedly be landing on BritBox for subscribers who've already made their way through some of the best period dramas the platform has to offer.
Emma is a Senior Lifestyle Writer with six years of experience working in digital publishing. Her specialist areas including literature, the British Royal Family and knowing all there is to know about the latest TV shows on the BBC, ITV, Channel 4 and every streaming service out there. When she's not writing about the next unmissable show to add to your to-watch list or delving into royal protocol, you can find Emma cooking and watching yet more crime dramas.