What happens in the Killing Eve book ending and how does the season 4 finale differ?
The Killing Eve book ending has made major changes to the end of Killing Eve season 4 as Eve and Villanelle's story comes to an end...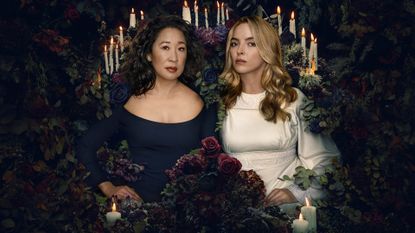 (Image credit: BBC)
The Killing Eve book ending couldn't be more different from the end of Killing Eve season 4 as Villanelle and Eve's twisted journey is brought to a close.
As with even the best book-to-TV or book-to-movie adaptations, there are bound to be some changes made when it comes to bringing a brilliant book plot to life on screen. And Killing Eve is no exception as it moved away from the storyline of Luke Jennings' series, taking agent Eve Polastri and assassin Villanelle in an equally dramatic direction. Since the show first landed it's had viewers eagerly wondering when Killing Eve is on next and was even named the most-watched BBC show of 2019.
After it was confirmed that Killing Eve season 4 would be the adaptation's last, fans were left eagerly anticipating what could lie in store. Now we finally have the answer as the hit adaptation bowed out in chilling style.
But what happens in the Killing Eve book ending and how does the end of Killing Eve season 4 differ?
*Warning: major Killing Eve book and show spoilers ahead!*
The Killing Eve book ending explained
Thriller lovers who couldn't help delving a little deeper into the Pieces of Her ending and The Holiday book ending might well have been playing armchair detective piecing together what could happen in Killing Eve as season 4 continues. After all, the hit BBC spy show is based upon Luke Jennings' acclaimed Villanelle series.
But when it comes to the Killing Eve book ending, fans might well have been left more than a little surprised by the very different approaches taken by the BBC adaptation and the original novel. In Book 3 of Luke's series, Killing Eve: Die For Me, the Bond-esque drama of the title couldn't be more perfect given the ending's internationally-dramatic events.
Going into the book's final installment, ex-MI5 Agent Eve Polastri and hitwoman extraordinaire for shady criminal organization The Twelve, Villanelle, are very much an item. This romantic subplot has been explored in its own distinct way in BBC's Killing Eve, but the final book sees Eve transition to only thinking of the assassin as Oxana, her birth name.
After admitting to herself that the obsession and attraction between them is entirely mutual and utterly unavoidable, Eve finds herself drawn into Oxana's shadowy world. The story sees the former adversaries-turned-couple in Russia and in the final chapters of Die For Me, they team up with FSB General Tikhomirov.
The fictional American President Loy has arrived to visit Russia's President Valery Stechkin and it's feared their lives could be at risk. So much so that security couldn't be tighter around the world leaders as they attend a performance of The Nutcracker at the Bolshoi Theater. Eve and Tikhomirov arrive at the theater and all appears to be safe until the manager reports a woman has been found apparently drunk in a locked cubicle in the toilets.
Racing to find her, they discover the woman dead and wearing the clothes Eve last saw Oxana wearing. Both know what this means, but they're too late to save either Stechkin or Loy as the guards on the door reveal no-one has left the Presidential box, but a "translator", actually Oxana in disguise, has left.
When they enter the box, they find the presidents arranged very specifically to send a message. Both have been meticulously murdered and Tikhomirov puts out an alert to find Oksana immediately. And find her, they do, with Eve watching in horror as she sees Oksana shot in cold blood, weapon-less.
Though long-time Villanelle fans might've been every bit as grief-stricken as Eve that the assassin has been murdered, Killing Eve wasn't about to let up on the twists quite yet. The Killing Eve book ending sees Eve whisked to safety by Tikhomirov and making contact with Oxana's old French teacher.
When they enter the box, they find the presidents arranged very specifically to send a message. Both have been meticulously murdered and Tikhomirov puts out an alert to find Oxana immediately. And find her, they do, with Eve watching in horror as she sees Oxana shot in cold blood and weapon-less after being caught.
Though as Eve works out, Tikhomirov was every bit as involved, both in faking Oxana's death and allowing the assassination to go ahead. In the final chapter which takes place an entire year later, the highly experienced agent deduces that he uncovered the plot to kill Loy and Stechkin and approached The Twelve to do a sinister deal.
They got their killings and he became the next Russian President after looking like he did all he could to save his predecessor. He included Eve in the operation to make it appear that he was genuinely working on little information and needed an undercover agent to help him.
Whilst Oxana was left alive to keep Eve silent and to ensure she kept up his version of events rather than speaking out about Tikhomirov's acquiescence in the plan. Ultimately, the leaders of Europe have all been marked by The Twelve. But it's not all doom and gloom for fans of Eve and Oxana as the two go on to live a happy life together in the suburbs of St Petersburg.
Whilst Oxana is studying for a linguistics degree (maybe she'll go on to be a real, qualified translator?) Eve works for an online translation bureau with hopes of going back to school herself in the future with a distance-learning course in psychology. The two receive money every month wired to Eve and Oxana's joint bank account and though it's not huge considering the information they have on Tikhomirov, it apparently "meets most of [their] needs".
In the final sentences of the Killing Eve book ending, Eve remarks that no one takes "any notice" of her and Oxana. Instead they are "just two women gazing out over the frozen Neva river" as they've found peace at last.
How does the end of Killing Eve season 4 differ from the book?
Now the Killing Eve season 4 ending has aired in the US and has also landed on BBC iPlayer for eager UK fans, many viewers might be wondering how the show finale differs from the book. Unlike the Killing Eve book ending, the end of Killing Eve season 4 actually sees The Twelve brought down once and for all by everyone's favorite killer-for-hire, Villanelle.
The scene itself is quite the watch, with Villanelle's viscous take-down of the people that once controlled her intercut with joyful scenes of Eve showing off her moves on the dancefloor.
The pair were led to a boat where a wedding was taking place after the disgraced former Head of MI6's Russia Desk, Carolyn Martens, tipped them off that The Twelve would be gathering there. Arriving to determine who The Twelve are and kill them, Eve had been mistaken for an officiator at a wedding and is roped in whilst Villanelle headed off in search of their enemies.
And whilst the book ends in Russia, London is where Villanelle and Eve's story is brought to an end in the show. Uttering the final episode's title, "Hello, losers", Villanelle doesn't let anything get in her way as she eliminates the group.
She returns to Eve and smiles, watching her enjoying herself with her fellow guests when the former MI6 agent catches sight of her. Leaving the celebration, Villanelle is followed by Eve and long-time fans might see the ominous throwback sign in the way they're right by Tower Bridge. It was here that the Killing Eve season 3 finale saw them agree to walk away from each other—something they've not been able to do.
"I did it, Eve," the assassin tells her, again something that never happened in the Killing Eve book ending where she instead killed two presidents, which actually benefited The Twelve.
As the two embrace, Killing Eve book readers might well have thought that although they took different paths, Eve and Villanelle could end up getting the same happy ever after as the book after all. Sadly, this isn't the case at all as anyone rooting for their romance was left devastated by the assassination of the master assassin.
Shot through the back by a sniper as she and Eve stand on the deck, when more bullets fly Villanelle urges Eve to jump into the icy waters of the River Thames. Both go in, but only Eve comes out as despite desperately trying to swim towards each other, Villanelle is shot several more times and Eve's survival instinct kicks in.
Breaking the surface with a primal scream, Eve is clearly heartbroken by the loss of Villanelle as the culprit behind her murder is revealed to be Carolyn Martens. All season long Carolyn has been seeking vengeance for the death of her son Kenny at The Twelve's hands and a way back to her job.
This is also incredibly different to the Killing Eve book ending, where Carolyn and her son don't even exist as characters. Instead, Eve's former boss is Richard Edwards and she believes he tipped Tikhomirov off about the presidential assassination plot.
In the Killing Eve season 4 ending Tikhomirov doesn't exist, the Russian and United States Presidents aren't killed, by Villanelle or anyone else, and Eve is left mourning the loss of Villanelle. The shooting of Villanelle and Eve's grief do of course appear to happen in the Killing Eve book ending, only for her death to be revealed as a ruse.
But unfortunately for fans, it doesn't seem to be the case in the show. Faking shots and blood in that situation would be harder to control and the credits roll shortly after Eve is forced to abandon her attempts to reach a motionless Villanelle, whose eyes are closed.
Where the Killing Eve book ending rounds things up, giving an indication of where Eve and Villanelle are now and also where their lives are headed, the show has gone a rather more ambiguous route. Instead of ending with Villanelle and Eve as an equal partnership having forged a life together, Eve's future is left wide open.
Although whilst this is far sadder than the Killing Eve book ending, in some ways the differences make the overall world view less bleak. In the novel the world order is essentially now controlled or influenced in some way by The Twelve and so Eve and Villanelle might be happy, but the global situation is concerning to say the least.
In the show The Twelve and their influence is removed completely, easing this sense of discomfort. Meanwhile, lead writer Laura Neal has opened up to TVLine about the decisions made when it came to changing the happy ending.
"We discussed lots of different versions of the ending, so we certainly discussed an ending where they both live happily ever after. But our problem was that we couldn't really imagine them doing so. We couldn't imagine a world where Eve and Villanelle could exist in domestic bliss for very long," she explained.
"I think the way we tried to explore that is that we put them in quite a lot of domestic situations in Episode 8 itself. So it's almost like lots of the story is them trialling their relationship in different formats and testing it and seeing how it works. And I think they come to the conclusion, and then I hope we as an audience come to the conclusion, that they are fated for something a little bit more explosive—which is what happens."
How many Killing Eve books are there?
Killing Eve books in order:
Codename Villanelle
Killing Eve: No Tomorrow
Killing Eve: Die For Me
If you've yet to dive into the sinister world of the three Killing Eve books then there's an order you should follow to immerse yourself in Eve and Villanelle's story completely. Luke Jennings' first Killing Eve book, Codename Villanelle, was released in 2017 and consisted of four ebook novellas published between 2014-16 called Codename Villanelle, Hollowpoint, Shanghai and Odessa.
It was then followed by the equally exciting sequel, Killing Eve: No Tomorrow, which was published in 2018, the same year that Killing Eve season 1 landed.
Codename Villanelle, £3.99, Amazon
Villanelle is without conscience after being trained in assassination, but M15's Eve Polastri is determined to bring her down, whatever it takes.
Killing Eve: No Tomorrow, £3.99, Amazon
Eve and Villanelle's cat-and-mouse game isn't over and as their mutual obsession intensifies, the agent begins to uncover clues to her enemy's identity.
The third installment of the Killing Eve book series is Killing Eve: Die For Me where readers get to see Eve and Villanelle/Oxana's story finally brought to an end.
Now you know the Killing Eve book ending, there's plenty of time to enjoy Luke's original creation all over again as you continue to reel from the dramatic events of the end of Killing Eve season 4...
Sign up to our free daily email for the latest royal and entertainment news, interesting opinion, expert advice on styling and beauty trends, and no-nonsense guides to the health and wellness questions you want answered.
Emma is a Royal Editor with seven years of experience working in digital publishing. Her specialist areas including literature, the British Royal Family and knowing all there is to know about the latest TV shows on the BBC, ITV, Channel 4 and every streaming service out there. When she's not writing about the next unmissable show to add to your to-watch list or delving into royal protocol, you can find Emma cooking and watching yet more crime dramas.