Netflix's Sex/Life ending has fans shocked to the core—'my jaw is on the floor'
The Sex/Life ending came out of nowhere and viewers have some stern words for central character Billie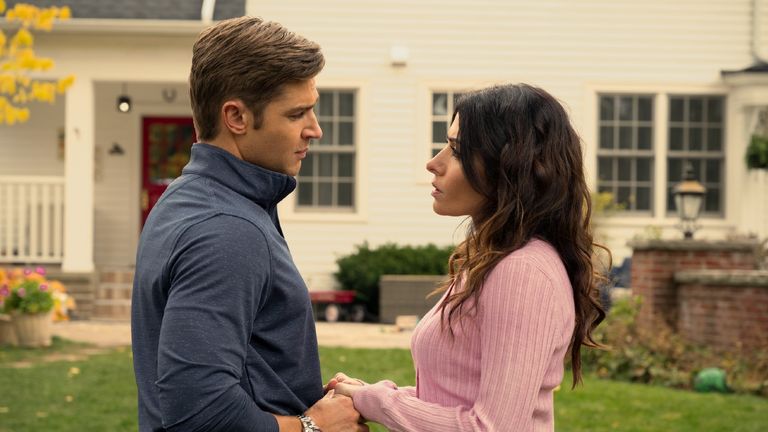 (Image credit: Netflix)
Fans of the Netflix's Sex/Life are reeling from the show's shocking ending with some viewers hoping that the final scene, "was just a daydream". 
*Warning: Sex/Life ending spoilers ahead*
Netflix launched their new series Sex/Life on 25 June 2021 and viewers have become obsessed with this raunchy drama and it has stayed on Netflix's 'Top 10' in the UK and US since its release.
The series stars Sarah Shahi as Billie Connelly, Mike Vogel as her husband Cooper Connelly, and Adam Demos as Bille's troublesome ex, Brad Simon. Looking at the reaction on Twitter, many fans have already binged the eight episodes of the first season—and they aren't happy with the Sex/Life ending, to say the least. 
As a quick recap, Sex/Life sees the main character Billie living in suburbia in a comfortable, yet unfulfilling, relationship with husband Cooper and their young children. While Billie tries to live a simple life of domesticity, her memories can't help but conjure up past lover Brad. As each steamy former encounter unfolds on screen, it becomes clear that Billie and Brad have unfinished business, with Billie jotting down her past sex stories on a laptop as a virtual diary (you know where this is going, right?) 
The eighth episode of the Netflix drama sees Billie do a sharp U-turn on her promise to stay faithful to husband Cooper, straight back into the arms of floppy-haired music producer Brad, with whom she'd recently shared that scene that had everyone googling 'coital alignment technique'. Fans were outraged by her decision, with Netflix viewers swarming social Twitter to express their disapproval of the Sex/Life ending. One fan commented in shock, "My jaw is on the floor after that last episode! Omgg haha." 
Another fan agreed and added that they hoped the last scene was simply another one of Billie's fantasies. They wrote, "I just hope the ending of #sexlife wasn't the actual ending and that it was just a daydream while Billie was running to Sasha's because I just can't with Billie man."
Some fans even suggested that they felt that the last scene let the series down as one said on social media, "I was hooked on Sex/Life just for it to have that ending A SHAME."
Another agreed and said they wish they never started the show, writing, "Bruh the ending of #sexlife just made me regret watching all that wtf. Cooper my boy I feel for you."
While another angry fan said that, really, Sasha was the star of the show, writer, "This doesn't need a season 2 unless it's about Sasha. #Sexlife"
Others were less than impressed by Billie's reaction at the end of the episode. With another writing, 'When Billie did her lil run at the end of the last episode I just knew where she was headed Couldn't even finish it #SexLife'
Perhaps the real shock, is that Billie and Brad are actually a couple in real life! Well, perhaps that softens the blow (and explains the sizzling on-screen chemistry!) 
---
More from woman&home:
---
What happened in the controversial Sex/Life ending?
Throughout the series, Billie battles with her feelings, and her situation become more complicated when her husband, Cooper, discovers her diary on her laptop where she has been documenting her sexual fantasies about ex Brad. 
After various sexual misadventures with her husband and a few disastrous run-ins with Brad, Billie decides that she needs to focus on her marriage and husband and ignore the 15% of her that is looking for the danger and passion that she shared with free-spirited Brad. In the last five minutes of the show, the writers leave the viewers on a cliffhanger, as Billie leaves her son's play area and, quite literally, runs back to her ex-boyfriend. 
Billie and Brad then stare at one another as she stands on his doorstep, announces that she isn't separating from her husband and nothing has changed, but she wouldn't mind some action there and then. The series then abruptly ends—without Brad's full reaction. Although he smiled at the suggestion, it was unclear if the two then gave in to their passions, or whether this was in fact just another fantasy of Billie's.
As the series ended in a cliffhanger and fans are now questioning whether there will be a second series. One fan said on social media, "There better be a second season of sex/life!!" Another agreed and said, "Sex/Life Netflix better come through with a second season ASAP!!!"
Netflix has yet to announce whether they will commission a season two of Sex/Life, but the show did have some great success in both the US and UK with the series topping the top ten most-watched, soon after its release.
Catch Sex/Life on Netflix, streaming now