'Behind Her Eyes' is set to be your next big Netflix obsession
The new Netflix drama is being compared to 'You' and comes from the makers of 'The Crown'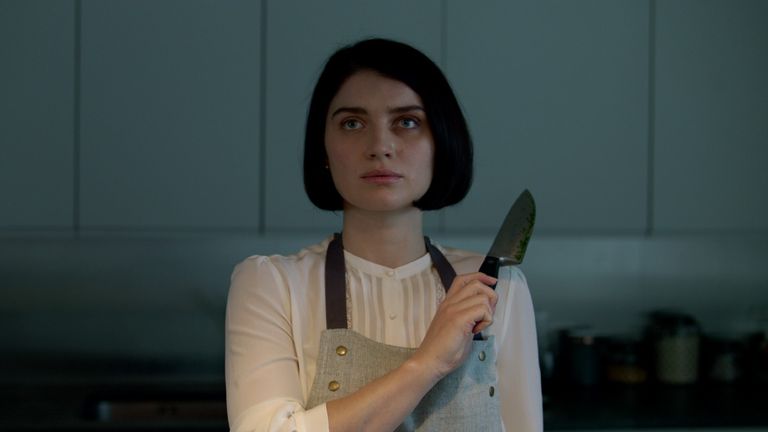 (Image credit: Netflix)
Netflix's upcoming series, Behind Her Eyes, will be released on February 17. Based on Sarah Pinborough's best-selling psychological-thriller novel of the same name, this new series is already set to be a smash hit, and we can't wait!
This new show will consist of six hour-long episodes that explore the dynamic relationship between married couple Adele (Eve Hewson) and David (Tom Bateman) and their twisted affairs involving single mother Louise (Simona Brown).
The Netflix series' synopsis reads, "A single mother enters a world of twisted mind games when she begins an affair with her psychiatrist boss while secretly befriending his mysterious wife." How creepy!
Read more from woman&home: 
• Best pillow for a comfortable, pain-free night's sleep
• Best scented candles for a warm and cozy home this winter
• Best eReaders for literary lovers to buy now - from Kindles to Kobo devices
Netflix has released a teaser trailer for Behind Her Eyes, and it's just as haunting as you imagine. In the trailer, we watch as David enters the kitchen and asks Adele in a menacingly low voice, "where's your phone?" 
His wife answers by pointing with her knife (ominous) behind her and continues to slice what seems like an obscene amount of parsley, while he scrolls through her texts on her flip phone. 
He then snaps the phone shut and stands behind her. The scene quickly cuts just as she is about to turn around.
Somehow, in just a 45-second clip, we are hooked. Why was he looking at her phone? Why is her phone so crap? Why is he so creepy? What kind of weirdo eats that much parsley?? We are left with so many questions!
The original book was published in 2017 and became the must-read thriller of the year. The New York Times Book review stated of the book, "An eerie thriller...Pinborough keeps us guessing about just who's manipulating whom - until the ending reveals that we've been wholly complicit in this terrifying mind game." 
The producers of this Netflix series also produced the smash hit The Crown, so this series is already on track to be a winner. 
Netflix has compared this show to You in their 'more like this' section. Other comparisons have also been made online. One fan wrote on Instagram that the show's trailer gave them serious "Gone Girl vibes."
Fans of the novel are already extremely excited about the upcoming adaptation. One fan took to Twitter to comment on Netflix's announcement of the show, "WHAAAAAT!!! "Behind Her Eyes" wow, this is great. It was one hell of a book, I'm definitely watching this."
Author Sarah Pinborough also took to social media to poke fun at Netflix's description of the show, she wrote, "'This programme is mind-bending…' Yep, just a touch."
'This programme is mind-bending..." Yep, just a touch 😂 pic.twitter.com/r0OrSM1Cj8January 20, 2021
See more