Married At First Sight's Cam and Jules reveal they 'didn't find each other attractive' initially
"It wasn't love at first sight, but it was a vibe at first sight."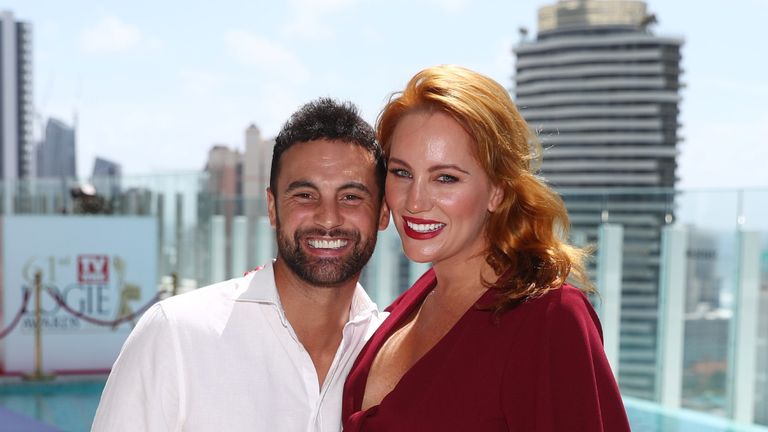 (Image credit: Chris Hyde/Getty Images)
Married at First Sight Australia hit UK screens in January - and we've been glued ever since. 
The E4 dating show does exactly what it says on the tin, pairing total strangers up to tie the knot and build a life together. Couples meet for the first time at the altar, where they partake in an unofficial wedding ceremony before jetting off on their honeymoon. It may sound like a one-way ticket to divorce, but the show surprisingly has some happily-ever-after stories. The UK is hooked, especially since the series dropped on Channel 4 and we can catch up with the hopeful romantic's escapades by watching Married At First Sight from the other side of the world. 
Cam Merchant and Jules Robinson, who appear on the first episode of its sixth season, have now been together for three years - much to their disbelief. The couple openly admitted that it wasn't 'love at first sight', with neither finding the other one particularly attractive as they exchanged vows. Wait, what? Could have fooled us... 
"Cam wasn't someone I'd have looked at twice in the street," Jules said in a recent interview with the Times. 
"We weren't what each other ordered." The 37-year-old businesswoman, who was a heavy user of dating apps before the show, had hoped for a tall, broad groom. At 5'7, cricketer Cam wasn't exactly towering over her. Jules's own appearance was also different from her new husband's ideals of a petite, blonde woman. 
"Here I was, this curvy redhead coming down the aisle," she said. 
Despite these initial disappointments, both Jules and Cam immediately felt comfortable with each other. 
"From the moment we met it felt relaxed," she said. "I saw immediately that he was a kind man. We have the same moral compass."
Cam agreed, adding, "It wasn't love at first sight, but it was a vibe at first sight." 
Prior to the show, both Jules and Cam hadn't been so lucky in the romance department. Cam, who is now 38, had been driven to a single lifestyle after he neglected relationships to focus on his cricket career. He was scouted for the show at a bar with his friends, while Jules applied to be cast. 
"I said I felt like I'd searched the whole world and I couldn't find my guy," she said. 
The decision to go on reality TV was a risk that paid off. The couple legally married after the show, and welcomed their son, Oliver, into the world last October. 
The family now live together in Sydney, where Cam organizes mental-health workshops for children and Jules runs a shapewear clothing line. When they're not working on their businesses, they can be found spending quality with their baby. They even have hopes to rewatch their Married at First Sight episode with Oliver - when he's old enough, of course. 
"How amazing to watch your parents fall in love," said Cam. "Maybe there are a few bits he should skip though."