Luxury Candles from Fortnum & Mason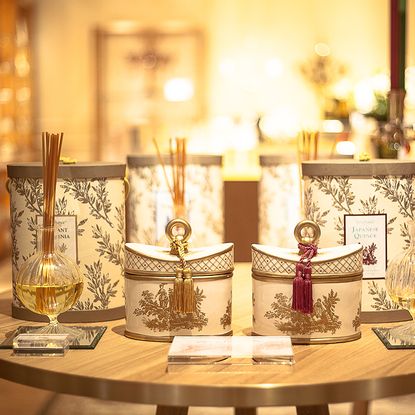 Relax with these lavish, heavenly scented candles from Fortnum & Mason's new candle room
Did you know that Fortnum & Mason (opens in new tab) started with a candle? Some three hundred years ago, William Fortnum thought of melting used candle stumps and re-moulding them. He sold them well to ladies of the court and this prompted him to launch a department store with Hugh Mason - and one of the world's most glamorous brands was born.
Now the company is revisiting its roots in style with the launch of a Candle Room (opens in new tab), an inspiring space filled with deliciously scented candles. Some of them are made by Fortnum's using beeswax harvested from the beehives found on the store's roof, and the rest are a selection from the world's finest makers
Tiziana Terenzi Almond Vanilla Candle
The perfect balance between sweet and bitter notes, this exquisite candle blends almond with the earthy scent of Tahitian vanilla and the fruitier note of the Madagascan variety. £55.
Roja Dove Gardenia Candle
Sweet, floral and supremely elegant, this candle features the world's finest rose - the legendary and hugely expensive Rose de Mai, which only grows in the town of Grasse, in France. £75.
Cire Trudon Melchior Candle
Fragrant, balsamic benzoin combines with the intense scent of myrrh in this luxurious candle by Cire Trudon, aptly named Melchior after one of the Three Kings. £60
Rigaud Gardenia Candle
Sweet and fresh, this floral candle conjures up images of Provence, blending the scent of gardenia and Provence rose on a base of cedar and musk. £48.
Seda France Japanese Quince Pagoda Candle
Lively fruit notes mingle in this intriguing Japanese Quince candle - Seda France's signature scent - which combines rhubarb, passion fruit and white peach with jasmine flowers. The candle comes in a toile pagoda box that's so pretty it needs no gift wrapping. £60.
James Heeley Benediction Candle
Spiritual wellbeing is the aim and the inspiration for this candle by James Heeley, which combines the scent of frankincense, labdanum ciste, ambergris, patchouli and vetiver. £60.
Jovoy L'Arbre de la Connaissance Candle
This sweet, Mediterranean-inspired candle evokes the scents and atmosphere of the French Riviera. £65.
Baobab Maasai Spirit Candle
Baobab's warm, richly scented candle, with earthy ambergris notes, is inspired by the culture of the fierce Maasai of Tanzania. £55.
Fortnum & Mason Orange Pomander Candle
The spicy scent of cinnamon and cloves complement zesty orange in this decadent candle by Fortnum & Mason. £40.
Kenneth Turner Roman Column Candlestick
The Fortnum & Mason candle room also stocks beautiful candlesticks. Ideal for pillar candles, this crystal candlestick by Kenneth Turner, with its classic, clean-lined design, is the perfect size for the dinner table. £60.
Carla Passino is a multimedia journalist with more than seventeen years' experience in national and international media.
Carla's primary areas of interest are political, economic and housing trends in global cities. Much of my time is spent writing about the world's prime property markets and the factors that affect it, covering fiscal, legal, political and financial issues linked to home ownership, and reporting on major shifts in British, European and international housing. Over the years, Carla has written about culture, education, interiors, farming, travel, food, wine and more.