Dr. Seuss' stepdaughter says pulling books is a 'wise decision' amid racism row
Lark Grey Dimond-Cates, the stepdaughter of Dr. Seuss, has spoken out about her stepfather amid racism row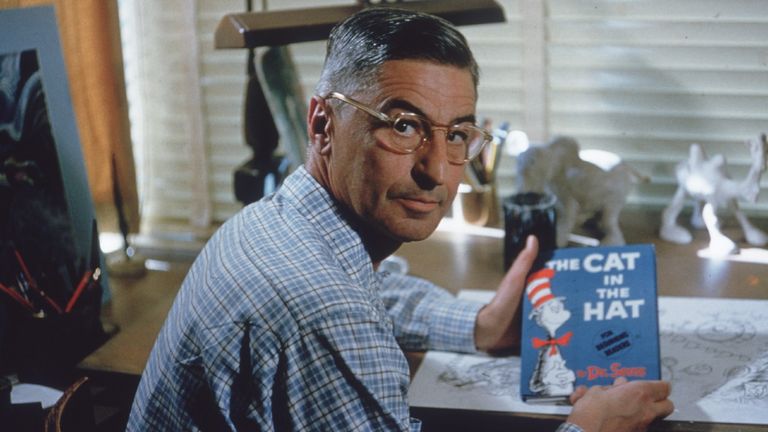 (Image credit: Gene Lester / Getty Images)
Dr.Seuss's step-daughter, Lark Grey Dimon-Cates, has spoken up about her stepfather's books being pulled from shelves. Six of Dr. Seuss's books have recently been withdrawn due to racist stereotypes and hurtful imagery. 
Lark Grey Dimond- Cates states that the choice to stop publishing some of her step-father's books is the right thing to do. However, she has made it known that her step-father was not a racist. Lark Grey told the New York Post, "There wasn't a racist bone in that man's body - he was so acutely aware of the world around him and cared so much."' 
She continued to state, "I think in this day and age, it's a wise decision. I think this is a world that right now is in pain, and we've all got to be very gentle and thoughtful and kind with each other." Lark Grey has continued to uphold her step-father's legacy since his passing in 1991. In 1996 she helped design the Dr. Seuss National Memorial Sculpture Garden that was made in her step-father's memory and opened in 2002.
Read more from woman&home:  
• Best pillow for a comfortable, pain-free night's sleep
• Best scented candles for a warm and cozy home this winter
• Best kindles for digital book lovers - we help you decide which one to buy
Dr. Seuss National Memorial Sculpture Garden, designed by Lark Grey Dimond-Cates and created by sculptor and artist Ron Henson in Springfield, USA, is dedicated to the memory of the popular writer, Dr. Seuss.#PlacesToVisit #Sculptures #Art #Books #Children #Seuss #GrandDesigns pic.twitter.com/sfz35B71SIFebruary 8, 2018
See more
On Read Across America Day on Tuesday, Dr. Seuss Enterprises announced that they would be withdrawing some of Dr. Seuss's books from publication. 
A spokesperson told the Associated Press, "These books portray people in ways that are hurtful and wrong." They continued to state, "Ceasing sales of these books is only part of our commitment and our broader plan to ensure Dr. Seuss Enterprises' catalog represents and supports all communities and families."
Dr.Seuss, the famous author of the children's books 'The Cat in the Hat' and 'Oh the Places You'll Go,' died in 1991. He wrote throughout his life, and most of his literature was published between 1937-1990. His first book, 'And to Think That I Saw it on Mulberry Street,' published in 1937, is one of the six selected books that will be discontinued.
The books that have been pulled are some of Dr. Seuss' earlier works, 'McElligot's Pool,' 'On Beyond Zebra!,' 'Scrambled Eggs Super!,' 'The Cat's Quizzer,' 'And to Think That I Saw It on Mulberry Street" and "If I Ran the Zoo."
The books were pulled because of 'racist imagery' and 'racial undertones. The Associated Press describes the harmful stereotypes that some of the books perpetuate. "In 'And to Think That I Saw It on Mulberry Street,' an Asian person is portrayed wearing a conical hat, holding chopsticks, and eating from a bowl. 'If I Ran the Zoo' includes a drawing of two bare-footed African men wearing what appear to be grass skirts with their hair tied above their heads," said Associated Press.
Dr. Seuss Enterprises decided after speaking with various academics that these racial stereotypes were inappropriate. They state that they are "committed to listening and learning and will continue to review our entire portfolio."
Fans have spoken up about this issue on social media, and some are suggesting that this withdrawal of books is a symptom of 'cancel culture. Ben Shapiro, a right-wing conservative commentator, said, "We've now got foundations book burning the authors to whom they are dedicated. Well done, everyone." 
However, other fans of Dr. Seuss's work are pleased that some of his outdated books will be withdrawn. One said, "I've been thinking about this! The way people are talking about the Dr. Seuss 'cancellation' makes it clear that they've never considered that Black children read books." 
Another fan said, "I grew up with Dr. Seuss books and attended the same college. But this reminds us that racism is embedded in the DNA of America. Anyone who claims they "don't have a racist bone" in their body hasn't thought very deeply about race in America."