Yankee Candle Black Friday is here! These are the brilliant deals to shop today
The Yankee Candle Black Friday deals have landed.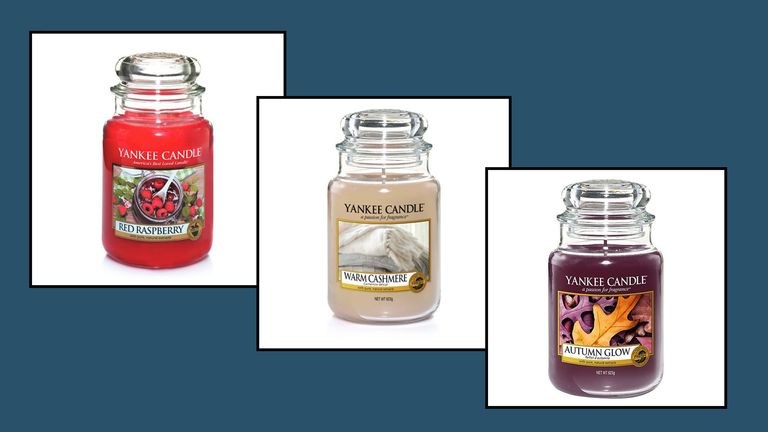 By Amy Hunt
Candle lovers, listen up: the Yankee Candle Black Friday sale is here! With a huge 30% off a huge range of candles for every occasion - we couldn't be more excited. 
The brand has candles for every season – from Pumpkin Patch and Autumn Glow to the festive Holiday Hearth Surprise Snowfall Candles for fall. In fact, there's an option for just about every month or even day you can think of! That's why we look forward to the Yankee Candle Black Friday sale every year.
Like Diptyque, Jo Malone and Molton Brown candles, Yankee Candles offers up some of the best home fragrance. And with 30% discounts savings across hundreds of scented treats, the Yankee Candle Black Friday sale is among this year's best Black Friday deals. Read on to discover our choice of the most beautiful candles, exciting bargains and best buys for you or to gift a loved one. 
Ready to shop? Here's out pick of brilliant Black Friday discounts. 
Yankee Candle deals: quick links
The best Yankee Candle Black Friday deals to shop today
Yankee Candle Pyramid Aroma Diffuser| £52.99 £37.09 (save £15.90) | Yankee Candle This stylish aroma diffuser with aromatic oil by millefiori will fill your house with  beautiful scent (and be a godsend if you worry about burning candles) View Deal
3 Small Jar Candle Gift Set £24.99 £21.24 (save £3.75) | Yankee Candle Enjoy thrice the festive magic with this very sweet trio of Christmas candles. The set includes Singing Carols, Suprise Snowfall and Holiday Hearth. View Deal
Sage & Myrrh Ellipse Candle £29.99 £20.99 (save £9) | Yankee Candle This huge ultra luxe-looking candle smells Christmassy without being overly sweet or cinnamon-laden. The herby and aromatic smell is a classy as its giant teardrop glass votive. View Deal
Yankee Candle Christmas Eve Large Jar Candle £23.99 £16.79 (save £7.20) | Yankee Candle  More Christmassy than Saint Nick wearing a festive jumper and eating sprouts, this candle combines candied and sugared fruits with a deep smoky base. The classy glass jar makes this a perfect gift too. View Deal
Yankee Candle Candlelit Cabin diffuser £19.99 £14.99 (save £5) | Yankee Candle Everyone loves a diffuser, don't they? And what better way to gently scent your house this winter than with this chic reed diffuser. The scent is reminiscent of a Nordic retreat with fresh pine, warm spices and delicious forest fruits. View Deal
Yankee Candle Forest Retreat Ellipse Trilogy Candle £29.99 £20.99 (save £9) | Yankee Candle This supersized candle is class in a glass, weighing a whopping 1497g in a teardrop shape with a beautiful wooden lid. The unique hearthwick wick gives off a soft crackle as it burns as well as a warming, nature-inspired fragrance. 
 Yankee Candle Red Raspberry Large Jar Candle £23.99 £16.79 (save £7.20) | Yankee Candle This sweet, fresh raspberry scent is a classic. Get it for 30% off on Yankee Candle this weekend, perhaps stock up a few to see you through until spring?View Deal
offer
Yankee Candle Classic Large Jar Christmas Morning Punch £23.99 £15.99 (save £8) |Boots The name does not refer to pre-breakfast squabbles over who gets to eat the first Terry's Chocolate Orange, but a warming drink with christmassy aromatics and fruits of the forest.View Deal
Yankee Candle Magical Christmas Morning Wax Melt Gift Set £16 £14 (save £2) | Very Wax melts are a novel and fun way of scenting a room - simply place on the ceramic warmer, light the tea light and allow the scent to gradually release. This set contains three melts in Christmas Cabin and Christmas Cookie fragrances. View Deal
Yankee Candle Large Jar Angel Wings £24 £17 (save £7) |  Very.co.ukA new scent from the brand, this one has notes of sweet spun sugar, elegant flower petals and divine vanilla. Did we mention it's now a brilliant £9 off?
Yankee Candle Magical Christmas Morning Gift Set £30 £25 (save £5) | Very You'll get two gorgeous medium jar candles in this set: Singing Carols and Unwrap the Magic. We couldn't think of anyone who wouldn't love to find this under the tree with their name on it.View Deal
Yankee Candle Cinnamon Stick Large Jar Candle £23.99 £14.99 (save £9) | Amazon This one's a cult classic for good reason: its warm room-filling aroma of cinnamon and cloves is oh so christmassy. View Deal
Yankee Candle Value Bundle with 10 Votive Scented Candles £20 £18.99 (save £1.01) | Amazon The only thing better than a Yankee Candle? 10 Yankee Candles, of course. This value votive bundle contains 10 of the brand's most beloved scents. View Deal
Does Yankee Candle do Black Friday sales?
In short - yes. Yankee Candle have participated in the Black Friday sales for the last few years, offering discounts on some of their most popular home fragrance items.
This year, Black Friday 2020 runs throughout Cyber Weekend from November 27-30th, but Yankee Candle started early with a range of sales and deals. And of course, you may well expect these deals to last for several days after.
Is the Yankee Candle Advent Calendar on sale during Black Friday?
Given that Black Friday is right before Christmas, it's a great time to pick up any discounts on the best advent calendars and best beauty advent calendars! Unfortunately if you are looking for the Yankee Candle advent calendar,  the Tower Advent Calendar Gift Set and Book Advent Calendar are sold out on Yankee Candle, but you can catch the Book Advent Calendar with 20% off here at JD Williams.
Hurry - it won't hang around long!