6 types of pans every enthusiastic cook needs: whether you're ready to flip, fry, boil or bake
Not sure what types of pans you need? These are the ones the experts say you should have in your kitchen...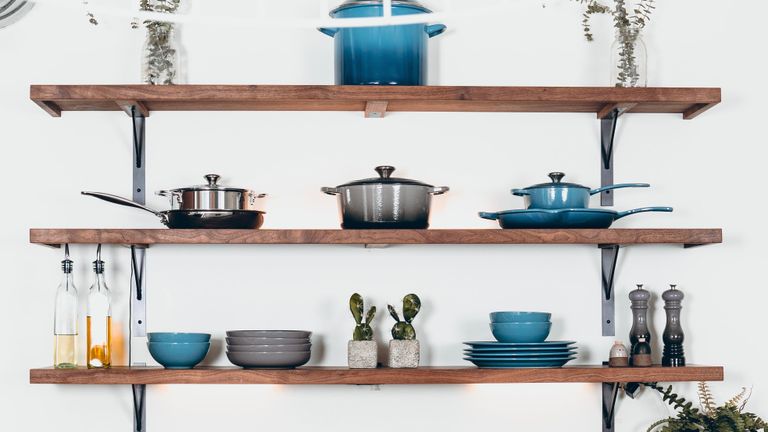 (Image credit: Le Creuset)
Not sure which types of pans are right for you? The best pots and pans in your cupboards are the ones that work the hardest, those that you can rely on to turn out a multitude of different dishes. They're the trusted cookware that you return to time and time again to get guaranteed results, the pieces stored front and centre in your kitchen cupboards for easy access. But what if your favourite, long-loved cookware doesn't work with your stovetop any longer? With the rise of induction hobs – those kitchen marvels – comes the need for a fresh set of pans. And if you're a keen cook, you'll want those to be the best induction pans you can get your hands on.
When it boils down to it, there are just six pans every keen cook needs (yes, we know, it's a big statement). While it sounds a little stark, this basic combination will actually ensure you have cookware for every eventuality, with the added bonus of orderly kitchen cupboards or pan racks. We really recommend focussing your attention on the following line-up: cast-iron pan, frying pan, saucepan (naturally), stockpot, casserole pan and a mini milk pan. Here's why...
Cast-iron pan
Why: A heavy cast-iron handled pan, or skillet as they're known in America, is in every top chef's armoury. These heavy pieces of kit work so well because they conduct heat brilliantly, cooking their contents evenly and creating a wonderful crust on all kinds of food – from caramelised steaks to crispy-skinned chicken breasts. The trick for keeping a cast-iron frying pan producing beautiful food is to not use soap on it; washing with soap (or washing-up liquid) strips the barrier that gradually builds up from any oil in the pan being routinely reheated, which eventually creates a natural non-stick coating. Because they're generally cast in one piece with solid handles, these pans are also great if you want to start your food on the hob top before moving it to the oven to finish cooking.
What to make in it: Fried eggs, steak, fried chicken
Frying pan
Why: If you're anything like us, your frying pan will be your most-used piece of kitchen equipment, able to step up to the plate to create all kinds of recipes. Our favourite dimensions are somewhere between 24-26cm, which is usually big enough to cater for meal components for two to four people. A great all-rounder, you can use your frying pan for, well, frying things. For example, you could whip up a quick egg-fried rice; thanks to the non-stick coating that is frequently used to line frying pans, no egg or rice sticks, resulting in a perfectly fluffy finish.
What to make in it: Fish, omelettes, fried rice
Saucepan
Why: People have been cooking in pots similar to saucepans for thousands of years and, as the saying goes, if it ain't broke, don't fix it! Of course, saucepans now come in all kinds of shapes, sizes and finishes, including fancy copper and functional stainless steel. We think every kitchen needs a good three-piece set; the large saucepan will cover batch cooking and hearty dishes, while smaller pans are perfect for whipping up sides, such as mashed potato.
What to make in it: Chilli, mashed potatoes, curry
Stockpot
Why: Even if you typically don't cook for crowds, a stockpot is invaluable for regular batch-cooking stints, or odd moments in the year when your home is filled with guests. Whether used to make a big dish of warming, winter stew or boil down bones for a rich stock, these cavernous stovetop heroes open your culinary repertoire to new possibilities. At scale. Another neat tip is to use your stockpot to make preserves and chutneys – this way you eliminate the need for a separate (rarely-used) jam pan.
What to make in it: Soup, stock, stews, jams
Cast-iron casserole pot
Why: A cast-iron casserole pot (otherwise known as a Dutch oven) is a really versatile pan, loved – among other things – for its ability to cook up a one-pot meal (and save on the washing up). These little beauties have the potential to slow cook, bake, fry, boil and brown – meaning you'll never not use it. Because it can be taken from stovetop to oven, you can fine-tune temperature and atmosphere to get the optimum outcome, whatever your dish. For example, did you know you can use one of these pots to bake sourdough bread? Even heating, plus its ability to seal in a little moisture, means the cast iron gets as close as possible to mimicking a professional baking oven as you can in your own home. The results are a higher rise on your loaf, as well as a great crust.
What to make in it: Bread, casseroles, slow-cooked meat
Milk pan or mini frying pan
Why: A dinky pan might not, at first consideration, seem particularly handy, but stick with us. Small milk pans or little frying pans are some of our most-used kitchen cookware; they're perfect for whipping up steak sauces and flavoured melted butters, boiling single eggs or reheating leftovers. And then of course, there's their original purpose: heating up milk. These pint-sized pans are, in fact, a great receptacle for making an evening hot chocolate or milky breakfast coffee.
What to make in it: Sauces, reheating leftovers, boiled eggs, milk-based drinks