Best yoga mats for stretching, meditation, beginners and advanced workouts
Our round-up of the best yoga mats will help make your shop so much easier.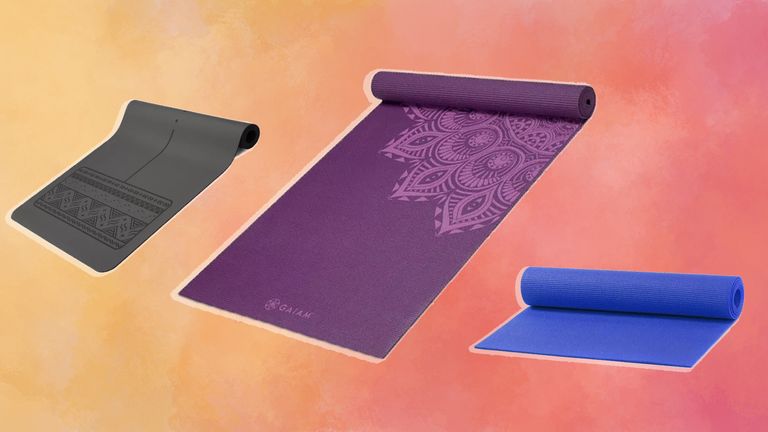 (Image credit: Future / Getty)
Yoga is great for your health, no matter what your age, fitness level or health goals. It increases flexibility, strengthens and improves muscle tone and can help reduce stress and anxiety. Our guide to the best yoga mats will ensure you're fully equipped to kick off your yoga journey with a mat to suit your needs. 
When looking for the best yoga mat, it's important to pay particular attention to aspects such as fabric, comfort, grip, stability, design and size. As well as personal preference, you'll also want to think about what kind of mat you need. 
Whether it's meditation, simple stretching or a full-on yoga routine, it's important to be geared up for your workout - and it's not only the best leggings and best sports bras you need in your yogi kit, having the right yoga mat is just as important.
To help you find the best yoga mat for you, we tried and tested popular brands such as Lululemon, Yogamatters and Meglio. We put each mat to the test during a range of yoga routines, from power yoga to vinyasa yoga to meditation. 
Our top pick was Lululemon The Reversible Mat 3mm. While it may be slightly more expensive than some of the others on the market, it's an investment for your yoga journey that will last you years to come. 
But, if you find the Lululemon yoga mat a little too thin, the Gaiam Premium Mandala 6mm Yoga Mat might be the one for you. As one of the best thick yoga mats out there, it's durable and offers great stability for whatever flow you do. 
The best yoga mats as reviewed by our experts
1. Lululemon The Reversible Mat 3mm
Best yoga mat overall
Specifications
Dimensions: 180cm x 66cm
Thickness: 3mm
Material: Polyurethane and rubber
Weight: 1.76g
Colours: 2
Reasons to buy
+Wide+Antimicrobial
Reasons to avoid
-Slight aroma at first-Contains latex
Whether you're looking for a yoga mat for meditation or turning to yoga for weight loss, this Lululemon mat ticks all the boxes and then some! Despite being just 3mm thick, it's incredibly squidgy, thanks to the natural rubber base, so joints feel both supported and protected. Tough and durable, with a simple unisex style, hands and feet won't slip on this black mat at all, even when you're wearing socks. 
While it does contain latex, which isn't great for those with allergies, it also has antimicrobial properties to help prevent mold and mildew. It's slightly wider than some standard mats on the market, so you definitely feel like you have plenty of room to move. The only downside is that it does smell a bit strange when first unwrapped, although that does start to go once aired.
See our full The Lululemon The Reversible Mat 3mm review 
2. Yogi Bare Paws Natural Rubber Extreme Grip
Best hot yoga mat
Specifications
Dimensions: 180mm x 66mm
Thickness: 4mm
Material: Natural rubber and PU
Weight: 2.5kg
Colours: 5
Reasons to buy
+Sustainable and vegan+Non-slip, even when wet
Reasons to avoid
-Tricky to put away-Heavy
When most yoga mats get soaking wet, they also get super slippery, but that's not the case for this Yogi Bare mat, making it perfect for hot yoga or when you want to get your sweat on. But then, for almost triple the price of other yoga mats, you'd expect it to go the extra distance. 
Available in red, dark green or grey, the stunning Aztec-style design is laser-etched onto the mat itself, which is ideal for helping to know where to put your hands and feet in certain poses. Plus, this mat has been designed with the environment in mind. It's biodegradable, made with fully sustainable materials, vegan and even the packaging used is 100% recyclable. 
The best bit? It literally won't move. You can jump around all you like, completely safe in the knowledge that this mat is staying put.
See our full Yogi Bare Paws Natural Rubber Extreme Grip review 
3. Meglio Premium Yoga Mat 7Mm
Best cheap yoga mat
Specifications
Dimensions: 183cm x 61cm
Thickness: 7mm
Material: TPE material
Weight: 800g
Colours: 1
Reasons to buy
+Ultra lightweight+Very thick
Reasons to avoid
-Slippery when wet-Limited colours
Made with non-toxic, eco-friendly yet durable material, not only is this Meglio option great value for a yoga mat, but it also comes with a carry strap, making it easy to take to and from classes. 
And that's not all. At almost 8mm, the thickness of this mat is ideal for anyone who needs comfort to be a top priority or wants a little extra padding to protect their joints. This amount of padding is really good for beginners, too – it can be the boost you need to keep focused when you lie down, relax and meditate. Plus, the deep texture marks on the underside of the mat make it great for stability. 
The best bit? This yoga mat doesn't have any artificial aroma, which is often the case for budget buys. 
See our full Meglio Premium Yoga Mat 7mm review
4. Yogamatters Sticky Yoga Mat
Best latex-free yoga mat
Specifications
Dimensions: 183cm x 61cm
Thickness: 4.5mm
Material: High-grade PVC
Weight: 1.2kg
Colours: 13
Reasons to buy
+Latex-free+Machine washable
Reasons to avoid
-Slippery when wet-Slight aroma
This durable Yogamatters mat is ideal for everyday use – the choice of bright colors could be the boost you need, especially when stretching in the morning. In fact, there are 12 different shades to choose from in this style, so you'll certainly find one that suits you. What's more, this mat doesn't contain any toxic phthalates or DOP, which is considered to be a carcinogen, and, most importantly, it's free from latex. 
The mat has raised bumps over the whole surface to help with grip, and both the texture and colorful design are definitely appealing, especially for such a bargain price. At 4.5mm thick, it's ideal for standing poses, as you still have enough connection to the floor. Plus, we love the fact that if you get it dirty, it's machine washable at 40ºC.
See our full Yogamatters Sticky Yoga Mat review
5. Escape Fitness Yoga Mat
Best yoga mat for beginners
Specifications
Dimensions: 173cm x 61cm
Thickness: 4mm
Material: Compact foam
Weight: 1.06kg
Colours: 1
Reasons to buy
+Great value+Lightweight
Reasons to avoid
-Narrow -Slippery on carpet
Yoga for beginners is a great hobby to take up in your spare time, and this mat is perfect if you're new to the mindful practice. With a simple, but stylish design, the Escape Fitness Yoga Mat really scores highly when it comes to looks, and makes this buy seem much more expensive than it really is – which is great if you don't want to spend a fortune only to decide yoga is not right for you and you'd rather take up something like nordic walking instead.
The best thing about this black mat is that it has large white spots down the center. The spots are so easy to see, even if you are upside down! It's unisex and very eye-catching, and ideal to help line up hands and feet in the correct position. 
Not only does it have a good grip, especially on a wooden floor, but, at just 1.06kg, it's a lightweight pick. Plus, it goes back into its rolled-up position well, making it easy to transport.
See our full Escape Fitness Yoga Mat review
6. Gaiam Premium Mandala 6mm Yoga Mat
Best thick yoga mat
Specifications
Material: PVC
Dimensions: 172cm x 61cm
Weight: 1.34kg
Thickness: 6mm
Colours: 17
Reasons to buy
+Latex-free+Anti-slip
Reasons to avoid
-Slight aroma at first-Not great when wet
Looking for something both squishy and stylish? Gaiam really delivers on comfort when it comes to their yoga mats, and this thick yoga mat from their Premium range is no exception. Producing quality and durable buys is the reason they have been a leading yoga brand for a quarter of a century, so it's a great choice for both beginners and more experienced yogis. 
While it's nowhere near as expensive as some of the rubber varieties of yoga mats on the market, this one still offers stability and grip, thanks to the PVC material. 
Plus, there are no nasty phthalates, making it safe for the whole family to use. If this bold, purple design isn't quite right for you, there are plenty of others in the range, including Citroen Sundial (grey and yellow), Marrakesh (blue) and Metallic Sunset (dark red).
7. Yogistar Children's Yogamatte Yoga Mat
Best yoga mat for kids
Specifications
Material: PVC
Dimensions: 152cm x 51cm
Weight: 900g
Thickness: 4mm
Colours: 4
Reasons to buy
+Non-slip+Washing-machine friendly
Reasons to avoid
-Expensive-Often out of stock
Often available on Amazon in bold block colors of either pink, mandarin (orange) or kiwi (green), this Yogistar mat is one of the best kids' yoga mats. And, at 152cm x 51cm, they shouldn't get too big for it too soon, either. 
It's made with PVC, meaning the grip is exceptionally sturdy, especially on hard floors (where the insulation will also help to keep tiny feet warm), which can make all the difference when youngsters are learning. 
Plus, it's non-toxic and free from phthalates and heavy metals, so won't irritate the skin or cause allergies. But what makes this our top mat for children is the fact that you can wash it at 30ºC in a washing machine – it takes the hassle out of keeping it clean.