Best thick yoga mats—stay comfortable and protect your joints while stretching with these picks
We've tested the best thick yoga mats, so you can enjoy getting zen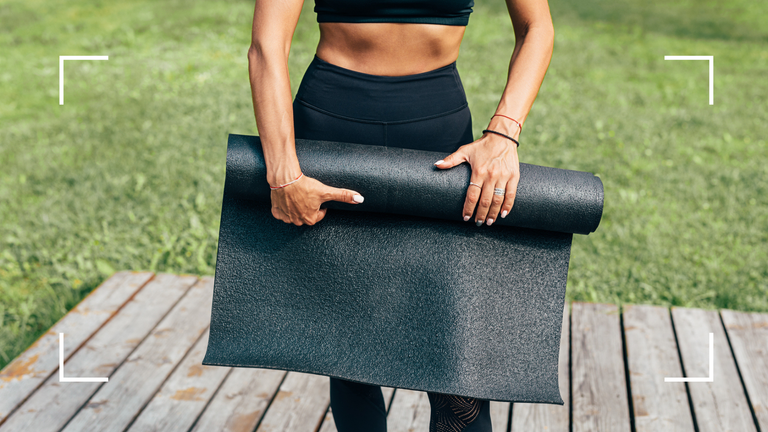 (Image credit: Getty Images)
If you love to flow, but are after some extra comfort for your joints, we've rounded up the best thick yoga mats for you to relax into. While features like grip, design and weight are important things to consider, treating yourself to some extra cushioning will allow you to focus fully on getting zen.
We've scoured through the best yoga mats out there to find the options with that little bit of extra padding, that will provide the optimum support for your practice (and particularly if you are doing yoga for back pain). On top of that, we've tested them out ourselves in this guide—balancing up thickness with price point and the other ways they can help you sink into your stretch session.
How many mm thick should a yoga mat be?
Whether you have been practicing for years to improve your posture, or have just got into it (check out our yoga for beginners), you'll know that it's the mat that sits at the core of any stretch session. And, just like us, they come in all shapes and sizes—meaning there are plenty of options when it comes to deciding which one works best for you.
This could include opting for a thicker yoga mat, which will dramatically increase comfort levels—whether you are doing downward dog or child's pose. "It provides extra cushioning for people with sensitive knee, ankle and hip joints," says Jamie Kent, founder of Yoga Download. "They also support inversion poses, where sensitive neck muscles are sometimes weight-bearing, including postures such as headstand and shoulder stand." She adds that they are also ideal for more passive yoga styles—such as yin or restorative—where moves, often on the ground, are held for several minutes.
Standard yoga mats are normally around 3mm, while thicker options are usually 5mm or above. It's worth noting that while the extra padding of the latter may feel nice for certain poses, you're also less connected to the floor and it could impact your ability to balance or land correctly during higher-energy movements. It's all about discovering what works for your body.
The best thick yoga mats to buy right now
1. Gaiam Premium Mandala 6mm yoga mat
Best overall thick yoga mat
Specifications
Material: PVC
Dimensions: 172cm x 61cm
Weight: 1.34kg
Thickness: 6mm
Reasons to avoid
-
Slight aroma at first
-
Not great when wet
Looking for something both squishy and stylish? Gaiam really deliver on comfort when it comes to their yoga mats, and this pick from their Premium range is no exception. Producing quality and durable buys is the reason they have been a leading yoga brand for quarter of a century, so it's a great choice for both beginners and more experienced yogis. While it's nowhere near as expensive as some of the rubber varieties of yoga mats on the market, this one still offers stability and grip, thanks to the PVC material.
There are no nasty phthalates, making it safe for the whole family to use and, if this bold, purple design isn't quite right for you, there are plenty of others in the range, including Citron Sundial (grey and yellow), Marrakesh (blue) and Metallic Sunset (dark red).
2. Manduka Pro Premium yoga mat 6mm
Best luxury thick yoga mat
Specifications
Material: Sustainable PVC
Dimensions: 180cm x 66cm
Weight: 3.4kg
Thickness: 6mm
Reasons to buy
+
Extra-long choice available
+
Ultimate grip
Reasons to avoid
-
Heavy
-
Needs to be broken in
Looking for a durable mat that will last, literally, a whole lifetime? Step forward, the Manduka Pro. It's called Pro for a reason—because it's a serious piece of kit, with a serious price tag, which will really suit hardcore yogis. In fact, your grip will get better each time you use it, which is why Manduka likes to say "practice makes a PRO".
For something so expensive, it may be slightly annoying that you have to break it in first, but the recommended salt-scrub wipe down before use definitely helps to improve grip. Made with PVC, it holds well to the floor, has no chemical smell and, as it's heavy, it won't curl up at the ends. If this one ticks all the right boxes for you but you are taller than average, there's also a 215cm version available, with the same high spec.
3. Myga Woodland Pro Printed Yoga Mat
Best cheap thick yoga mat
Specifications
Material: PVC
Dimensions: 183cm x 61cm
Weight: 1.51kg
Thickness: 6mm
Reasons to buy
+
Comes with carry strap
+
Lightweight
Reasons to avoid
-
Slippery when wet
-
Slight smell at first
For beginners learning to meditate at home, it's essential to feel comfortable and relaxed, which makes this thick yoga mat a must-buy. Otherwise, your mind can easily drift and suddenly you're focusing on the floorboards, rather than your inner zen! At 6mm, this is definitely spongy and comfortable enough, plus the embossed orange and purple "woodland" design go a long way to help you de-stress.
Being a budget buy, this is made from lightweight PVC. While this gives the benefit of being easy to carry around (especially as it comes with a free strap), it does mean the grip isn't quite as good as some of the more expensive options. If material is important to you, you may want to upgrade to one of Myga's vegan suede range, but for beginners who want to start the day with a morning stretch, it's the perfect pick.
4. Yogamatters everyday wellness mat
Best thick yoga mat for protecting joints
Specifications
Material: TPE
Dimensions: 183cm x 61cm
Weight: 1.2g
Thickness: 8mm
Reasons to avoid
-
Doesn't always lie flat
-
Limited colour choice
Made from eco-friendly foam that's free from toxins and nasties, at 8mm this is the spongiest buy in our round-up of the best thick yoga mats. So, it's no wonder it's been specially designed for people who want extra support when doing a workout. If your joints make you scream out in pain when pressing too hard against the floor, it's the optimum buy.
But, unlike some extra-thick options, this is still stable enough that you're not bouncing around when trying to balance. You really do get value for money here. With a reversible design, you can choose which side you use, depending on where you are. One side has deeper grooves to stop it slipping on the floor, while the other is textured to help make sure hands and feet can grip.
5. Kin Primal yoga mat
Best thick rubber yoga mat
Specifications
Material: Natural rubber
Dimensions: 177cm x 65cm
Weight: 2.5kg
Thickness: 4mm
Reasons to buy
+
Feels thicker than it is
+
Good for balance
Reasons to avoid
-
Heavy
-
Regularly sells out
You might be wondering why a yoga mat that's only 4mm is included in a round-up of the best thick yoga mats. That's because, thanks to a clever air pocket layer, this premium yoga mat actually feels a lot thicker than it really is. In fact, it feels like it's at least 6mm. The fibrous air pocket layer sits under the closed-cell top layer, which is great for grip and stopping bacteria being absorbed. But, because it's made from natural rubber, instead of being too foamy, this mat has a "harder" surface, making it ideal for balancing poses, especially headstands.
Other benefits include a laser-etched animal print design, which has been positioned to help alignment. Yes, it's expensive, but this one does come with a choice of free carry strap or yoga towel, making it much more affordable. Be warned, though—these regularly sell out, so you may have to pre-order to make sure you get one!
6. Lorna Jane Rising Moon non slip yoga mat
Best lightweight thick yoga mat
Specifications
Material: Polyurethane/ natural rubber
Dimensions: 180cm x 66cm
Thickness: 5mm
Reasons to buy
+
Very lightweight
+
No slipping about
+
Pretty design
This yoga mat from the cult Australian fitness-wear brand ticks so many boxes. At 5mm-thick, it feels lovely and cushioned—but it's not so bouncy that you can't balance properly in tree pose. However, that extra comfort doesn't add to its weight, so it's still light to transport—perfect if you are taking it on the move, between home, the office and the studio. Then there's the fact it's non-slip, so you can comfortably sink into that downward dog.
What's more, the mat's design really sets it apart from other plainer options. It comes in a beautiful pink shade, and also features pretty illustrations of a moon, stars and flowers that will have you inhaling and exhaling as though you're out in nature. The teeny drawback is that its surface can mark easily, which is something to bear in mind for sweatier flows.
7. Lululemon Take Form yoga mat 5mm
Best stylish thick yoga mat
Specifications
Material: Natural rubber
Dimensions: 180cm x 66cm
Weight: 2.24kg
Thickness: 5mm
Reasons to buy
+
Great grip
+
Comfy but supportive
+
Slick design
Reasons to avoid
-
It's on the pricier side
The popular Canadian brand started out with yoga apparel—so it makes sense that they'd know how to create a mat that is perfectly fit for function. Oh, and one that is stylish too, with seven different color options and made from sustainably sourced natural rubber. It may not come cheap, which is really its only downside, but you'll soon realize that it's value for money when it comes to the perks that it brings your practice.
As befitting our cushioned yoga mat round-up, the 'Take Form' mat is 5mm thick. It also has what they describe as an "innovative" 3D texture, which helps you be guided by your sense of touch and feel your way around it—so you stay centered in poses while gazing down. Plus, there's great grip too.
8. Jade Fusion yoga mat
Best thick yoga mat for comfort
Specifications
Material: Rubber
Dimensions: 188cm x 61cm
Weight: 3.5kg
Thickness: 8mm
Reasons to buy
+
Super comfy
+
Extra long
+
Very grippy
This yoga mat feels more indulgently soft and squidgy than its 8mm thickness would suggest—making the likes of child's pose and shavasana even more of a restful treat. It's worth noting that because it's so bouncy, it can make certain moves slightly more of a challenge to balance in. But it's rather a small price to pay when your joints feel so well supported.
Added to this is the fact that the eco-friendly material sourced from rubber trees—with no PVC, EVA or other synthetic rubber—has been molded into a mat with great grip. Additionally, it's a bit longer than regular mats, making it ideal for taller yogis. The heavy weight of it feels rather luxurious, however, this does mean it is more ideal for using at home rather than carrying about.
Lauren is a freelance writer and editor with more than six years of digital and magazine experience. In addition to Womanandhome.com she has penned news and features for titles including Women's Health, The Telegraph, Stylist, Dazed, Grazia, The Sun's Fabulous, Yahoo Style UK and Get The Gloss.
While Lauren specializes in covering wellness topics—ranging from nutrition and fitness, to health conditions and mental wellbeing—she has written across a diverse range of lifestyle topics, including beauty and travel. Career highlights so far include: luxury spa-hopping in Spain, interviewing Heidi Klum and joining an £18k-a-year London gym.