Valentine's Day recipes to set the mood at home
Romantic - and delicious!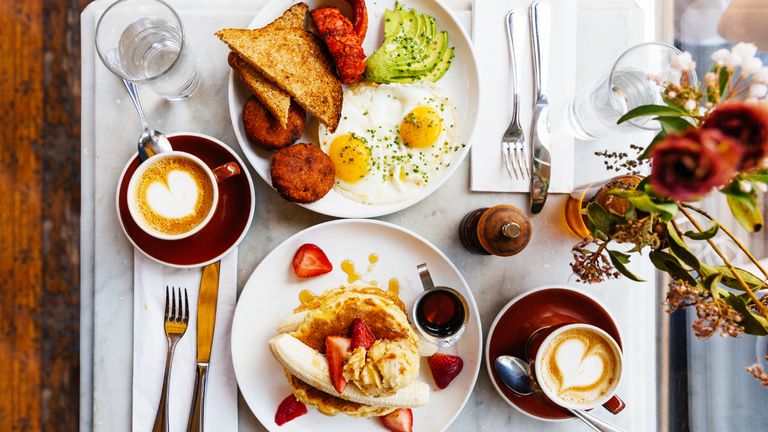 (Image credit: Getty Images)
Wow your loved one with one of these extra-special Valentine's Day recipes. We've got a host of romantic meal ideas, with great ideas for starters, mains and desserts that are perfect for sharing
A Valentine's Day menu is an absolute must this year if you want to show a loved one just how much they mean to you. There's no better way to express how you feel, than preparing a delicious candlelit dinner two. Follow our simple Valentine's Day recipes for wonderfully crafted, mouthwatering restaurant-style food in the comfort of your own home.
We've brought together our best cocktail, starter, main and dessert recipes for you to choose from, so you can ensure you've covered every base and your valentine is blown away by the work you've put in. Little will they know, however, that most of our recipes look stunning but are super easy to put together, which will give you more time to yourself to make sure you're looking your best for your date!
Why not start the evening with a Valentine's Day cocktail - it will definitely set the tone for your special evening, and although it's a lot easier to simply open a bottle of wine or fizz, your partner will appreciate the effort you've gone to, to make the evening extra special.
Follow up your cocktail with an irresistible Valentine's Day starter, and when it comes to the Valentine's Day dinner, anyone would be blown away by these fillet steaks with blue cheese butter and bubble and squeak cakes (pictured). You can prepare most of this dish in advance so you just need to cook the steak and bubble and squeak right before serving, but this only takes a matter of minutes so you won't be stuck in the kitchen all evening.
The tender, juicy steak is perfectly complimented by the blue cheese butter and the bubble and squeak absorbs some of the juice, which will add a wonderful depth of flavour. You can buy the steaks at a fraction of the price of what you would pay for this same dish in a restaurant, and it's just as tasty.
Click through for more Valentine's Day recipe ideas...
Valentine's Day Cocktail: Scarlet Aperol Fizz
For another indulgent way to kick off your Valentine's Day meal, give this tasty cocktail idea a go. With it's colour, fizz and sweet taste, it makes a real change from your usual drink and will feel extra special on Valentine's Day. We love the fizzy edge to this scarlet aperol fizz cocktail, plus, what's more fitting for Valentine's day than a pink drink! Get the recipe: Scarlet Aperol Fizz Cocktail
Valentine's Day Starter: Coconut King Prawns
For a Valentine's Day starter recipe that feels so special you'll think you're at a fancy restaurant, try these coconut king prawns. A superb starter and are fabulously moreish - don't make too many as your date might end up filling up on them! They only take 25 minutes to prep and cook too, do it's a fabulously easy way to kick off your romantic meal. Get the recipe: Coconut King Prawns
Valentine's Day Starter: Love Soup
Your date will be able to tell this soup was made with love as it's made from sweet roasted vegetables and perfectly blended for a rich, creamy texture. If nothing else, you'll definitely fall in love with Jack Monroe's love soup. Serve it up in a heart shaped dish and you'll definitely know what day of the year it is. Get the recipe: Jack Monroe's Love Soup.
Valentine's Day Starter: Lobster, Avocado and Asparagus Salad
Lobster is one of the ultimate indulgences, so when better to splash out a little, than on Valentine's day! Give this lobster, avocado and asparagus salad a go as it's a fabulous light dinner that won't fail to impress. This one only takes a few minutes to throw together but feels really special for a Valentine's Day starter option.
Get the recipe:
Lobster, Avocado and Asparagus Salad
Valentine's Day Main: Venison Steak with Redcurrant Sauce
Most of us, when we think steak, we don't automatically think of venison, but this is a wonderful alternative that's just as delicious, plus it has the added benefit of being much lower in saturated fat than beef. This venison steak with redcurrant sauce recipe takes only 10 minutes to prepare but looks really impressive and goes great with mash and a side of greens. Get the recipe: Venison Steak with Redcurrant Sauce
Valentine's Day Main: Grilled Lamb Cutlets with Anchovy and Caper Sauce
Anchovies are well known for being the perfect accompaniment to lamb so you know these grilled lamb cutlets with anchovy caper sauce are going to be good! Give them a go and wow your date this Valentine's Day. Get the recipe: Grilled Lamb Cutlets with Anchovy Caper Sauce
Valentine's Day Main: Moules Marinières with Home-Made Oven Chips
Seafood lovers will adore these moules marinières with home-made oven chips. They'll transport you to the French coast and what's more romantic than food you can eat with your hands? A great special idea for the perfect Valentine's day meal, mussels feel so extravagant but are actually really easy to cook. Get the recipe: Moules Marinières with Home-made Oven Chips.
Valentine's Day Main: Chicken Saltimbocca
This super simple chicken saltimbocca recipe is an Italian classic and sometimes there's nothing better (and more delicious) than falling back on a tried and tested dish. So if you want to make sure your Valentine's Day main dish is up to scratch, give this tasty chicken dish a go this year.
Valentine's Day Main: Spiced Monkfish with Cumin and Baked Aubergine Puree
Monkfish might be one of the pricier fish to buy, but it's well worth it, especially for a special occasion. So if you want to try something extra special this year, give this tasty dish a go and impress your Valentine's date. Our spiced monkfish with cumin and baked aubergine puree is an ideal main course, as the meaty fish is complimented perfectly by the aubergine and cumin. Get the recipe: Spiced Monkfish with Cumin and Baked Aubergine Puree
Valentine's Day Main: Five-Spice Steak and Herb Salad
What could feel more indulgent then a classic steak dinner on Valentine's Day? Give yours a twist this year with this lovely five-spice steak and herb salad is full of wonderful Asian flavours and a great choice for a romantic evening in. It's certainly a dish worth celebrating with! Get the recipe: Five-Spice Steak and Herb Salad
Valentine's Day Main: Pomegranate Molasses Griddled Steak, with Roasted Beetroot and Garlic Mash
Each component of this pomegranate molasses griddled steak with roasted beetroot and garlic mash recipe has a very distinctive flavour but they all come together wonderfully in this stunning dish. It's a great one to try if you want a meal that's a little different this Valentine's Day as it will make the meal feel that extra bit special. Get the recipe: Pomegranate Molasses Griddled Steak with Roasted Beetroot and Garlic Mash
Valentine's Day Main: Griddled Sirloin Steak with Garlic and Parsley Mushrooms
The garlic and parsley mushrooms are the perfect accompaniment to this griddled sirloin steak recipe and it's lovely served with homemade oven baked chips! Steak feels really indulgent and makes a great Valentine's Day main dish, but it's actually really easy and quick to make so it's a great fail safe option to try this year. Get the recipe: Griddled Sirloin Steak
Valentine's Day Main: Baked Sea Bass with Avocado and Pomegranate Salad
Push the boat out on Valentine's Day with a delicious smoked sea bass and prove you've really made the effort for your partner. Don't forget the salad - the combination of avocado and pomegranate makes for a unique and delicious taste - and we all know avocado is a renowned aphrodisiac! Get the recipe: Baked Sea Bass with Avocado and Pomegranate Salad
Valentine's Day Main: Oven Baked Fish And Chips
Easy oven-baked fish and chips takes just 10 minutes to prepare before you pop it in the oven, but it's smart dinner for two topped with lemon zest and fresh thyme. So if you want something tasty this Valentine's Day but don't want it to take too much time out to prep your dinner, give this delicious fish dish a go. Get the recipe: Oven Baked Fish and Chips
Valentine's Day Main: Blueberry Duck with Potato Rosti
The sweetness of the blueberry and apple sauce in this blueberry duck with potato rosti recipe is delightful and provides a wonderful contrast to the richness of the duck breast. This dish does take a little longer to put together, but the finished result is so worth it as it makes a really special meal for you Valentine's Day celebration. Get the recipe: Blueberry Duck with Potato Rosti
Valentine's Day Dessert: Raspberry and Pink Champagne Jellies
What is Valentine's day without champagne? But this year instead of drinking it, why not incorporate it into a delicious dessert? A celebratory raspberry and pink Champagne recipe that looks both romantic and beautiful, but is lighter on calories - the ideal way to finish off perhaps a heavier Valentine's dinner! Get the recipe: Raspberry and Pink Champagne Jellies
Valentine's Day Dessert: Raspberry Ripple White Chocolate Slab
Lovers of white chocolate will be delighted with this elegant raspberry ripple white chocolate slab. The fresh raspberry ripple gives the chocolate slab a tart edge and an amazingly vibrant colour. To bring out the zest of the flavour, accompany this with champagne. It's the perfect dessert idea for a romantic Valentine's Day meal. Get the recipe: Raspberry Ripple White Chocolate Slab
Valentine's Day Dessert: Microwave Chocolate Pots
Done in just 6 minutes, including prep and cooking time, these microwave chocolate pots are ideal when you're cooking a big meal and have loads going on at the same time. They're also delicious and topped with a strawberry like in the photo, look really impressive so your guest will never suspect how quick and easy they were to make! Get the recipe: Microwave Chocolate Pots