Steal Twiggy's Style With Her New M&S Collection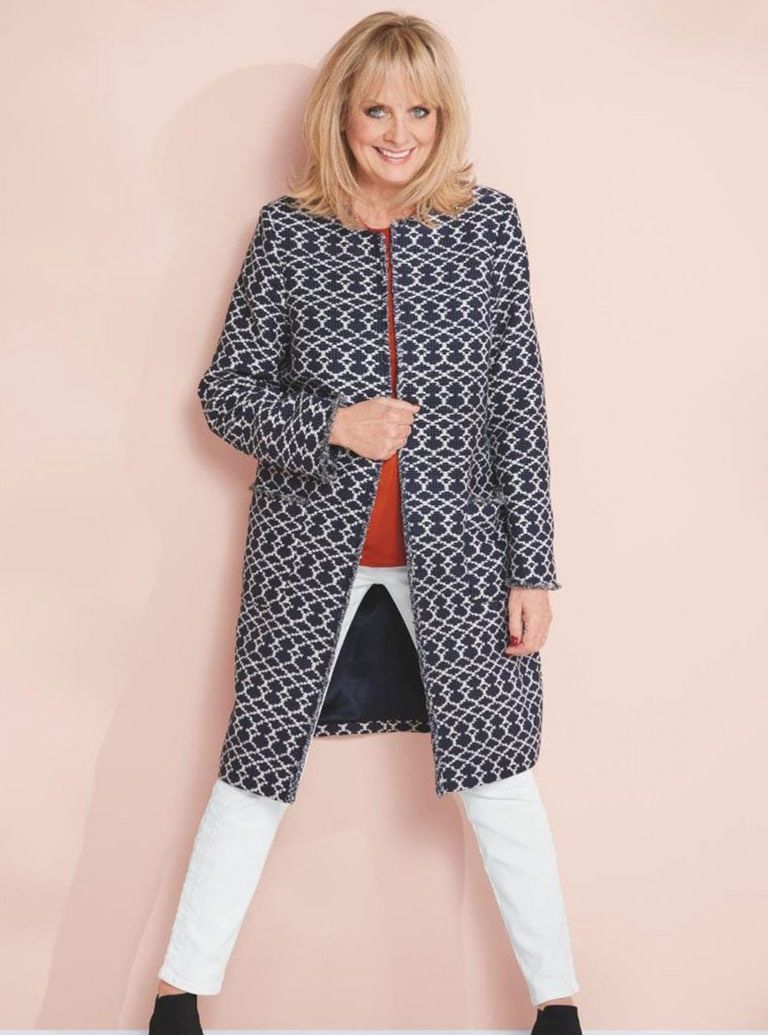 Finally! Twiggy's latest stylish Spring/Summer collection for Marks & Spencer has been unveiled, and it's packed with fashionable pieces that can be easily combined to create a series of timeless outfits.
With plenty of nods to the latest trends and colours - think complementary colours of orange-and-blue and a striking trouser suit - the collection features versatile pieces that form a go-to capsule wardrobe for this season...and beyond. Would we expect any less of the original face of fashion?
Fun geometric patterns run throughout: a gorgeous long-line coat is ideal for transitioning from spring to summer, while the smart-casual Crossover dress, with its elbow length sleeves is right on trend. A pair of jazzy trousers can be dressed up with a pair of beautiful knot-fronted heels - at a height that lenghtens legs without being impossible to walk in - or dressed down with warm orange suede lace-ups.
And all of these individual style statements can be layered, mixed and matched with one of the many block-colour pieces. There are more detailed and textured elements, such as a beautiful burnt-orange lacework top, or clean, timeless classics such as the slimline white jeans (always a winner for summer). One item we've been eyeing up is that butter-soft casual plaited jacket, in a soft neutral tone that can be slung on for a casual weekend outing or used to finish a stylish outfit on a night out. Twiggy's biker jackets are core in each of her collections, proving popular with every new season's design!
"I'm very happy with the colour palette of my spring collection. The navy and cream is chic and sophisticated. I have designed the collection in order for women to mix and match the pieces creating their own individual look. "
The collection fits perfectly with Twiggy's own belief, which has served her well for decades: "Clothes should be comfortable and fun, but also effortless. Don't get hung up on your age - it's about attitude."
The model always wanted to be a designer, even before she became the face of the Swinging Sixties: 'I wanted to do fashion design when I was at school - talk about coming full circle!' We're certainly glad she followed through on her early ambitions, as each collection just seems to get better - much like Twiggy herself!
The 18-piece collection is now available from Marks & Spencer in-store and online, and we can't wait to shop it!
Writer and editor Alanna Freeman is an inquisitive storyteller, whose interests—like her beloved global travels—know few boundaries.
Since starting out as a style intern at Livingetc in 2006, after completing a degree in Cultural Studies at Leeds Uni, Alanna has followed the most interesting stories from brand to brand and country to country, building her portfolio alongside her experience. Lifestyle categories—design, art, travel, fashion, food, and culture—have always fed her personal creative interests, and much of the work she does sits within this sphere. As well as Woman & Home, she has worked for the likes of Soho House, Telegraph Luxury, Conde Nast Traveller, delicious., Elle, and Vogue, and GQ Australia. Alanna has, however, also been known to turn her hand to copy projects involving souped-up streetcars and cutting-edge technology—she swears they are genuinely both fascinating, even to the uninitiated!
If you haven't already gathered, this is a writer who likes to add a bit of color and texture to her work, something that no doubt builds upon her art-school training (MA in Communication Design: Illustration from Kingston University). Her obsession with these things—along with really good coffee, all water-based activities, curly hair care, and learning how to cook authentic international cuisine—can be clearly seen on her Instagram @alannafree, which is filled with colorful content captured in her hometown of Brighton and beyond (on those previously mentioned travels).