Rainwear Buys To See You Through Any Downpour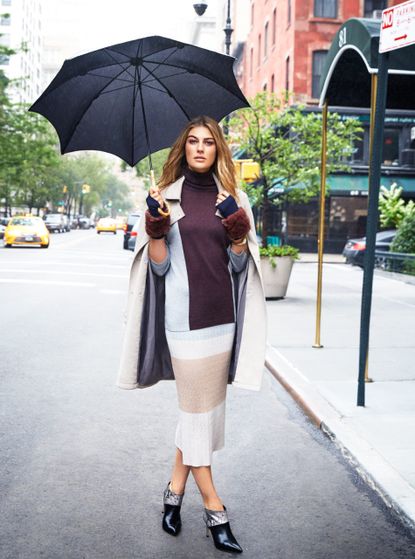 Our top rainy day must-haves will keep you stylishly in the downpours
You've planned your outfit for the next day, and you're feeling organised for once - until you wake up in the morning, and find that it's raining. What now?! It can be tricky to know how to style out a downpour, but thankfully, this season's trends lend themselves to helping you stay stylish in any weather.
This season's trends mean that messy hair, comfy boots and longer-length dresses are all in right now - just as well, with the ever-changing British weather! Colourful macs and comfy boots will enhance your outfit and keep you dry. Just stay away from the other big trends of the season - denim and suede - as we all know that neither will fare well during a downpour!
Make sure your accessories are on-trend as well: A bright umbrella and cross-body bag are essential for making it through a rainy day with ease. Finally, finish off your new spring style with a relaxed parka and you know that you will look good this season, whatever the weather.
Ready to face the next big downpour? We've scanned the high street to find the buys that will keep you looking great no matter what the weather. Click through to start shopping, and be a savvy dresser this season...
Water Resistant Trench Coat, £89.99, Zara
This vibrant double breasted trench coat says that waterproof coats don't need to be dull like the weather you're protecting yourself against! Water Resistant Trench Coat, £89.99, Zara (opens in new tab)
Refined Chelsea Boots, £90.00, Hunter
A wellie and Chelsea boot hybrid - perfect for being stylish yet practical. You'll never have to worry about wet feet again as these Chelsea boot style wellies are great for a whole range of activities, like commuting into work, popping to the shops or going out to meet friends. Refined Chelsea Boots, £90.00, Hunter (opens in new tab)
Waterproof Mac, £179.00, Protected Species
This mac is windproof and weatherproof but at the same time is incredibly comfortable with its for way stretch technology. Protected Species even offer a free try-on-at-home service! Waterproof Mac, £179.00, Protected Species (opens in new tab)
Right As Rain Waterproof Printed Jacket, £89.95, Joules at John Lewis
Beat those rainy showers but stay stylish with this Breton-inspired rain jacket. This lightweight jacket is ideal for the unpredictable British weather. Right As Rain Waterproof Printed Jacket, £89.95, Joules at John Lewis (opens in new tab)
Stutterheim Raincoat, £175.00, Harvey Nichols
This durable rubber raincoat is great for adding some colour to the grey skylines on rainy days. It also comes in orange and white (if you prefer something a little more subtle). Stutterheim Raincoat, £175.00, Harvey Nichols (opens in new tab)
Short Refined Back Strap Wellington Boot, £115.00, Hunter
These sleek shoes are a twist on the traditional Wellington boot, as they're more like a knee high boot with the asymmetric top and buckle detail. If you want to try something different to your Wellington boots why not give these a go? Short Refined Back Strap Wellington Boot, £115.00, Hunter (opens in new tab)
Moustache Umbrella, £32.00, Hunter
This transparent bubble umbrella is ideal for keeping dry in wet weather as the canopy shape covers your head and shoulders. This umbrella is also available in 10 other colours! Moustache Umbrella, £32.00, Hunter (opens in new tab)
Butterfly Collective Bag, £39.00, Ted Baker
Plastic coated bags are ideal for wet weather as the water just slides right off them rather than soaking through to your belongings, so this shopper bag from Ted Baker is great for British downpours. Butterfly Collective Bag, £39.00, Ted Baker (opens in new tab)
Bryndley Jacket, £60.00, Animal
Just because the weather is miserable outside doesn't mean you have to dress accordingly, this printed lightweight jacket is great for injecting some interest into your rainy day outfit. Bryndley Jacket, £60.00, Animal (opens in new tab)
Padded Jacket, £50.00, Next
This shower resistant jacket is a great all-rounder, perfect for throwing on top of any outfit. This jacket is also fitted with waterproof lining to keep your extra dry and has fleece pockets and a concealed hood to ensure you're kept toasty. Padded Jacket, £50.00, Next (opens in new tab)