Jennifer Lopez's white wide-leg pants are giving us major 70s vibes and we want in on the hot summer trend
Triple-threat J. Lo does it again: the artist stuns in wide-leg pants while visiting boyfriend Ben Affleck on set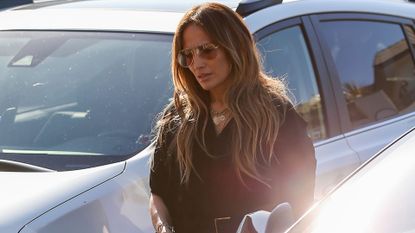 (Image credit: Getty)
Fashionistas always pay attention to Jennifer Lopez's looks, and for good reason: the artist is perennially ahead of the trends.
Case in point: the wide-leg, high-waisted white jeans that J. Lo wore while visiting fiance Ben Affleck on the set of his latest movie, an untitled project about Nike's venture to enlist iconic basketball player Michael Jordan as a brand representative years ago.
---
Hepburn high rise wide leg jeans ($199 (opens in new tab)), DL1961 | Shopbop
Jennifer, who recently brought out daughter Emme for an emotional duet on stage, paired the pants with an easy, black, long-sleeved shirt, a black Hermès belt with a gold buckle and an interesting looking pair of high-heels featuring a black platform and transparent details. She finished off her look with the sort of gold hoop earrings that she usually sports, this time with her hair up in a high bun. An effortlessly cool look for a casual daytime outing.
Although J. Lo always looks on-point, she has certainly stepped up her fashion game in recent months (love can do that to you, after all!).
The artist stunned in the cutest summer outfit we've seen all year just last month: a beautiful floral ensemble by Coach that quite literally embodies the season we're in. Before that, she paid tribute to the '90s with a fun denim babydoll dress while out to lunch in Malibu with her mom and Ben.
Clearly, looking sharp takes a lot of work and... the perfect setting? Just last week, former X Factor judge Danni Minogue revealed that J. Lo actually made some extravagant demands ahead of an appearance on Top of the Pops over twenty years ago.
Although not confirmed as a fact, Dannii's claims obviously entertained fans. J. Lo apparently insisted that her entire dressing room be redecorated so that "everything was white" and even refused to go on stage if her wishes were not fulfilled.
Dannii's declarations followed the release of a new Jennifer Lopez documentary that shows journey to finding her truest self. The new production, Halftime, which aptly focuses on J.Lo's path to her Superbowl halftime show with Shakira back in 2020, made headlines given the access that cameras were given. In the documentary, fans got to see Jennifer shut down a sexist interview and contemplate quitting showbiz after being "mocked" for curves.
For the good or the bad, Jennifer clearly always makes for great news fodder.
Anna Rahmanan is a New York-based writer and editor who covers culture, entertainment, food, fashion and travel news. Anna's words have appeared on Time Out New York, the Huffington Post, Fortune, Forbes, Us Weekly, Bon Appetit and Brooklyn Magazine, among other outlets.