12 trainers that will take you from gym to work with no wardrobe shame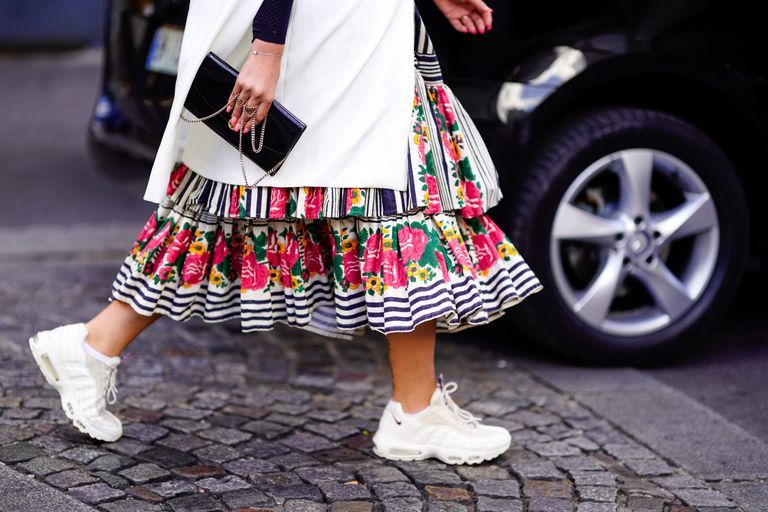 Get more value for money wearing your gym trainers everywhere and looking good in them.
The time when sneakers were considered too casual or too sporty, and belonged almost exclusively to the gym are far gone now, and we're so glad. The sneaker trend has grown to numerous different styles that have nothing to do with training: dad chunky trainers, sleek posh ones, all white… we could just go on and on.
However to make your life easier and help you save some money, we've rounded up 12 great neutral gym trainers that you can actually wear outside and still rock your outfit in style. 2 in 1, what's better than that?
Beige trainers
These leather and suede trainers are definitely worth being taken to brunches, park strolls and even the office. Elegant and modern, they will add a twist to any denim look.
SHOP NOW: Ultraboost S&L, £139.95, Adidas
Inspired by tennis muse Serena Williams, these will get you some gold sparkle and brighten up your days.
SHOP NOW: Court Flare 2, £94.95, Nike
Featuring a woven upper and braided midsole detail, the Weave XT Shift are everything but boring. The green neon details make them fun and playful.
SHOP NOW: Weave XT Shift, £55, Puma
White trainers
Open mesh upper and metallic grey stripes make the Questar an easy to wear and super neutral option to add to your wardrobe.
SHOP NOW: Questar, £59.95, Adidas
Minimalist and lightweight, the Revolution 5 features silver details and a comfy knit upper.
SHOP NOW: Revolution 5, £47.95, Nike
You can never go wrong with black and white. Take your Flyers from the gym straight to work or weekend strolls with no concerns.
Black trainers
If black is your colour, try these sleek trainers with metallic laces and details. Not your usual black sneak.
SHOP NOW: Sooraj, £49.95, Adidas
Premium leather and deep flex grooves? Yes, please. Comfort and style go together in the Flex Essential trainers from Nike.
SHOP NOW: Flex Essential TR, £54.95, Nike
New Balance's signature foam REVlite make these trainers super lightweight without compromising support and stability. Perfect for when you have a busy day or when you're just going on a shopping spree.
SHOP NOW: FuelCore NERGIZE, £60, New Balance
Grey trainers
Go for grey if white is just too mainstream and black is too dark for you.Senseboost's (bit less than 50) shades of grey are playful and will add an interesting touch to an all black outfit.
SHOP NOW: Senseboost Go, £99.95, Adidas
Knit and suede are juxtaposed in the versatile Fresh Foam Roav from New Balance. The smart outsole shape gives a unique twist to this pair.
SHOP NOW: Fresh Foam Roav, £80, New Balance
Stretchable sockliner and clean design make the NRGY Star a great option for those days when you're running from one meeting to another. Comfortable and good looking.
SHOP NOW: NRGY Star, £60, Puma
With so many options it'll be hard to choose just one, not that you have to, you can just blame it on the Christmas shopping spirit.