Mindy Kaling opens up about weight loss as she reveals her latest chic look
Mindy Kaling recently revealed a brand new look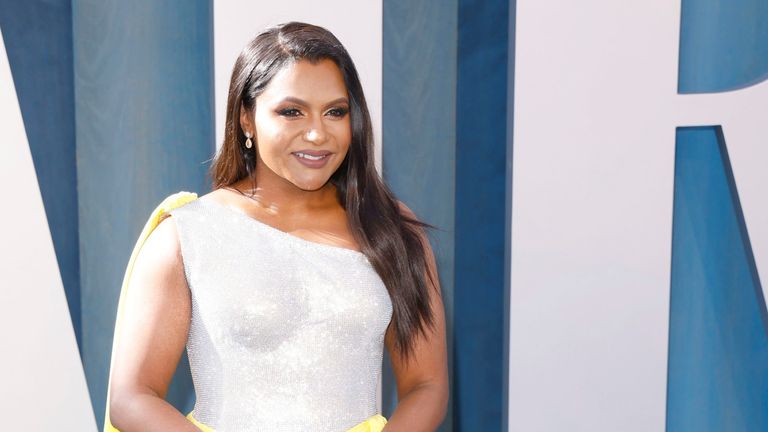 (Image credit: Robert Smith/Patrick McMullan via Getty Images)
Mindy Kaling stepped out earlier this week to promote the second season of her hilarious show The Sex Lives of College Girls wearing a baby blue, white-collared dress by Celine that she rocked with matching Jimmy Choo white stilettos heels—and she looked phenomenal.
"This dress was so dainty, @jennaremy said I look like a nurse from the movie Pearl Harbor, which is def a top 10 Affleck movie, so I'm gonna say this was a huge success," the 42-year-old actor wrote in an Instagram post where she showed off her look, tagging her stylist Jenna Remy.
Mindy's obviously been working on her capsule wardrobe as her style has evolved massively in the last few months and she's never looked so confident.
She's been nailing everything she wears, from the best dresses for summer including a pink jumper dress from Ganni, to stunning fishnet bustiers, and *that* standout Moschino suit with no bra—a look that is both sexy and elegant in one.
Earlier this week, Mindy opened up about her obvious weight loss during an interview with Entertainment Tonight. "I eat what I like to eat," she said, explaining that she's mostly been focusing on portion control. "If I do any kind of restrictive diet, it never really works for me. I just eat less of it. I wish there was something more juicy or dynamic about the way that I've lost a little bit of weight, but that's the way I've done it."
Mindy's successful efforts at slimming down and living a healthier lifestyle have been apparent for quite some time now.
In the interview, the actor revealed she started changing her diet after giving birth to her son in September 2020. "I had my son in the first year of the pandemic," she recalled. "It was this almost extended maternity leave. I wasn't going to be on camera, the studios were shut down."
She compared her behavior to her attitude after giving birth to her daughter three years prior. "After I had my daughter I had to shoot a movie like two months later so I was very much like, 'Just give me grilled salmon and sauteed spinach. I'm going to eat that for three months," she said.
Following the birth of her second child, Mindy shifted her outlook and has been trying to be more culinarily mindful ever since. "When the world started coming back a little bit I thought, 'This kind of eating what appears, not taking any consideration for what I'm eating is probably not the way to go,'" she said.
Whatever Mindy's secret is, it's clearly working: she's been looking beautiful and, more importantly, extremely confident and carefree.
Anna Rahmanan is a New York-based writer and editor who covers news, entertainment, lifestyle, culture, food, travel and more. Read more of her work at annabenyehuda.com.