When can beauty salons open in 2021? What the latest updates mean for your area
Following Boris Johnson's published "roadmap" this week, here's when beauty salons are likely to open in your area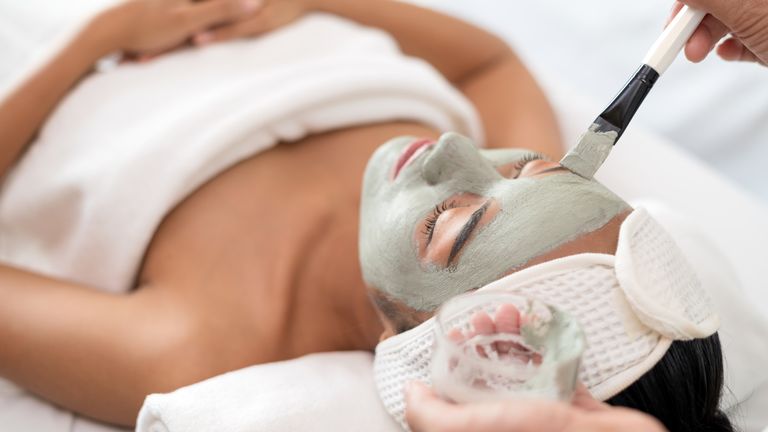 (Image credit: thianchai sitthikongsak via Getty Images)
By Amy Hunt , Lucy Abbersteen
The new year has kicked off with various lockdowns across the UK – so when will beauty salons open again? Are beauty salons open anywhere in the UK yet? Here are the latest updates. 
With restrictions having changed frequently in the last few months, many of us are wondering when we'll next be able to treat ourselves to a much-needed bit of pampering.
As Boris Johnson sets out his "roadmap" for England's lockdown exit strategy, we now have a vague idea of when our next appointment for a facial or manicure will be.
Wondering when beauty salons will reopen in 2021 in your area? Keep reading for what the latest updates mean for England, Scotland, Wales and Northern Ireland.
More from woman&home:
When can beauty salons open in England?
Provided that the situation continues to improve, hairdressers and personal care services such as nail salons will be able to open in England from 12th April, according to Boris Johnson's "roadmap" for exiting lockdown. This is the second of four stages of easing restrictions. The plan is for all limits on social contact to be disbanded and the rest of the economy reopened from 21st June (stage four).
This is subject to four criteria being met: the vaccine programme progresses as planned; vaccines are sufficiently reducing Covid deaths and the need for hospital treatment; current infection rates don't risk a surge in hospital admissions; and new variants of the virus don't change the risk level of easing lockdown. Should things change, all stages will be pushed back to accommodate the five week gap.
The country has been under national lockdown restrictions since 5th January, . All non-essential retail and personal care services across the country – which includes beauty salons – have been closed since then.
When can beauty salons open in Scotland?
In Scotland, Nicola Sturgeon has confirmed that non-essential retail will start opening from the last week of April in a "phased but significant reopening of the economy". More details on exactly what services will reopen and when will be announced in mid-March, so we can expect a date for beauty salons reopening in a few weeks' time.
Beauty services have been closed in Scotland since Sturgeon enforced a new lockdown from midnight on Tuesday 5th January, with new laws in place that only permit people to leave their homes for essential reasons.
When can beauty salons open in Wales?
First Minister Mark Drakeford has said that he hopes to ease restrictions for some non-essential retail in Wales around the 15th of March, but there's no word on whether that will include beauty salons. The next review of the situation is due by the 12th of March.
The entire country has been at alert level four, the equivalent of a lockdown, since the 20th December, meaning that all non-essential retail and personal care services must remain shut. 
When can beauty salons open in Northern Ireland?
Northern Ireland's current lockdown has just been extended until at least the 1st of April, meaning that beauty salons are closed until at least that date. A review will take place on the 18th March, so it's unlikely we'll find out any further details about beauty salons reopening before then.
The current lockdown, which began on Boxing Day last year, was due to last for six weeks, but was extended by another month at the end of January, and again in mid-February.
How did beauty salons reopen after the first lockdown?
In July, when hairdressers and beauty salons first re-opened in the UK, some facial services were still off limits despite beard trims being allowed in hairdressers – sparking significant backlash.
While some treatments, like spray tans and manicures, resumed in July, the following treatments were not permitted until the middle of August.
LVL (lash lift)
Eyebrow microblading
Eyebrow and eyelash tinting
Eyebrow waxing
Dermarolling
Facials
Professional make-up
In 2020, hairdressers and barbers were given the green light to reopen on the 4th of July, but beauty salons and nail bars were not included on the list.
A government source responded to BABTAC on the 24th of June regarding when beauty salons could reopen. They said, "In terms of why hairdressing [is opening] and not beauty, the answer is because the government is taking a phased, cautious approach to reopening the economy to ensure that we limit the spread of the virus. 
"This means that choices have had to be made as to which businesses to reopen as part of the next phase."
The government's move to open other businesses, like hairdressers and barbers, before beauty salons prompted criticism that businesses run by women were being left out in the cold.
Caroline Nokes MP said it seemed that the lockdown easing was "designed by men, for men.
"What we have seen is female led businesses left to the back of the pile. It's very obvious that men with hair need barbers and hairdressers; they perhaps find less need for pedicures and leg waxers.
"And it's absolutely noticeable that the beauty industry has 90% female employees and the majority are women-led businesses. We're preventing our women entrepreneurs from getting back to work."
How does social distancing work when beauty salons are open?
Ahead of the first lockdown lifting, the government released new guidance for "close contact" businesses, which includes beauty salons.
As with hairdressers, a huge part of the beauty salon experience requires hands-on treatment, and so some of the social distancing measures include the following.
Waiting areas removed: some customers are asked to turn up at their appointment on time or wait outside the salon
Increased hygiene and sanitisation, e.g replacement of all disposable items between customers
Appointments only
Customers seated at least one metre away from each other
Doors and windows open to increase ventilation
Perspex screens at receptions
Removal of some treatments
No cash, with card appointments sometimes taken in advance
Protective visors for therapists
No magazines, food or drink on offer