Are steam straighteners better for your hair? Salon experts weigh in
Steam straighteners promise effective straightening with less damage—but do they deliver?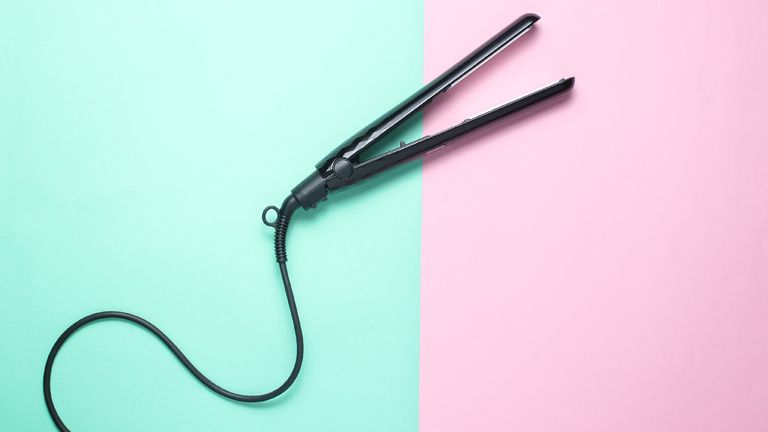 (Image credit: Getty Images)
Do you remember the first-generation steam straighteners? In the early '00s before the ghd revolution took hold, brands released chunky, splattery devices often with crimp and wave attachments. And despite their rudimentary technology, those early steam straighteners were snapped up in droves by beauty fans keen to create stick-straight sheets of hair, Jennifer Aniston-style.
These days, the best hair straighteners come in many forms, from cordless to the best hair straightening brushes and slick devices that make learning how to curl hair with straighteners a cinch, but steam straighteners are still in the picture.
New-gen models such as the L'Oreal Professionnel Steampod 3.0 and Revamp Progloss are slimmer, lighter, and boast far smarter tech than their predecessors. The main USP of today's steam straighteners is that by using steam instead of direct heat they allow for a more thorough yet less damaging styling experience. This makes them particularly appealing to those with curly hairstyles or weakened and frizzy hair.
Wondering if it might be time to rethink steam straightening? Or whether steam straighteners are a suitable choice for your hair type? We've consulted salon experts and put a pair of steam straighteners to the test against a classic flat iron to break it down for you.
Steam straighteners—your complete guide
What are steam straighteners?
Generally speaking, most steam straighteners use a combination of high-pressure steam generated by a built-in water tank and heated plates to straighten hair. What sets steam straighteners such as L'Oréal Professionnel SteamPod 3.0 apart from most other hair straightener models is the promise that that steam provides a gentler straightening experience.
Steam straighteners aim to protect hair while styling by respecting the moisture balance of strands and, therefore, causing less damage. This is a different approach to the typical hot iron experience. Other contemporary models such as the Dyson Corrale tend to straighten solely using direct heat and depend on advances in plate technology such as floating plates and intelligent heat detection to prevent hotspots and extreme damage.
What hair type do steam straighteners suit?
Their focus on moisture balance explains why steam straighteners are often considered the best straighteners for curly hair. Curls struggle to retain moisture, as natural oils have a less straightforward journey from root to tip, so the ends of curly hair often need extra help to stay nourished. Those with curls may also be straightening their hair more frequently and if the hair is thick or a long hairstyle as well it can take far longer to straighten a whole head—leaving delicate strands more vulnerable.
While steam straighteners are generally kinder to hair than other types of flat iron, this isn't necessarily a green light to reach for the straighteners more frequently."If you find something less damaging, using it twice as often negates the benefit," explains renowned hairstylist and award-winning salon owner Michael Van Clarke. Frequency, technique, and using heat protection for hair are still key hair health considerations.
Are steam straighteners better for hair than regular straighteners?
"In theory, yes, I believe so," says Michael. "A key factor in hair condition is hydration. Healthy hair is 97% protein and 3% water. Loss of the natural water content causes a breakdown in the protein structure and then results in thinner, drier, and coarser hair. This can lead to split ends and breakage. Dry heat tools take a little of this moisture when styling, so they leave the hair vulnerable."
In contrast to this, steam straighteners can actually boost hair hydration. "The steam opens the hair follicle and allows the moisture to penetrate while straightening or curling," explains Neil Moodie, international session artist. This results in less damage and a softer, glossier finish. "They also smooth a lot faster, with only one or two passings needed on each section," he adds.
How do steam straighteners perform? w&h review
Steam straighteners have a lot going for them in theory, but how do they perform in practice? Beauty Editor Ayesha Muttucumaru put the L'Oreal Professionnel Steampod 3.0 to the test:

"After hearing so much about the L'Oréal Professionnel SteamPod 3.0 and seeing so much buzz for it online, I was eager to try it out for myself to find out if it could give my best ghd straigtheners a run for their money. I was also curious to see just how far the category had come since my last experience of them back in the day."
Pros of steam straighteners
---
Settings: The choice of three temperature settings was a welcome feature. I opted for the lowest —356°F or 180°C—which was perfect for smoothing my long, wavy hair requiring on average just one glide per section.
Movement: Arrows on the body of the styler were helpful in showing which way to move its plates, and also proved particularly handy when using it to create curls and waves. The ceramic plates and 360° rotating cord were also helpful for this.
Finish: For a smooth and high-shine finish, the Steampod 3.0 is one of the best hot stylers I've tried—it's easy to see why it's amassed so many glowing reviews online. My hair felt surprisingly soft after using it, which is a revelation considering that it usually feels parched post-straightening. It was also great at creating curls—I loved how bouncy and healthy they looked.
Cons of steam straighteners
---
Set up: One tank lasted me two styling sessions, which was pretty good. However, refilling it proved slightly time-consuming, plus it also requires demineralized or filtered water to function at its best.
Attachments: I had mixed feelings about the integrated comb. While useful for keeping hair in place when creating waves, I did find that it snagged a few times despite having brushed my hair beforehand—but it is detachable. Size-wise, the styler was a little bulkier than regular straighteners too, which took some getting used to.
Versatility: I wouldn't say the Steampod 3.0 is for everyone. If you have very short hair or consider speed and precision to be priorities during styling, slimmer and lighter models may be a better option.
"A further consideration is its price. It's comparable to other super-premium models such as the Babyliss 9000 Cordless hair Straightener, but it's definitely one of the pricier options out there.

If straighteners are your go-to tool, though, and you're serious about minimizing heat damage, a steam straightener such as the Steampod could be worth the investment."
---
woman&home thanks Michael van Clarke and Neil Moodie for their time and expertise.
Ayesha is a freelance contributor to woman&home who often covers beauty pieces. A fan of eyeliners and one-liners, a career in beauty journalism seemed inevitable for Ayesha. Her path wasn't without its detours though. She originally planned on becoming a divorce lawyer, but decided to amicably part ways with that particular objective in her mid-twenties. It was a good decision all round and we're happy to report that both are better for it as a result.
Rather than referencing case law these days, Ayesha can be found writing about all things cosmetics, hair and self-care in her role as Senior Features Writer for Get The Gloss. As well as her daily features, she writes a monthly hair column called 'Who, What, Hair' (which combines her love of puns and buns perfectly), in addition to a column exploring the new and exciting options that are now available for women of darker skin tones called 'Not Fair'. She's also been shortlisted for a number of awards over the years - twice for Best Online Beauty Journalist at the Johnson and Johnson Journalism Awards and most recently, Best Digital at the Jasmine Awards. It seems swapping law for lipstick has been worth it (thank goodness!).