The best hair dryer brushes for easy styling and volume
The best hair dryer brushes to make the perfect at-home blowout an attainable feat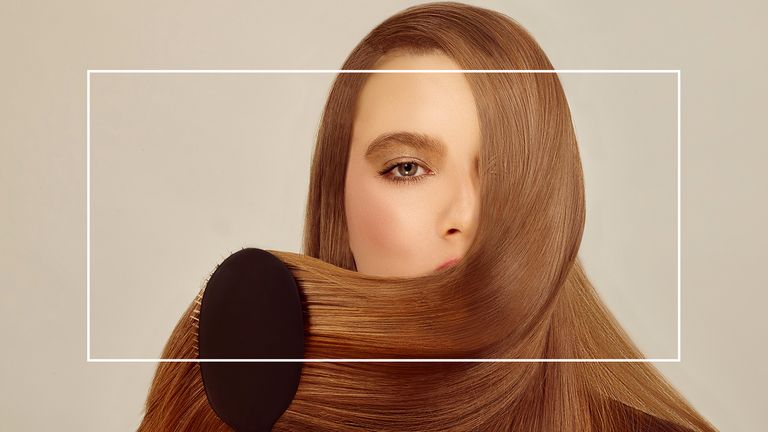 (Image credit: Future/Getty Images)
When it comes to styling, the best hair dryer brushes marry qualities of a round brush and hair dryer in one streamlined tool. For all hair types, this versatile gadget brings a silky-smooth and frizz-free coiffed blowout, sans salon visit and time wasted.
But alas, finding the right one poses its own set of setbacks and considerations, much like scouring for the best hair dryer. Today's best hair dryer brushes target specific textures to deliver tailored results and incorporate unique features, from the type of bristles and heat settings to the barrel design and grip.
With your convenience in mind, we've rounded up the best hair dryer brushes recommended by hair experts, shoppers, and media outlets. We've tested multiple models and assessed the following: features and technology included, ease of use, design elements (construction for example), and how it styles specific hair types. Our curation underscores notable crowd favorites, including the Revlon One-Step Hair Dryer and Dyson Airwrap Complete Hair Styling Set, among others.
How to choose between the best hair dryer brushes
There are several factors to consider when choosing between the best hair dryer brushes. Consider your hair's texture, length, and overall health and then look at aspects like the design, weight and size of the barrel, the bristles and the heat and speed settings.
When looking at the design of the barrel, think about the shape as something round and/or oval will give you the best results for volume, while a straighter brush will work with curly hair a bit better. The diameter is also an important consideration, as a wider barrel will give you more lift and works well with longer hair types, but if you're a short hairstyle person, then you'll want a smaller barrel. Anything lightweight will also make it easier to use longer periods of time, so that's worth thinking about if you have a big mane to tackle. And look out for ceramic or titanium barrels, as they are better at taming frizz and smoothing tresses better than their plastic counterparts. We also love tourmaline barrels and ionic technology, which also help combat frizz. When it comes to bristles, long, widely-spaced bristles are ideal for styling long and thick hair, as they generally glide through coarse locks and penetrate dense strands more efficiently without applying much heat, while brushes with short and fine bristles work better for shorter hairstyles.
The very best hair dryer brushes will have a variety of heat and speed settings so that you can create different styles have more control over your hair, however if you're going for something with a single heat setting then those with finer hair should choose something with a low heat setting, while higher settings are reserved for those with coarse, thick hair. As always, spritz your best heat protectant to shield your precious tresses from heat damage.
The best hair dryer brushes as reviewed by our experts
1. Revlon One-Step Hair Dryer & Volumizer Hot Air Brush
The best overall hair dryer brush
Specifications
Warranty: 4 years
No. of heat settings: 2 heat and speed settings and 1 cool option
Brush design: Nylon Pin & tufted bristles for detangling, volume and control
Reasons to buy
+Oval brush design smooths hair, while the round edges create volume+1100 Watt power+Features ionic technology, which combats frizz+Reasonably priced
Reasons to avoid
-Gets incredibly hot during use
With over 100,000 reviews on Amazon (yes, you read that correctly), the Revlon One-Step Volumizer is unanimously a top-performing leader in its category, gliding effortlessly through even the toughest of hair textures. By design, this bestseller can be placed close to the scalp and underneath hair, bringing coveted bounce and volume you'd normally see with a salon blowout or by using the best hair dryer for your hair type, which makes it top of our best hair dryer brushes list.
The dryer has an oval shape, which artfully combines the perks of a hair straightening paddle brush and round brush. The flatter side of the brush acts as a straightening paddle for sleekness and eliminates the need for flat iron touchups; the rounded edges function like a round brush to lift and add body. Though bulky and wide, it's quite intuitive and lightweight to hold, enabling greater control over styling.
That being said, it does heat up quickly and intensely. Sure, its power brings benefits (hello, smooth locks!). However, it also may cause heat damage over time, which is a thing to note if you have dryer ends. That's why we recommend applying heat protection while styling as you normally would when using your best hair straighteners.
2. Dyson Airwrap Complete
The best hair dryer with multiple attachments
Specifications
Warranty: 2 years
No. of heat settings: 4 heat, 3 speed
Brush design: Multiple
Reasons to buy
+8.5 ft. cable length+Features an array of barrels and brushes; one-click attachments+Heat control prevents extreme heat damage while styling+Features negative ions to reduce frizz+Easy to clean filter: removable and washable+Comes with filter cleaning brush
Reasons to avoid
-Expensive
A top-tier media darling, the Dyson Airwrap Complete Hair Styling Set is a jack of all trades and, yup, a master at pretty much all of them. As probably the most famous of our best hair dryer brushes, it's suitable for all hair types and textures, this robust system leverages what's called "The Coanda effect" and a proprietary digital motor. The dynamic duo curls, waves, smooths, and dries locks, without applying extreme heat.
Technical jargon aside, the Coanda effect is a physical phenomenon: It "attracts" hair to curl around the barrel to style with air. In other words, you don't have to wrap a section of your hair around the barrel, hold it in place, and then release—the Airwap system assumes this tedious task itself. Though it's a costly expense, shoppers say the investment is worth every penny.
This system comes with one-click, agile attachments, which can be quickly adjusted and changed while styling.
1. For volume, curls, and waves: 1.2 inch barrels
2. For loose curls and waves: 1.6 inch barrels
3. To control frizz: Firm smoothing brush
4. To smooth fine hair: Soft smoothing brush
5. To volumize and shape flat, fine hair: Round volumizing brush
6. For styling prep: Pre-styling dryer
7. For on-the-go travel: storage case
8. Dyson Airwrap™ Base
3. Osensia Ultra Small Round Brush
The best budget hair dryer
Specifications
Warranty: 14-day unconditional guarantee
No. of heat settings: 1
Brush design: Mini Round Brush; Antistatic, ionic, and mineral-infused bristles
Reasons to buy
+Great for styling short hair; brush design offers targeted control for curling and adding volume to bangs, etc.+Ceramic and lightweight material+Affordable
Reasons to avoid
-The brush could hold up better for thicker hair types-Non-flexible return policy
Albeit mini in size, the Osensia Ultra Small Round Brush is adept at delivering maximum volume, hold, and shape so of course is one of our best hair dryer brushes. Both light and durable, this hair dryer brush harnesses vents to provide even airflow, reducing drying time and heat damage as a result. Its tiny diameter also lends hyper-precise control over styling, a clear advantage over bulkier options that are less likely to reach the roots. The cushioned handle is a handy solution against strain from long duration use, providing both secure grip and comfort.
The only caveat: It's limited to fine, thin, and short hair types. Nonetheless, this is one of the best hair dryer brushes for bangs, annoying flyaways, and touchups, so you'll still want this in your cart.
4. DryBar The Double Shot Blow-Dryer Brush
The best hair dryer brush for damaged hair
Specifications
Warranty: 2 years
No. of heat settings: 3 temperature settings (cool/medium/high)
Brush design: Oval shape with gently curved edges to provide volume; nylon and tufted bristles
Reasons to buy
+Vents provide maximum airflow for a faster blowout+Ionic Technology combats frizz and adds shine+Temperature flexibility allows for customizable styling
Reasons to avoid
-Some shoppers say it sucks stray strands into the fan-Could do a better job at straightening hair
The DryBar Double Shot Blow-Dryer Brush revives mops of damaged, unmanageable hair, creating a shiny blowout in a fraction of the time. Though suitable for all hair types, this option is one of the best hair dryer brushes for those with damaged locks, thanks to its wide and lightweight construction that lends exacting control over styling (a.k.a. you're less likely to overexpose fragile strands to heat). Plus, with variable temperature control, you can apply a certain amount of heat based on your hair texture. From gentle curved edges to defined bristles, the dryer is thoughtfully designed to build body and fullness from every angle even for hard-to-reach coils, without giving off excessive heat.
5. Aima Beauty 4-in-1 Hair Dryer Brush
The best hair dryer brush for frizzy hair
Specifications
Warranty: 1 year
No. of heat settings: 3 Heat and speed settings
Brush design: Oval Brush Design and round edges
Reasons to buy
+Features ionic technology to mitigate frizz and flyaways+Bottom airflow vents reduce noise and impact of heat damage+Includes 6 ft. cord+Includes unique Tangled Bristles with massage ball, both of which soothe the scalp and slide through the hair easily+Air inlet design extends service life
Reasons to avoid
-Handle gets too hot-Could dry hair quicker
A labor-saving tool, the Aima 4-in-1 dryer brush is meticulously made down to the granular details. For starters, this versatile dryer consolidates the functions of multiple stylers, namely a dryer, comb, hair curler, and hair straightener. Fueled by ionic technology, it nourishes hair and flattens frizz, producing enviable silky-smooth locks in the process. It also has an anti-scalding top to be maneuvered as you style, and offers a handle with diamond-shaped detailing for intuitive grip. In addition, it features the same coating present in ceramic hair straighteners as a preventative measure against long-term heat damage.
6. Bed Head One-Step Hair Dryer and Volumizer
The best hair dryer brush for curly hair
Specifications
Warranty: Varies by product
No. of heat settings: 3 Heat and speed settings
Brush design: Oval design and mixed pattern bristles
Reasons to buy
+Tourmaline Ceramic Technology smooths hair and adds shine+Lightweight design+Fast drying for thick and curly hair types+Tames frizz and flyaway strands
Reasons to avoid
-120-volt US outlets only-Gets very hot-Large head makes it tricky to get to roots
For taming frizz, coils, and waves, the Bed Head hair dryer brush leverages tourmaline and ceramic, and imparts a sleek, glossy finish. Its mixed bristles penetrate each strand from root to tip, equipping users with exacting control and precision. Shoppers rave about its ability to dry thick, coarse-wavy hair in a jiffy and how it makes hair visibly smoother, softer, and shinier than a flat iron (though if you're a die-hard hair straightener fan, you'll want to make a beeline for the best straighteners for curly hair on the market for a truly poker-straight finish).
7. Babyliss Pro Nano Titanium Rotating Hot Air Brush
The best hair dryer brush for fine hair
Specifications
Warranty: 2 years
No. of heat settings: 3 temperature settings
Brush design: Rotating barrel and bristles
Reasons to buy
+Conditioning ions seal in moisture+Push-button forward/reverse controls+Dries and straightens hair in one sweep, perfect for fine and fine-wavy hair types+Glides through with ease
Reasons to avoid
-Can tangle easily and pull your hair due to spinning feature-Some shoppers say that the bristles are too soft to grab onto hair
The BabylissPRO hair dryer brush harnesses a rotating barrel, which can adapt to your position, angle, and targeted hair section. As you dry, this bi-directional function works to volumize and shine hair with ceramic heat. It also includes soft bristles, which gently glide through strands and won't rip them out. All in all, the verdict is clear: It's a godsend for fragile, thinning hair that's prone to breakage and needs some extra TLC.
8. Hot Tools Professional 24K Gold One Step Dryer Volumizer
The best hair dryer brush for thick hair
Specifications
Warranty: 7-year limited warranty
No. of heat settings: 3 Heat / 2 Speed Settings
Brush design: Oval design and charcoal-Infused Bristles
Reasons to buy
+Gold styling surface for even heat distribution+8 ft. swivel cord+Lightweight design provides relaxed control and grip
Reasons to avoid
-Bulky-Gets very hot-Some shoppers say it's more straightening than volumizing
The Hot Tools Professional 24K Gold hair dryer brush is a dense yet lightweight option that quickly styles and dries the most unruly of strands. Designed to eliminate the need for a flat iron, this brush includes a 24K Gold styling surface, which evenly distribute heats and thereby delivers silky locks — consistently. The ergonomic design incorporates a rotating temperature control for quick adjustments as you style; while its wide oval shape brush straightens, volumizes, and smooths hair. As a solution against chronic frizz and static, the brush's Direct ION Technology maintains neutral charge on the hair's surface. (Ed's note: If your hair's surface is charged positive, individual strands will repel each other and thus bring poufy, frizzy hair.) Safe to say it's the perfect staple for thick, difficult-to-manage tresses, with a bit of chemistry thrown in for the smoothest results.
9. John Frieda Hot Air Brush 1-Inch
The best hair dryer brush for short hair
Specifications
Warranty: 90 days
No. of heat settings: 2 heat settings plus a cool setting
Brush design: Titanium ceramic hot air brush barrel
Reasons to buy
+Ionic technology tames frizz and makes hair smooth and silky+Titanium barrel holds heat more efficiently for a faster blow out
Reasons to avoid
-Could be more ergonomic and tapered in design
The John Frieda Hot Air Brush slightly exceeds one inch in diameter, serving as the quintessential hair dryer brush for bobs and pixie cuts. For versatile styling, this option features multi-heat and cool settings, plus a swivel cord that moves with you to prevent kinking. The oval size and shape allow those with short hair to easily wrap hair around the brush and glide through — and its bristles won't tug on the scalp.
Types of hair drying brushes on the market
Today's market offers a barrage of hair dryer brushes with something for everyone. To get the most out of this investment, keep your eye out for specific technologies, unique brush functions, and design elements.
Stationary hair drying brush: features the brush in a fixed position, so you have to manually roll it to style your hair. While manual labor sounds daunting, stationary brush dryers tend to not tangle hair, unlike their rotating cousins—therefore making them better for beginners.
Standard rotating hair drying brush: features a rotating, mobile brush head, which adds more volume and minimizes hassles associated with styling and/or twirling. If flexibility is your jam, you can also opt for a hair drying brush with a spinning head, which tends to "catch" more hair than stationary options.
Dual-rotating hair drying brush: includes two directional buttons, enabling the brush to spin either forward or backward. Whether you're left or right-handed, or simply want to alternate directions of your curls for a more natural tousled look, this nimble feature is super convenient.
Interchangeable brush head: typically includes one dryer unit and additional brush attachments. These attachments are versatile, can accommodate different hair lengths, and create different styles.
"Tangle-free" brush head: features a button that enables the barrel to swivel and release jumbled hair sections or strands.
How to style your hair with a hair dryer brush
We've highlighted tailored tutorials on how to use a hair dryer brush for your specific hair type and length.
Note: Most of these clips feature the Revlon Volumizer; however, they incorporate techniques that can be used with any hair drying brush.
For short hair
For medium- or shoulder-length hair
For long hair
For thick, coarse, or curly hair
For fine hair