The best bikini trimmers for a safe, irritation-free trim every single time
We've tried and tested the best bikini trimmers for women for year-round intimate grooming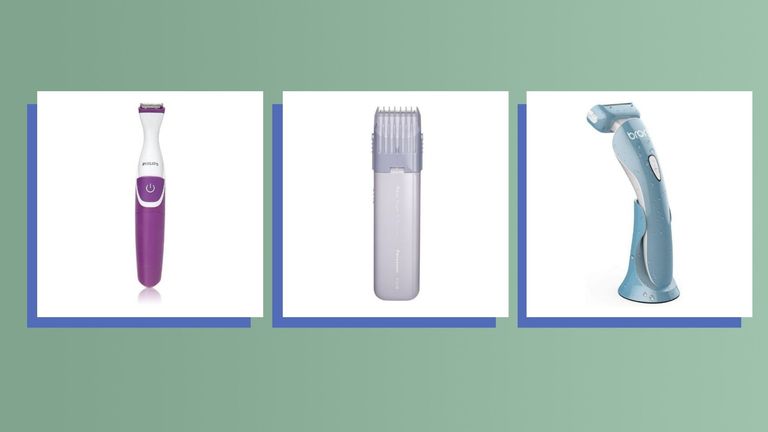 (Image credit: Future)
Looking for the best bikini trimmer can feel like a high-stakes endeavor. This would not be a smart area of your beauty routine in which to take a punt on a subpar product. Luckily, we've scoured high and low to find the best-rated bikini trimmers out there and tested them extensively, so you don't have to.
There are many good things about opting to use a bikini trimmer for your intimate grooming. Firstly they are easy to operate and effective. Used properly they are pain-free—which sets them pretty far apart from bikini waxing and laser hair removal. Plus, they are unlikely to cause the ingrown hairs, razor burn, and nicks that even the best electric razors for women run the risk of from time to time. "Trimmers are good for the bikini area because there is less risk of irritation," says board-certified dermatologist Dr. Debra Jaliman, MD. "They're also less painful to use than both waxing and epilating, and can help prevent razor bumps."
From clean-shaving clippers to sensitive skin-friendly options, this is the all-time best bikini trimmer for women hotlist. Plus, we dish out the ultimate do's and don'ts of bikini hair removal at home so you can groom with complete confidence.
How to choose the best bikini trimmer for you
While even the best bikini trimmers usually neaten up a hairy bikini line rather than completely eradicating hair as waxing does, the convenience factor of having your own bikini line shaping tool at home offsets the frequent regrowth.
We tried dozens of options to find the best pubic hair shaver for women, testing them wet and dry on various lengths of regrowth, and paying attention to the special features Dr. Jaliman advises looking out for, which are:
Waterproof: If you shave in the shower, this is a must
Cordless: Reaching awkward angles is eminently easier without leads
Lightweight: Save yourself from achy arms and wrists
Customizable trimmer: Many of the best bikini trimmers also work on other areas
Different comb lengths: To tackle various lengths of hair and regrowth
The best bikini trimmers, chosen by beauty experts
1. Philips Beauty BikiniGenie Cordless Trimmer for Women
Best bikini trimmer for beginners
Specifications
RRP: $17/£23
Shower-safe: Yes
Power: AA batteries included
Extra features: Bikini trimming head, mini shaving head
Reasons to buy
+
Works well for bikini, armpit, and leg
+
Works in shower
+
Trims long body hair evenly
+
Curved neck can reach angled areas
Reasons to avoid
-
Takes several passes to complete an area
If you're new to bikini trimmers, trust that this one won't leave you confused or overwhelmed. For starters, it's cordless, so you won't have to worry about not being able to reach those hard-to-get areas.
Next, thanks to its curved neck and various included attachments, trimming is practically painless, whether you're looking for pubic or facial hair removal. Simply trim hair down with the metal trimming blades before using the shaving head to tame hairs anywhere. An added bonus? This razor attachment can also be used for the legs.
This may be the best bikini trimmer for newbies but it probably isn't the fastest. Be sure to set plenty of time aside when using this razor; it takes several passes to clear an area, so don't expect a clean and quick trim all in one shot. It's also battery-operated, so you'll definitely want to make sure you have a spare set of batteries around in case the trimmer stops working. These are small gripes though, all in all, this is a great starter kit, especially for travel.
---
2. Briori Electric Razor for Women
Best bikini trimmer for extra features
Specifications
RRP: $25.98/£29.99
Shower-safe: Yes
Power: USB chargable
Extra features: Carry bag, charging stand, cleaning brush
Reasons to buy
+
Three high-performance blades
+
LED light helps visibility
+
Safe to use on wet and dry skin
+
Easy charging
+
Quiet
+
Removes long hair easily
If your idea of the best bikini trimmer is one that's packed with bonus features, this trimmer won't leave you disappointed. The built-in LED light successfully illuminates areas when you are shaving, so no stray bikini hairs are left behind. The three-in-one shaving heads are also a delight: The straight blade can be used on legs (great news if you've never quite got the knack of how to wax your legs) its curved blade can be used for the underarm and bikini line areas, and the floating foil blade keeps stubble to a minimum.
And if your body hair is on the longer side, not to worry; this bikini trimmer easily neatens straggly hairs up without requiring multiple passes. However, while this bikini trimmer can be easily charged, be advised that its battery life is on the shorter side, which might be irritating if you're planning a full hair removal MOT in one evening. Plus, while it helped keep our stubble in check, it didn't provide a super-close shave as a traditional razor would probably have.
---
3. Panasonic Bikini Shaper and Trimmer
Best bikini trimmer for medium to long hair
Specifications
RRP: $17.99/£49.99
Shower-safe: Yes
Power: AA Batteries (not included)
Extra features: Waterproof trimmer head, cleaning brush
Reasons to buy
+
Five blade position options
+
Versatile settings prevent nicks
+
Works well on long hairs
+
Efficiently cuts coarser hair
+
Reaches all contours of the body
+
Easy to clean
Reasons to avoid
-
Motor works slowly
-
Requires several passes
This trimmer makes cleaning up almost any hair length a total cakewalk. Not only does it offer a hypoallergenic blade and a very generous five options of position settings, but it also reaches all contours of the body including armpit hair, which experts agree is one of the hairs you shouldn't pluck.
This trimmer also has the added benefit of being able to trim medium to long-sized strands, making it the best pubic hair shaver for women who are a little sporadic with intimate grooming. It also gently removes coarse and thicker-textured hair without tugging or irritation. If that's not enough to entice you, perhaps its low-maintenance upkeep will. After all, it does come with a brush to keep the unit clean until your next trim.
However, because this trimmer's motor works slowly, you'll have to be patient while using it. It can require several passes to completely clear an area—we used it on a lazy Sunday when we had some time to spare.
---
4. Gillette Venus Bikini Trimmer for Pubic Hair and Skin
Best bikini trimmer for sensitive skin
Specifications
RRP: $12.39/£14
Shower-safe: Yes
Power: Manual
Extra features: Two razor refills
Reasons to buy
+
Irritation defense bar prevents burn
+
Includes two replaceable heads
+
Reaches tough-to-reach spots
+
Dermatologist- and gynecologist-tested
+
Ideal for sensitive skin
Reasons to avoid
-
Requires blade changes
-
Doesn't shave long pubic hair
If you find yourself riddled with razor burn and irritation after shaving your bikini area, this sensitive skin-safe razor is definitely the answer to your prayers—its irritation defense bar and blades guarantee a smooth shave without any nicks or bumps.
Aside from its protective benefits, we were pleasantly surprised by the Venus Bikini Trimmer's shaving capabilities, which are equally impressive. It can reach tough-to-reach spots in intimate areas without irritating or pulling at your hair. Since it also contains two replacement heads, you won't have to worry about stubble coming back full force in the short term at least.
However, this razor isn't for everyone. It has a small blade count so may not provide a super close shave if that's what you want. Additionally, this renders it unsuitable for body shaving. And if you're on the lookout for something electric that doesn't need replacement heads or refills, obviously look elsewhere. But since sensitive skin-safe bikini trimmers are hard to find, this razor made top marks in our books, particularly in keeping dreaded razor burn at bay.
---
5. Remington Smooth & Silky Body & Bikini Kit
Best bikini trimmer for travel
Specifications
RRP: $24.99/£26.99
Shower-safe: Yes
Power: AA batteries included
Extra features: Adjustable length guide, travel bag
Reasons to buy
+
Trimmer, exfoliator and shaver attachments
+
Safe for bikini, legs, face, and hairline
+
Rotating exfoliator prevents ingrown hairs
+
Reaches tricky spots
Reasons to avoid
-
May require a few passes
Searching for a travel-sized bikini trimmer you can bring on your well-deserved vacay? Look no further: This charming, compact little trimmer kit fits nicely inside your suitcase and is the best bikini trimmer to bring on any holiday away.
Though its smaller size isn't its only advantage; this trimmer's attachments keep your bikini area—plus face, legs, and hairline—in tiptop shape. But that's not all: We loved the included exfoliating attachment, which was up there with the best body exfoliators in ensuring any dead and rough skin was sloughed off, resulting in zero ingrown hairs and a smoother, silkier feel.
At the same time, this trimmer isn't for everyone; it may not provide a close enough shave like a traditional razor, and also not clean up areas in one pass. However, because of its added extras and its easy-to-carry size, it's definitely the bikini trimmer to have on hand if you're proudly a part of a frequent flyer program.
---
6. Schick Hydro Silk TrimStyle Moisturizing Razor for Women with Bikini Trimmer
Best bikini trimmer with razor
Specifications
RRP: $12.12/£26.90
Shower-safe : Built-in razor is waterproof
Power: AA Batteries (not included)
Extra features: Adjustable bikini trimmer comb
Reasons to buy
+
Five-blade razor and a bikini trimmer in one
+
Three length options for trimming
+
Built-in moisturizing strip
+
Razor is easy to clean
Reasons to avoid
-
Requires holding of a button while shaving
Looking for a product that marries a traditional razor and a bikini trimmer? You're in luck, as this dual-sided product pairs a moisture-strip five-blade razor with a battery-powered bikini trimmer to make cleanup super easy and stubble a thing of the past.
Fans of a time-saving two-in-one (guilty) won't have to worry about irritation rearing its ugly head whenever you reach for this trimmer, as that nifty built-in hypoallergenic moisture strip did its job hydrating as we went along. Its curve-sensing blades came in handy when navigating around the bikini line. The waterproof bikini trimmer itself is another treat: It offers three length options for trimming, so you can keep the hair down there as neat and tidy as you like.
Though this product isn't without some drawbacks: It's not replaceable, and to use it correctly you have to hold down the button as you shave, which can feel tricky at certain angles. However, if you are looking to get all of your shaving done in one shot—not to mention minimize your shower clutter and give yourself extra peace of mind during shaving—this razor-bikini trimmer duo will definitely make your upkeep, a whole lot easier.
---
7. Luminess Air Silk & Smooth Hair Remover Device
Best bikini trimmer for a close shave
Specifications
RRP: $20/£58
Shower-safe : No
Power: AA Batteries
Extra features: Travel case sold seperately
Reasons to buy
+
Precision rotary blades
+
Close, comfortable shave
+
No need for water or shaving cream
+
Small and light to carry
+
Cordless
+
Can reach tough-to-access spots
Reasons to avoid
-
Battery operated
-
Small, so takes longer to trim
This sleek and nifty device not only looks the part, but it acts it too. The two-blade precision rotary blades move over the skin smoothly to remove hairs quickly and painlessly for a close, comfortable shave. What's more, the device itself is small and light to carry, making it the perfect travel companion for when you want to remove hairs on the go.
Contrary to the usual shaving advice, this tool can also be used without shaving gel and water. Simply place the blade against your skin and move it in small circular motions to instantly remove hair. Once you're done with the blade, turn it counterclockwise and lift it off before replacing it with a new one.
We love the design of this device and how it delivers a close shave without irritation. The only factor to consider is that it's battery-operated, so if you do take it away with you, be sure to pack some spare batteries.
---
8. Wahl Trimmer Kit Face and Body Hair
Best for face and body
Specifications
RRP: £29.99
Shower safe: No
Power: Chargeable
Extra features: Storage pouch, blade guard, blade oil, cleaning brush
Reasons to buy
+
Rechargeable
+
Comes with three head attachments
+
Removes hairs from body and face
+
Includes an eyebrow attachment
+
Close shaving
Reasons to avoid
-
Battery life of one hour
-
Not safe to use in the shower
This 3-in-1 electronic device removes unwanted hair from the body (bikini-line, arms, legs, and underarms) as well as the face (cheeks, lips, and chin). Complete with three head attachments, use the rotary attachment for a close shave on fine hairs. Use the trimmer attachment along with the adjustable comb on larger surface areas. And finally, there's the eyebrow attachment which helps you master how to shape eyebrows and define straggly arches in seconds.
This do-it-all tool is the best bikini trimmer for women who want to remove hairs from top to toe and who want the choice to trim to a specific desired length. The device can be used cordless once the battery is full, running for 60 minutes, which should allow enough time to rid your entire body of hair. Considering its reasonable price tag, this tool is up there with one of the best that we've tried.
How to trim your bikini line safely
1. Exfoliate first
It's a good idea to start some skin smoothing a couple of days before trimming the area. You could use a traditional scrub of even body lotion with skincare acids. Why? Number one, exfoliating removes excess oil, dirt, and dead skin cells. And number two, it can also lift the hairs so they're not lying flat to help achieve a smoother shave. Word of warning: don't exfoliate on the same day as trimming as this can cause irritation.
2. Never dry shave
If you use a bikini trimmer or razor on dry skin, there's no slip and slide which can result in razor burn, nicks and cuts as well as a burning sensation. Shaving gels and creams are designed to prep your skin for a seamless shave without any irritation.
3. Work in one direction
Do not, we repeat, do NOT trim the hairs in all directions. If you do, there's a high chance you will irritate the skin, cause razor bumps and even increase the chance of ingrown hairs. Instead, trim the hairs in the same direction that the hair grows.
4. Moisturize after
After you're finished trimming, be sure to apply a generous layer of your favorite body moisturizer. This will not only soften the skin, but will reduce the chances of ingrown hairs.
5. Replace your razor head
For a clean, smooth shave, replace your tool regularly. Trimming or shaving with a dull blade is more likely to cut and irritate the skin. As a general rule of thumb, replace your blade every two to three weeks (depending on how often you shave).
---
woman&home thanks Dr. Debra Jaliman for her time and expertise.
Courtney Leiva is a seasoned lifestyle writer with nine years of experience under her belt. She graduated from The Ramapo College of New Jersey in 2012, and since graduation, she has been actively contributing to major news outlets such as Refinery29, Women's Health, Yahoo! Lifestyle, HelloGiggles, NewBeauty, and more. Courtney initially started off covering beauty news, but as she has grown her career over the years, her health, home, and shopping pieces can now be seen on BuzzFeed, The Daily Beast, and Huffington Post. When she's not writing, Courtney enjoys ranking her favorite ice cream flavors, spending her weekends in HomeGoods, and dreaming up new ways to decorate her house. Follow her on Twitter @CourtneyLeiva and on Instagram @MissCourtneyLeiva.