These are the five best Jo Malone fragrances, as rated by customers
Does your best Jo Malone fragrance make the all-time top five?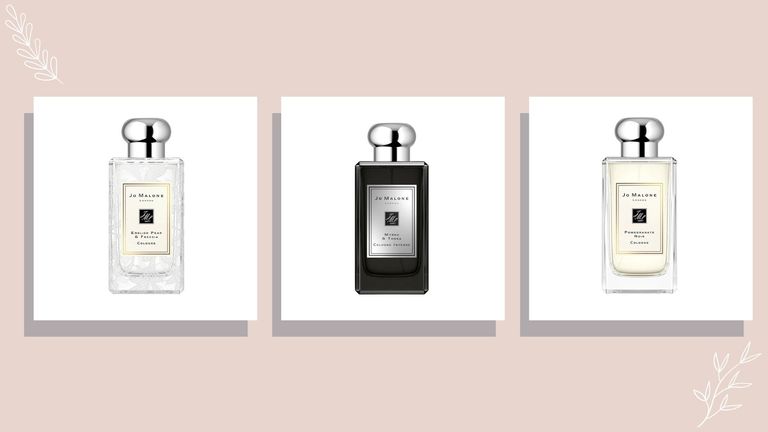 (Image credit: Future)
Some of us already have a best Jo Malone fragrance—that one scent that makes its way onto your birthday or Christmas wish list every year. But if you fancy trying something new, or want to treat a loved one to a Jo Malone perfume for the first time, wouldn't it be handy to know which of the brand's iconic scents are the most-loved, biggest sellers of all time?
We all know Jo Malone London makes some of the best perfume for women you can find anywhere, not to mention the best scented candles to fill your home with fine fragrance. Whether you're partial to zippy Lime Basil & Mandarin or pretty Orange Blossom (which is reportedly Duchess Catherine aka Kate Middleton's perfume of choice) these guys just can't stop knocking out blockbuster scents. Now, the British fragrance house has revealed its top-selling colognes to woman&home, so you can pick the crème de la crème of the best Jo Malone fragrance right now.
And while we all know scent preferences can change seasonally—perhaps you prefer lighter flower fragrances in the summer and classic rose perfume in the winter— these are the most popular Jo Malone scents that consistently rank top five, so will be sure to please your lucky giftee.
The best Jo Malone fragrances of all time
1. Jo Malone London English Pear and Freesia Cologne
The best Jo Malone fragrance of all time
Specifications
RRP: $74/£52 for 30ml
Top note: King William Pear
Heart note: Freesia
Base note: Patchouli
Taking the crown for the most popular Jo Malone fragrance is English Pear & Freesia—a light and fresh scent that combines the two aforementioned notes on a base of patchouli. At the risk of stating the obvious, it really does smell how a freshly cut pear should—crisp, fresh, and uplifting.
"When you smell English Pear & Freesia, you're instantly transported to an orchard where juicy fruit mingles with blooming flowers. There's something unexpected about the combination of key ingredients and it's got that freshness and elegance we're known for," says Celine Roux, Global Head of Fragrance for Jo Malone London.
We're inclined to agree. This fragrance sums up everything we love about jo Malone London as a brand, who are masters of creating modern and surprising blends out of quintessentially English ingredients. It's no surprise that this scent also bagged a top-five position in the most popular Jo Malone candles—who wouldn't want their house to smell like this?
2. Jo Malone London Myrrh & Tonka Cologne Intense
The second most popular Jo Malone scent
Specifications
RRP: $138/£86 for 50ml
Top note: Lavender
Heart note: Omumbiri Myrrh
Base note: Tonka Bean
Taking second place in the best Jo Malone fragrance lineup is Myrrh and Tonka. This scent is one of the brand's Cologne Intense offerings—richer, deeper perfumes created using precious ingredients. The prices tend to be a bit steeper on this particular line, but due to that intensity they also last longer on the skin and need topping up less. So if you were wondering which perfume lasts longest of the top five, here's your answer.
Myrrh and Tonka may not have the household recognition of some other scents on this list, but we are not at all surprised it's such a huge seller. This fragrance is rich, velvety, and ever-so-slightly sweet, with warming notes of vanilla, almond, and lavender. Due to its warming and cozy nature, we would traditionally think of this as one of the most popular Jo Malone fragrances for winter. With that said, it is a hugely popular buy all year round, which proves fragrance rules are made to be broken.
3. Jo Malone London Pomegranate Noir Cologne
The third best Jo Malone fragrance
Specifications
RRP: $74/£52 for 30ml
Top note: Pomegranate
Heart note: Casablanca Lily
Base note: Guaiacwood
If there's one Jo Malone scent you've heard of through friends, family, or co-workers, it's likely to be this absolute fan favorite. With top notes of fruity pomegranate and plum paired with pink pepper and spicy woods, this is a warming classic that you'll want to smell every day during colder months but somehow still has the crisp, freshness to hold its own on sunnier days.
"This fragrance is really original as fruity scents tend to be sweet and gourmand but Pomegranate Noir is woody, sensual, and dark," says Jo Malone London Fragrance and Lifestyle Expert, Emma South. "A lot of heady flowers and woods were used to create this enigmatic, sensual scent."
A truly iconic scent that most of us will have come across at some point, this classic option would make an impressive but useful 40th birthday gift idea or 50th birthday gift idea if you want to treat a friend or sister for their special milestone.
4. Jo Malone London Lime Basil & Mandarin Cologne
The fourth most popular Jo Malone scent
Specifications
RRP: $74/£52 for 30ml
Top note: Lime, mandarin
Heart note: Basil
Base note: Amberwood
In all honesty we'd have put our money on this cologne taking the top spot—but we'll settle for it being in the top five. It is completely unique and unlike any other fragrance we've smelled (well, except all the copycat dupes it has spawned over the years, which still can't hold a candle to the real deal)

Mouthwatering notes of lime and green, herbaceous basil are the first thing you will smell. Later, they dry down to a warm, woody base that lingers on the skin for hours. It is clean yet also highly aromatic and loved by men and women alike, including none other than supermodel Rosie Huntington-Whiteley.
"You never forget your first love—and ours was Lime Basil & Mandarin," agrees Emma. "A modern classic that proves even the most unconventional marriages can stand the test of time, where peppery basil and aromatic white thyme bring an unexpected twist to the scent of limes on a Caribbean breeze." A modern cult scent, this would make a lovely 30th birthday gift for any fragrance fans in your life.
5. Jo Malone London Peony & Blush Suede Cologne
The fifth most popular Jo Malone fragrance
Specifications
RRP : $74/£52 for 30ml
Top note: Red Apple
Heart notes: Peony
Base note: Suede
Finally, coming in at number five in our list of the best Jo Malone fragrance is the beautiful Peony & Blush Suede. Instantly recognizable (especially if you have been to a wedding recently) The blooming heart of peony and unexpectedly soft, leathery suede base are topped off with red apple for a crisp, fresh finish.
"Peony and Blush Suede is the most popular wedding scent for brides," says Emma. "It bottles abundant, unfurling peony petals in every shade of pink accompanied by the flirtatious bite of juicy red apple." We're not surprised brides love this mixture of femininity and modernity, but you don't have to be walking down the aisle to wear it. Peony & Blush Suede's inherent softness makes it a perfect daytime scent, offering a nice mood boost without overwhelming whoever sits next to you on the train. It also looks great on a dressing table, as with all Jo Malone London perfumes, so you needn't hide it away in a drawer then panic-Google do perfumes expire when you find it months later (hint: they do)
Take care of your best Jo Malone fragrance and it'll take care of you.
---
woman&home thanks Emma South and Celine Roux for their time and expertise
Lucy is a UK-based beauty journalist who has written for the likes of Marie Claire, Cosmopolitan, OK!, Women's Health and more, as well as contributing to woman&home. Her work covers everything from expert skin and haircare tips to the latest product launches and the show-stopping beauty looks spotted backstage at London Fashion Week.
During her career she's interviewed some seriously famous faces, from Little Mix to Drag Race royalty The Vivienne, as well as chatting to the industry's leading hairdressers, dermatologists and make-up artists. When she's not got beauty on the brain you'll probably find her in the company of dogs, reading, or being shamed by Netflix's "are you still watching?" message. You can follow her on Instagram at @lucyabbers.