The 7 best restaurants in Colombia for stunning dishes made with local ingredients
Delightful flavors, world-renowned chefs, and innovative spaces await…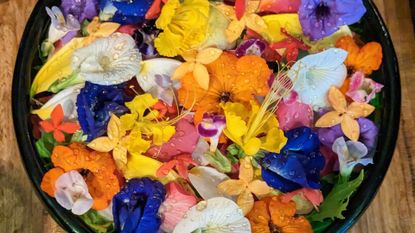 (Image credit: Lydia Swinscoe)
Colombia is a country that truly excites the senses. Wherever you decide to visit - from the mountainous Andes to the Caribbean coast - you'll find rhythmic beats, warm souls, and a plethora of outstanding places to eat, drink and dance.
It's also one of the easiest countries to work abroad in on account of its relatively low-cost accommodation options and large amount of modern co-working spaces dotted throughout many of the larger cities such as Medellín, Bogotá, and Cartagena. As the second most biodiverse country in the world, the sheer abundance of plants, roots, and herbs ensures the best restaurants in Colombia are never short of flavorsome and beautiful ingredients to use in their inventive and colorful dishes.
And just like eating traditional Italian dishes in Italy's rolling valleys and addictive cities make them taste so much better, Colombian food, of course, just tastes better in Colombia, especially when it's been created by some of the best chefs in the world, many who call this enchanting South-American country home.
I spent two weeks traveling through a handful of the main cities and towns on a mission to hunt out the very best restaurants that specialize in using local ingredients. The result is my hyper-curated list of the places that deserve an outstanding mention - absolute must-visits when in colorful Colombia.
Here are the best restaurants in Colombia for visually stunning and tantalizing dishes that use local ingredients…
The best restaurants in Colombia for outstanding Colombian cuisine
1. Leo, Bogotá
Leo's head chef Leonor Espinosa is a true enigma, not only did she switch careers in her mid 40's (from advertising exec to chef), she has since gone on to gain the title of best female chef in the world for 2022 by The World's 50 Best list. Her uber-cool restaurant Leo is tucked away behind an unassuming brick door in sprawling Bogotá, and is without a doubt one of the best restaurants in Colombia, if not the world.
The 12-course tasting menu is a journey of pure joy and wonderment as each dish is placed on the table in an almost theatrical display, with the staff at Leo trained to perfection, but that doesn't make it a place of all show and no substance. The fusions of flavors and textures here really are outstanding with ingredients sourced from 52 destinations that span the whole of Colombia. King trumpet mushrooms, macadamia nuts, and ripe guava are plucked from the forests of the Andes, while the rare umari and guayaba fruits, cacao nibs, and cashew apples come from the rainforest region. Drinks are equally as exciting having been curated to pair with dishes wonderfully by Leonor's daughter Laura Hernández. The wild ale with honey and fermented borojó water paired with the last dessert are both real highlights.
• Book Leo
2. Celele, Cartagena
Having just been nominated in The Best Chef Awards 2023, head chef Jaime Rodríguez Camacho creates the insanely beautiful dishes at Celele with the intention of shining a spotlight on Colombian techniques and recipes that were previously in danger of being lost. He regularly travels the country on a mission to discover new flavors and ingredients; petals and flowers being an ongoing theme. The stunning bright white frangipani flowers are one such ingredient and Jaime has utilized them in a handful of his visually stunning dishes, making Celele and indeed Cartegena one of the best places to visit in December when the flowers are at their best.
Of all the dishes on his menu, the prettiest has to be the Caribbean flower salad, and while I had my reservations about eating a bowl of petals, this intriguing dish combines fresh Colombian ingredients like pickled cashew fruit and locally grown greens with emperors cane flower vinaigrette to create a dish that not only tastes incredible but also looks like a work of art.
3. Harry's Bar, Cartagena
Harry's Cartagena wows primarily with its surroundings, sitting right in the center of one of the world's most beautiful hotels, the Charleston Santa Teresa. One of the specialties here is the crab and avocado-topped nachos, an amalgamation of Mexican and Colombian cuisines which sounds odd but actually works. Locally caught crab is a feature throughout many of the dishes at Harry's as is seafood - don't miss the cured grouper and spicy ceviche.
4. El Barōn, Cartagena
Just like the best restaurants in Lima, El Barōn serves up the freshest ceviche, with fish sourced from the Caribbean Sea off the coast of Cartagena and bought in Bazurto market (a foodie's paradise loved also by Anthony Bourdain). While the food is amazing, the cocktails here are outstanding with a quirky-cool menu that features unique blends like Orión - a mix of La Hechicera rum, corozo berry, and togarashi syrup - and Puro - a smokey fusion of rum, celery bitters, and caramelized onion cordial.
5. Carmen, Medellín
A city that has seamlessly transformed its image over the past 10 years - from one of the most violent cities in the world to a hip metropolis - Medellín a must-visit destination on any Colombian itinerary, and the fun restaurant Carmen should be high on your list too. Sitting in the cool El Poblado area of the city, Carmen serves up contemporary dishes, inspired by Colombian biodiversity in bright, plant-filled surroundings. The quirky menu pays homage to fishermen, farmers, and small artisans and includes two 7-course tasting menus - one with meat, one vegetarian - and both available with wine pairings to complement. Pacific coast fish, cooked to perfection, features heavily on the menu but the San Pedreño pork chorizo with sabanero corn and fried ñame root is outstanding.
6. El Jardin de Jardín, Jardín
131kms from Medellín sits one of the most beautiful towns in all of Colombia, and it's here you'll find the only vegetarian place on our list - the innovative and leafy El Jardin de Jardín.
Since 2018 the restaurant has been serving sharing plates and dishes inspired by Colombia's diverse range of plants, and while the menu might be small, each dish is lovely prepared using ingredients sourced in the local area. One of the more relaxed options on our list, it's also the most affordable with a main meal and alcoholic drink coming in under $6 (£5). El Jardin de Jardín also specializes in locally grown coffee and their traditional arepa breakfast with paisa beans and avocado is hard to beat at just $3 (£2.50).
7. La Argelia, Jardín
La Argelia is a rustic, typically Colombian restaurant and river trout farm nestled in the rolling hills of dreamlike Jardín. Surrounded by coffee and banana plantations, the scenery in this part of Colombia is pure heaven.
Just a short stroll from Jardín town center the restaurant serves up fresh trout straight from the farm in a variety of ways, with most dishes accompanied by patacons (green fried plantain) and arepa - key staples of any Colombian kitchen. Simplicity is sometimes all that's needed when the ingredients are as fresh as these and the humble surroundings only add to the experience. A complimentary dessert of caramelized banana and white cheese (a combination that may sound a little odd but is typical across the region, and delicious!) is offered to all guests.
Which city in Colombia has the best food?
Colombia boasts some of the world's hottest restaurants, many of which are dotted throughout the main cities. Cartagena - undoubtedly one of the country's tourist hotspots - has some of the best food due to its popularity, with countless options from high-end restaurants, to pavement establishments, meaning you can eat out every night whatever your budget. While Bogotá and Medellín are equally exciting when it comes to the food scene - both offer an incredible amount of options, including low and high-end Colombian cuisine. For great Colombian soup (known as Ajiaco) head to Barranquilla - street-side restaurants are the way forward in this bustling port city.
How much is a good meal in Colombia?
A delicious, and filling meal in Colombia can cost anything from $2 (£1.50) for a street side soup, rice, and juice at a basic eatery, to around $100 (£80) for a tasting menu with wine pairing in a swanky city restaurant. We love both options and discovering everything in between.
Lydia is woman&home's Lifestyle News Editor and a freelance travel writer. Day-to-day she manages an international team of nine news writers and oversees all news content on woman&home.com. Her travel writing has been published in BBC Good Food, Oh magazine, Harper's Bazaar, Town&Country, ELLE, MailOnline, Woman, and woman&home.