Huda Beauty #BombBrows: meet the brow pencil that's exactly like microblading (only better)
Sign up to the waitlist now.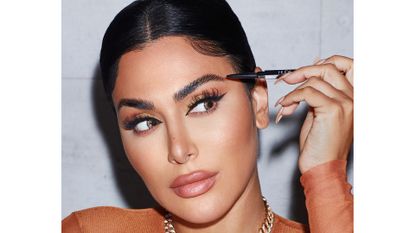 (Image credit: Huda Beauty)
Huda Beauty #BombBrows Microshade Brow Pencil is about to turn accepted brow wisdom on its head. For years we've reconciled our slightly asymmetric brow shapes with the age old adage that 'eyebrows are sister, not twins.' Except Huda Kattan, CEO of Huda Beauty and one of the 25 Most Influential People on the Internet according to TIME Magazine, doesn't agree.
In fact, she's spent the last three years coming up with a brow product that would create identical arches, even in the hands of amateurs. Meet #BombBrows, a waterproof, pin-thin pencil (0.9mm to be exact) with microblading-like results.
The formula is equally noteworthy: coconut oil and stearic acid, aka the waxy substance derived from shea butter, ensures the pencil has just enough slip so you barely need to apply any pressure for drawing on fine strokes. When you add in castor oil, which is a rich source of ricinoleic acid thought to condition brows for healthy growth, #BombBrow becomes even more appealing.
More from woman&home:
Best foundation (opens in new tab): our favourite formulas for all skin types
Best eye cream (opens in new tab): our favourite formulas for every skin type
Best mascara (opens in new tab) – lengthen, define and volumise your lashes with our favourite formulas


When choosing from the eight hues from #BombBrows' lineup, Kattan recommends going a shade darker to make the strokes of the pencil look as natural and realistic as possible. There's also a handy spoolie brush at the other end to help you brush up your brows for that laminated effect.
Starting February 23, the Huda Beauty #BombBrows Microshade Brow Pencil will be available for $17 [£15] on hudabeauty.com (opens in new tab).
Fiona Embleton is a beauty writer who is now Acting Beauty Editor at Stylist. She is obsessed with Isabel Marant and cats.