Try this influencer brow hack for shaping and filling in your arches in under 2 minutes
*Hits snooze*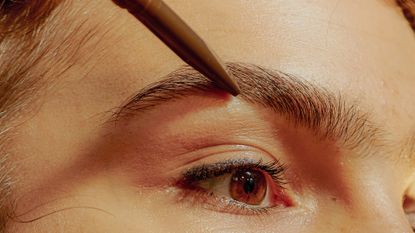 (Image credit: Caroline Tompkins / Refinery29 for Getty Images)
Perfectly arched, fluffy brows aren't always easy to achieve without the help of an arsenal of products and a steady hand. But beauty influencer Desi Perkins has revealed a clever brow hack that may just change all that.
Originally posting her brow hack on Instagram Stories, Perkins took to YouTube to speak in more detail about how to use a brow stencil for super-even brows in a matter of minutes. "You can get them on Amazon," she says. "They're awesome if you're in a rush, if you have trouble doing your brows straight or just getting the shape right."
"I was sitting there one day and was like: 'I just need these two [inner corner of the brows] to line up perfectly and then I can figure out the rest'," Perkins explains. "So I took my brow stencil – you can use a business card, any flat edge that you have, use a box, use whatever – and hold it up to [the start of] your brows so you can get a straight line."
More from woman&home:
Best mascara (opens in new tab) – lengthen, define and volumise your lashes with our favourite formulas
Best eye cream (opens in new tab): our favourite formulas for every skin type
Best foundation (opens in new tab): our favourite formulas for all skin types
Perkins then shows how she uses a piece of card to line up the bottom of her brows. She then moves the card up to mark where the top of her brows should sit. Once she has that point, Perkins uses a brow powder and fills in the gap between her brows and the card.
While Perkins uses her brow stencil to mark out the rest of her eyebrow she's keen to point out that, "you don't even need the stencil. If you want to just take your brow pencil, just follow [the line from the beginning of your brow to the arch]".
To finish, she runs soap through the hairs to fluff them up.
Now that's what you call putting your credit card to good use.
3 of the best brow stencils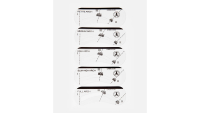 (opens in new tab)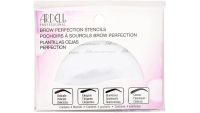 (opens in new tab)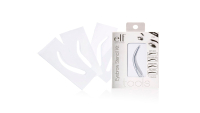 (opens in new tab)
Fiona Embleton is a beauty writer who is now Acting Beauty Editor at Stylist. She is obsessed with Isabel Marant and cats.