12 Stylish Christmas Stockings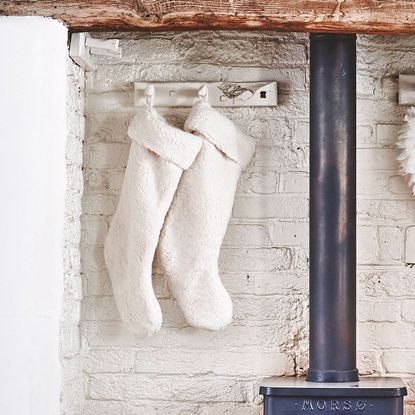 Our favourite Christmas stockings in the shops now....
Christmastime is almost here and we've got a quality selection of Christmas stockings lined up for you! Now that the lights are strung up all around the house and ice rinks have opened, it is time to start accumulating gifts under the tree – but of course, the all-important stocking can't be forgotten in the spirit of things. We've looked everywhere and have chosen our favourite Christmas stockings to share with you this year. Hang them on the mantle with other Christmas stockings – one for each person in the family – or place at the foot of their bed. A fun option is to hang mismatching pairs along the stairs for a jaunty Christmas look and make it even more festive with a lit evergreen garland with pinecones and berries.
The Christmas stockings we have chosen are unique in their own ways, so you'll find an exciting mix of handmade decorations along with wonderfully luxe pieces and everything in between. Red and white have been a prominent theme this holiday season with the slightest touch of green while some have opted for gorgeous shades of white and cream for a cool statement. Rustic-themed decorations are still quite popular this year so we've accordingly gathered a few of those as well. From playful patterns and the cosiest fabrics to a DIY Christmas specialty, you'll find one to match your home's Christmas theme this year. Some even have the added bonus of personalisation for a truly special delight!
Consider stockings like these plush ones from Dunelm, which provide an effortless Christmas look that is soft to the touch and so affordable too at only £4.99. With a simple understated design, it fits into any household and is the perfect size for storing yummy treats and hiding away small gifts until the big day arrives.
Wilko industrial hessian stocking Christmas decoration
It's hard to go wrong with this simple yet upscale stocking from Wilko. Hessian fabric and chalkboard-inspired paint are paired together for a chic design that fits into almost any home theme. Wilko, £3
Mary Fellows happy stripes Christmas stocking
Perk up any fireplace with a quirky red and green striped stocking from Mary Fellows. We love the fantastic toe and sole star detailing and you can personalise it for a special touch. Not on the High Street, £17.50
Eat Sleep Doodle christmas stocking
Sit with the kiddos and get creative with this stocking that is a DIY-er's dream. It comes with its very own pack of double-sided markers in ten brilliant colours. And don't worry - if anyone makes a mistake, it washes out so just toss it in the laundry and start over again with a blank slate. Eat Sleep Doodle, £16.50
The White Company gingham stocking
Celebrate Christmas with a stocking from The White Company in an enduring gingham print that you can take out year after year. The White Company, £25
Modo Creative personalised reindeer name Christmas stocking
For a contemporary look, Modo Creative have the perfect stocking with a crisp reindeer print and the option of jolly silver bells. We can just imagine Santa's reindeers flying through the air on Christmas Eve with these stockings. Not on the High Street, from £15
The White Company dotty stocking
Peek into this stocking from The White Company on Christmas morning. With delicately knitted spots, this stocking is ideal for filling with toys for tots and more. The White Company, £35
Dobbies Christmas stockings
Can there ever really be enough red for the holidays? Add to your collection with these tasteful stockings from Dobbies, one with a bold leaf-print and the other one a softer, chunky knit design. Dobbies, from £5.99
Homebase white knitted stocking with fur trim
A classic you can keep for years to come, this stocking from Homebase has all the ideal detailing - it's soft and cream-coloured with a fur trim and fun little puffs. Homebase, £7.99
The Contemporary Home gingerbread stocking
Christmas is the ideal time for baking cookies, so add a little sweetness to your stocking with this charming design. The Contemporary Home, £11
Helen Moore lynx Christmas stocking
Luxurious doesn't even begin to describe these faux-lynx fur stockings hand-made by Helen Moore. Hang with simple decorations for a statement fireplace. Amara, £50
Pink Slip Inspiration personalised Christmas stocking
You might have a hard time deciding between the seven festive designs offered by Pink Slip Inspiration. Each one is handmade with its own unique tweak with durable hessian that is made to last through all the stocking fillers you're expecting this year! Etsy, £28.37