Ruth Langsford and Eamonn Holmes return to This Morning - and fans couldn't be more excited
Fans were keen to welcome them back this half-term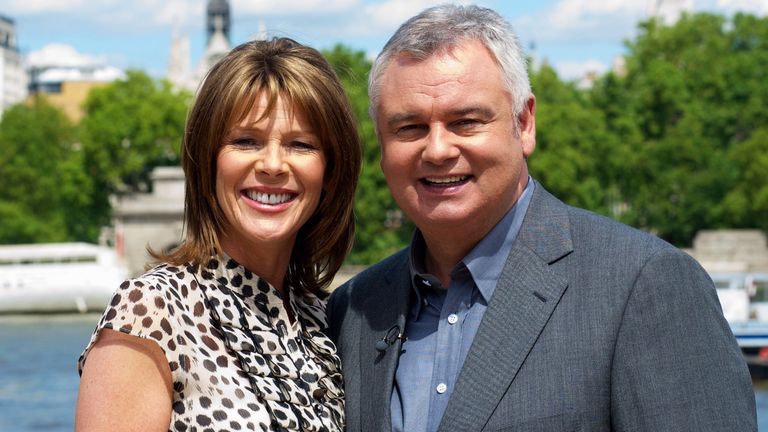 (Image credit: Photo by David Thompson/FilmMagic via Getty)
Ruth Langsford and Eamonn Holmes have become household names over the 15 years they presented ITV's This Morning's Friday show. So the news that their regular Friday slot was to be presented by new hosting duo Alison Hammond and Dermot O'Leary from January 2021 was no doubt met with great sadness from many fans. After so many years presenting the show, Ruth and Eamonn finally bid farewell to viewers in December.
Whilst this may have signalled the end of an era for the couple, it did not mark the end of their This Morning journey, as they still present the show during the holidays. And with this week marking half-term in the UK, the popular couple have now returned to our screens for the first time since Alison and Dermot took over as Friday hosts.
Taking up the presenting reigns once more, Eamonn smoothly kicked off Monday's show, saying: "Half-term week, good morning it's Eamonn and Ruth on your screens right through until Friday."
"It certainly is," Ruth added. "And it's lovely to see you all. Half-term week, so I expect a lot of you are breathing a sigh of relief, no homeschooling this week."
How have fans reacted to Ruth Langsford and Eamonn Holmes' This Morning return?
It may have only been a few short months since Ruth Langsford and Eamonn Holmes were on our This Morning screens, but it seems fans have definitely been missing them! Taking to Twitter, many shared their delight at seeing the veteran presenting couple return to the show.
More from woman&home:
Commenting on one of This Morning's posts which showed an amazed Ruth and Eamonn watching a show-jumping sheep, one viewer wrote: 'Love the sheep - but love even more seeing Ruth and Eamonn back this morning. Have really missed them - hope they're back for the week or preferably much longer. Their gentle humour just cheers me up - couldn't have got through the last lockdown without them.'
Another revealed their love of the couple's relatability, writing: 'It's so lovely to see @RuthieeL & @EamonnHolmes back on this morning, I & my friends have really missed them. They r a great couple who we can relate to with their tiffs and banter just like any normal married couple'
'Great to have Eammon and Ruth back. Missed you guys' another Twitter user declared.
This touching sentiment was echoed by another, who wrote: 'So pleased to see @RuthieeL and @EamonnHolmes on @thismorning my week off morning tv sorted.'
Ruth Langsford and Eamonn Holmes will continue to present This Morning over this half-term week.
Marking their final day as regular Friday hosts, Ruth took to Instagram back in December to share a particularly emotional clip, showing her and Eamonn on the familiar This Morning sofa, waving to the camera.
In her heartfelt caption, the presenter acknowledged the wonderful support and good wishes they'd received from fans. She wrote: 'That's Showbiz baby!!! Thank you all for your wonderful messages yesterday @eamonnholmes and I were overwhelmed by your kindness. As we said though, we'll be back in February...until then we wish you all the best Christmas you can possibly have and here's to healthier, happier times in 2021 🎄❤️ '
With February now upon us, it seems many are more than a little excited to see them return to This Morning!