The 'unconventional' meaning behind Sarah Ferguson's rare Burmese ruby engagement ring
Sarah Ferguson was engaged to Prince Andrew in 1986 and her ring remians timeless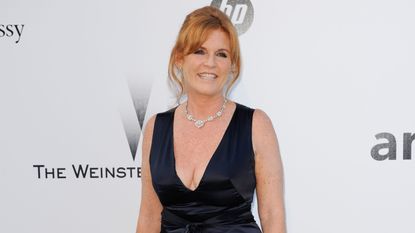 (Image credit: Alamy)
Sarah Ferguson's stunning engagement ring is one of the lesser-known pieces of jewelry in the Royal Family. But there's a special reason Prince Andrew chose a rare ruby diamond for his bride-to-be.
There's a special reason why Prince Andrew chose to propose with a ruby ring.
The ring was designed by British royal jeweler Garrard, the man behind Princess Diana's famous engagement ring.
In other royal news, Kate and Wills are set to visit the USA with 'no time' to see Harry and Meghan.
---
Prince Andrew proposed to Sarah Ferguson with a stunning Burmese ruby engagement in March 1986. The couple married on July 23 that year at Westminster Abbey, when she became the Duchess of York.
Sarah Ferguson's engagement ring features a huge Burmese ruby, surrounded by 10 glittering diamonds. The stones form a flower pattern, which is also known as a cluster ring.
The gems are arranged on a yellow gold band with gorgeous colors, making the ring stunningly unique.
While rubies can be found all over the world, including in Africa, Australia, and America, rubies from Myanmar - formerly known as Burma - tend to be the most visually stunning.
They also tend to cost more as they are of the highest quality, so it's no surprise that Prince Andrew chose this particular stone for Sarah.
Speaking about his choice of engagement ring, Prince Andrew said in their first official interview as a couple, "We came to the mutual conclusion that red was probably the best colour for Sarah. That's how we came to the choice of the ruby."
"The extra bits around the outside, we wanted something that was slightly unconventional."
Meanwhile, Sarah described it as "stunning" and "red."
The ring was crafted by British jewelry house, Garrard, the same place that made Princess Diana's iconic sapphire ring now worn by Kate Middleton, as well as Sophie, Countess of Wessex's ring.
At the time, Sarah's ring cost around £25,000 ($30,000), but thanks to inflation and the sweet story behind the ring, it could now be valued in the region of £70,000 ($83,000).
Sarah wore the stunning ring up until 2003, 11 years after the couple separated in 1992. They divorced in 1996 but have always remained close.
Robyn is a celebrity and entertainment journalist and editor with over eight years experience in the industry. As well as contributing regular to woman&home, she also often writes for Woman, Woman's Own, Woman's Weekly and The Sun.