The Prince of Wales check, King Charles' secret to a timeless style which has been copied by everyone from James Bond to Julia Roberts
The Prince of Wales Check is the King's favorite, and he helped usher in a new era of men's style across London's Saville Row and beyond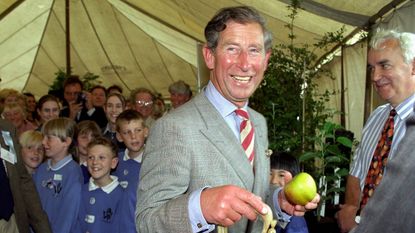 (Image credit: Tim Graham Photo Library via Getty Images)
King Charles once described his attitude towards style as being "like a stopped clock, and my time comes around every 25 years." His timeless style tips include a devotion to the Prince of Wales check suit pattern. Here, we take a look at the history of the print, how it got its name and how Charles helped popularize it.
The Prince of Wales check suit pattern has become synonymous with King Charles, formerly the Prince of Wales, and not just because of its name
A go to style for Charles, it is now one of the most recognizable patterns in menswear, and has a history going back to the 19th century
---
The late Queen Elizabeth's style secrets included bold colors and well-thought-out accessories. Her looks were celebrated throughout her 70-year reign, and she was even named one of Vogue's most influential women at the age of 96.
Princess Anne shared the Queen's secrets to style, insisting her mother always chose style over trends and fads – and this is something Her Majesty must have passed down to her children, including the current King Charles.
Charles has a signature look that he has rarely deviated from, including his signature pinky ring and well-tailored suits.
In particular, Charles, the former Prince of Wales, has a penchant for the aptly named Prince of Wales check pattern.
The Prince of Wales check is a woven design of small and large checks, usually made up of blacks or greys and white, but can also feature a range of other muted colors.
Despite being closely associated with Charles – and despite it seemingly being named after him – the pattern actually predates him by many years.
A menswear expert for retail company Fenwick (opens in new tab)explains to woman&home, "Similar to houndstooth and tartan, the Prince of Wales check or Glen Plaid is one of the most recognizable patterns in menswear. The complex and repeated pattern is made up of large and small checks. Although the check is usually monochrome, in more recent years people have started to have more fun with it, branching into different color palettes."
"It's a pattern that is timeless by nature, its twill weave bringing an elegant look to any tailoring. The iconic pattern has been popular amongst royalty and celebrities alike, from James Bond actors Sean Connery and Daniel Craig, to musical icons The Beatles."
Many menswear experts agree that the suit was actually in a bit of a lull until the young Prince Charles started wearing the pattern regularly, and today, it's more popular than ever.
Julia Roberts even put a Hollywood spin on the style on a red carpet recently.
His grandson Edward VIII – the Duke of Windsor who famously abdicated - made it truly fashionable
Explaining the origins, the experts from Fenwick continue, "The check first appeared in the early 19th century developed by the Countess of Seafield in the valley of Glenurquhart in Scotland as the Seafield Estate's signature tweed."
As for how it became known as the Prince of Wales check? That's thanks to a couple of Edwards.
King Edward VII was a fan of the print, who took a liking to the pattern on a hunting trip when he was the Prince of Wales and tweaked the color slightly to suit him.
Edward VIII, who was young and a man about town when he was Prince of Wales, was somewhat of a style icon and decided to add blue and red undertones to his tweed. This popularized the check and cemented its place in the tailoring hall of fame.
Charles then continued this trend, making it one of his signature looks.
The experts at Fenwick add, "The quintessentially British pattern is a firm favourite of Charles. Charles is perhaps an unexpected style icon, famously talking about his timeless outfit choices as: 'meanwhile I have gone on, like a stopped clock - and my time comes around every 25 years.'"
"King Charles frequently wears the check, usually in a low buttoned, double-breasted style jacket, a style that is a menswear staple across the world."
Jack Slater is not the Last Action Hero, but that's what comes up first when you Google him. Preferring a much more sedentary life, Jack gets his thrills by covering news, entertainment, celebrity, film and culture for woman&home, and other digital publications.
Having written for various print and online publications—ranging from national syndicates to niche magazines—Jack has written about nearly everything there is to write about, covering LGBTQ+ news, celebrity features, TV and film scoops, reviewing the latest theatre shows lighting up London's West End and the most pressing of SEO based stories.