The secrets of Her Majesty's style, from bold colours to weighted hems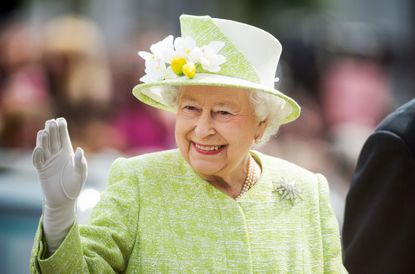 We take a look at Her Majesty's iconic wardrobe and her favourite designers.
As one of the most photographed people in the world, it's no surprise that a lot of thought goes into the Queen's outfits.
The essential task of keeping her wardrobe up-to-date rests in the hands of Personal Assistant and Senior Dresser Angela Kelly, who has worked in the royal household for 25 years.
Here, we look at the inner workings behind the Queen's dressmaking operation…
Bold and bright
The Queen has always been known for wearing bright colours, but her love of the rainbow isn't just down to personal preference. In fact, it's known that bold statements give the public a chance of seeing her through the crowds at packed events. In her book, Our Rainbow Queen (£9.99, Square Peg), author Sali Hughes said, 'She won't attend an engagement at a grassy venue – like a racecourse or garden party – in camouflaging green. But she will happily deploy green to stand out where it's needed.'
Outfit repeats
The Queen often recycles her clothing – although it can be hard to tell when. Angela keeps a detailed record of every outfit to ensure repeats only occur every few months, while a general lifespan of a skirt suit or dress is around 25 years. And Her Majesty certainly isn't the only one, with the likes of Princess Anne and the Duchess of Cambridge both regularly repeating their outfits.
The basics
It takes a small team to get the Queen looking her best. As well as Senior Dresser Angela, three assistants are regularly on hand to help. They assist with small details, such as laying out clothes and jewellery and doing up zips, which are fitted specifically to ensure clothing comes off easily, and her hair isn't messed up in the process. But, while she has a barrage of help when it comes to her wardrobe, Her Majesty does her own make-up every day bar one – Christmas Day, when she has professional make-up for her annual address to the nation.
Footwear to fit
The Queen should never be expected to break in her own shoes. Instead, Angela wears them beforehand to save time – and blisters. She explained, 'The Queen has very little time to herself, and no time to wear in her own shoes – and, as we share the same shoe size, it makes the most sense.' The shoes, mainly handmade with block heels for comfort, are usually white, cream or black.
Fur deal
She's worn a range of real-fur accessories over the years, including the ermine-trimmed robe at her coronation ceremony in 1953. However, in recent years, after coming under fire by activists, Her Majesty has chosen wear to faux fur to engagements. Angela revealed, 'If Her Majesty is due to attend an engagement in particularly cold weather, fake fur will be used to make sure she stays warm.'
The Ascot look
Royal Ascot is an important date for the Queen. As an ambassador of the famous horsing event, extra work goes in to ensure she looks her best. Her hat choice is also carefully deliberated, with Angela leaving decoys around Buckingham Palace to avoid tipping off betters. She said, 'Each morning, I place four or five previously worn hats on a table in the workroom. They are different colours and styles and are on display for a reason.'
Comfort is key
Her Majesty's dresses often feature heavy beading and jewels, but Angela ensures each outfit is designed with comfort in mind. In her book, The Other Side of the Coin (£13.60, HarperCollins), she said, 'I usually add a few extra layers of lining to help cushion the impact…and try to keep the heavily beaded areas to the front and sides.' The hems of Her Majesty's dresses and skirts are usually weighed down to avoid them blowing in the wind.
Her Majesty's handbag
The Queen is said to own 200 handbags by Launer, her preferred styles being the Royale and the black patent Traviata, which apparently has a longer strap, making it ideal for holding while handshaking at public events. But what does she keep in her bag? It's rumoured she carries a mirror and lipstick for quick touch-ups (she's said to be a fan of Clarins), along with the only money she ever carries – a neatly folded £5 or £10 note for the collection at church. Other items are believed to include reading glasses and family photos.
Secret language
According to royal expert Hugo Vickers, the Queen also uses her handbag to communicate secretly with her staff, with different manouevres meaning different things. 'It would be very worrying if you were talking to the Queen and saw the handbag move from one hand to the other,' he explains, revealing that this means she wants to be rescued from a boring conversation! And that's not all: apparently, if Her Majesty places her bag on the table, it means she is preparing to leave, and if she places it on the floor, she is demanding an immediate exit!
Sign up to our free daily email for the latest royal and entertainment news, interesting opinion, expert advice on styling and beauty trends, and no-nonsense guides to the health and wellness questions you want answered.
Robyn is a celebrity and entertainment journalist and editor with over eight years experience in the industry. As well as contributing regular to woman&home, she also often writes for Woman, Woman's Own, Woman's Weekly and The Sun.