King Charles' pinky ring – the history behind his style statement and the touching connection to his ancestors
King Charles' pinky ring has been a style staple of the monarch since the 1970s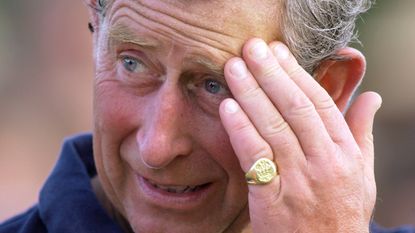 (Image credit: Tim Graham Photo Library via Getty Images)
The late Queen Elizabeth II wasn't the only royal with a fashion fingerprint – that unique signifier which becomes synonymous with an individual. Her Majesty's was her choice of bold, colorful ensembles – usually paired with a matching hat. For King Charles, his pinky ring has been a style favorite for over 5 decades.
King Charles has been wearing a gentleman's ring – or a pinky ring – since the 1970s
While a style staple of the King, it also has a touching connection to traditions introduced by the likes of his father, the late Prince Philip, and his grandfather, George VI
---
What connects the King of England, Charles III, with the likes of mob boss Tony Soprano and Al Pacino's Scarface?
Their choice of fashion accessory. In particular, a ring on their little finger.
While the Queen had her incredible brooches and Kate Middleton is known for her elegant earrings and other jewelry, the men of the Royal Family know how to accessorize too.
Colloquially known as the pinky ring, Charles has worn a signet ring for over five decades. But it's not just a style choice. There's a history behind the accessory that connects him to his father, grandfather and ancestors predating even them.
What is a pinky ring?
Pinky rings derive their name from the informal name for the little finger on either hand, the pinky. The term pinky actually comes from the Dutch language, where the word pink literally means "little finger."
This nomenclature spread to Germany, neighbor to the Netherlands, and from there, it was adopted in Great Britain and beyond.
What is the history of the pinky ring?
As the 18th century gave way to the Victorian Era, pinky rings became a regular feature in the dress of aristocratic English gentlemen.
It was common for men to wear on the pinky finger of their left hand their family crest signet ring.
These signet rings showcased the gentleman's noble family heritage and were treated as important heirlooms.
Around the same time period, the German tradition of men wearing a wedding band on their left pinky finger began to be popularized in England. Ironically, this trend was adopted both by married men and by those who did not wish to get married, in both instances, if a man was sporting a pinky ring, he was telling the world that he was not in search of a potential bride.
King Charles' signet ring
As for Charles, the pinky ring bears the crest of the Prince of Wales – a title he has now passed on to Prince William.
Wearing a signet ring on the pinky finger started way back with Queen Victoria, who bucked gender conventions and often wore one herself.
Prince Philip wore the signet ring of his father, Prince Andrew of Greece and Denmark, so it's a tradition Charles has carried on.
Luxury jewelry company, Steven Stone (opens in new tab), explain, "The meaning of signet rings are associated with a symbolic family heritage. Initially being created and used to mark documents, the face of the ring typically bearing a family crest, would be pressed into hot wax."
"It is widely known that King Charles has owned and worn this same signet ring since the 1970's, the bezel distinctly engraved with the crest of the Prince of Wales. This signet ring is likely to be made with Welsh gold, a royal tradition, carrying a weight of approx. 20g. Nowadays, signet rings are commonly worn as heirlooms, having been passed down through generations."
Jack Slater is not the Last Action Hero, but that's what comes up first when you Google him. Preferring a much more sedentary life, Jack gets his thrills by covering news, entertainment, celebrity, film and culture for woman&home, and other digital publications.
Having written for various print and online publications—ranging from national syndicates to niche magazines—Jack has written about nearly everything there is to write about, covering LGBTQ+ news, celebrity features, TV and film scoops, reviewing the latest theatre shows lighting up London's West End and the most pressing of SEO based stories.