Queen Elizabeth's most incredible brooches—12 stunning and sentimental pieces that really wow
Queen Elizabeth's most incredible brooches will bring tears to your eyes—and that's just the eye-watering amounts they cost!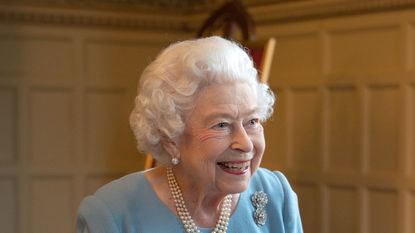 (Image credit: Getty )
woman&home newsletter
Sign up to our free daily email for the latest royal and entertainment news, interesting opinion, expert advice on styling and beauty trends, and no-nonsense guides to the health and wellness questions you want answered.
Thank you for signing up to . You will receive a verification email shortly.
There was a problem. Please refresh the page and try again.
Queen Elizabeth's brooches are among the most stunning pieces on the planet, with everything from huge, flawless diamonds to magnificent rubies, sapphires, and pearls. Apart from their stunning value and beauty, they're laden with incredible history too.
Queen Elizabeth's brooches are among the most historical pieces of jewelry on the planet.
The monarch's collection includes personal gifts and inherited family heirlooms, including one worth £50M.
---
Queen Elizabeth's brooches are believed to be worth an astounding amount. Pieces like the Williamson pink diamond are not only extremely high value but also have special meanings behind them.
Experts at Steven Stone (opens in new tab) Jewellers tell woman&home about the history of these pieces, their estimated value, and the touching significance behind them.
Leading diamond expert Maxwell Stone tells us, "Queen Elizabeth has some of the most incredible jewels I've ever seen."
He continues, "The biggest and most expensive of all Queen Elizabeth's brooches is the Cullinan III and IV brooch. This is because it features two large stones cut from the Cullinan diamond—the world's largest diamond ever found. This one brooch alone is worth £50M."
So what about some of her other most valuable pieces? Here's everything to know about Her Majesty's collection.
1. The Cullinan III and IV brooch (£50M)
Larger than your average chicken nugget, you just need to look at this incredible piece of jewelry to see it's the biggest and most expensive of all Queen Elizabeth's brooches.
Maxwell tells us, "The Cullinan III and IV brooch is made of the third and fourth largest stones cut from the famous Cullinan Diamond. The jaw-dropping 3,106-carat uncut diamond was presented to King Edward VII in 1907, and it was cut by Joseph Asscher in Amsterdam the next year."
The other chunks of the enormous diamond aren't far from the brooch and are also sported by the British monarch.
As the expert explains, "the two largest stones cut from the diamond are set in the Sovereign's Scepter and the Imperial State Crown, the pear-shaped 94.4 carat Cullinan III and the square-cut 63 carat Cullinan IV were presented to Queen Mary by the Government in 1910."
The brooch itself was commissioned by Queen Mary, who hired Carrington and Co. to make a platinum brooch setting for the stones. In 1953, Queen Elizabeth inherited the brooch, but she doesn't wear it very often.
Back in 1959, she loaned the brooch to London's Ageless Diamond exhibition, and in 2012 it was part of another exhibition at Buckingham Palace to celebrate the Queen's Diamond Jubilee.
2. Williamson diamond brooch (£25M)
The Williamson Diamond Brooch features one of the rarest flawless pink diamonds in the world, which is why the experts have given it such a high value.
Discovered in Tanzania at the Williamson mine by Canadian geologist, John Thoburn Williamson, the uncut 54.5-carat pink diamond was given to then Princess Elizabeth as a wedding gift.
The experts tell us, "In 1953, the rough gem was cut and polished to a weight of 23.6 carats and used to feature in this platinum brooch by Cartier alongside another 203 white diamonds, including brilliants, marquises, and baguettes."
Her Majesty sported the stunning piece for the 1981 nuptials of Prince Charles to Princess Diana. She also wore it in 1999, at the wedding of Baghsot Park's famous residents, Prince Edward and Sophie Wessex.
3. The Prince Albert Brooch (£8M)
Does anyone else feel like they're looking at Kate Middleton's engagement ring?! Well, as we all know, that was inherited from Princess Diana. Now, one of the world's most famous engagement rings, it features a 12-carat oval blue Ceylon sapphire surrounded by 14 diamonds and set on an 18-carat white gold band.
It's believed that the ring is inspired by the Queen's twinning piece, which was also inherited—from Queen Victoria.
Secretly commissioned In 1840 by Prince Albert, this piece was a gift for his betrothed, Queen Victoria. He gave her the brooch on the night of their wedding, and was so adored by Victoria, that she wore it frequently.
Taking a closer look, Maxwell says, "The ring contains a large oval or cushion-shaped sapphire, which is at least 40cts. The breath-taking gem is also surrounded by 12 large diamonds, which look to be around 12cts."
"Due to the clarity and intense color of the sapphire it was possible sourced from Burma. If it was to be sold today, it would be worth around £8M, thanks to its historic legacy."
4. The Cullinan V brooch (£2M)
The Cullinan V brooch features another stone cut from the famous Cullinan diamond, first owned by Queen Mary, who alongside the Cullinan VI and VIII, was presented a selection of other stones cut from the original showstopper.
This stunning heart-shaped diamond weighing 18.8 carats was set in platinum by Garrard in 1911. The piece is multi-purpose, designed to be used for different items of jewelry.
Queen Mary wore it on her crown for the 1937 coronation, and as the center stone on her famous honeysuckle tiara on many occasions.
However, most of the time, the Cullinan V diamond is seen as the centerpiece of one of Queen Elizabeth's brooches.
5. The Cullinan VI and VIII brooch (Estimated value £2M)
This particular slice of the famous diamond is seen in a marquise and emerald cut. The Cullinan VIII is the emerald-cut 6.8 carat diamond on top, and Cullinan VI is the 11.5 carat marquise diamond that acts as a pendant.
Although the Queen occasionally wears this brooch, it's clear that the Cullinan V, its heart-shaped counterpart, is her favorite as she wears it much more frequently.
6. Queen Victoria's Fringe brooch (£2M)
This is yet another Garrard piece, ordered by Queen Victoria as a piece to show off her assets in low-cut bodices. As stated in its name, the fringe brooch features a large brilliant-cut stone, along with incredible diamond fringes.
Its diamonds come from an ornament given to her by Ottoman Sultan Abdul Mejid I of Turkey.
The experts explain, "Queen Victoria had already partially dismantled the ornament in 1870 to set a selection of the diamonds into her Small Diamond Crown. The remains included a large emerald-cut diamond, surrounded by 12 large brilliants, suspending nine graduated pampilles, which were used to make the brooch."
The piece was a favorite of the Queen Mother, who bequeathed it to her daughter Queen Elizabeth after she died. Queen Elizabeth has worn it on several occasions including the State Banquet for the President of Turkey, Abdullah Gul, held at Buckingham Palace in 2011.
7. Aquamarine clip brooches (£160,000)
This stunning pair were a gift from the Queen's parents, King George VI and Queen Elizabeth, to celebrate her 18th birthday back in 1944.
They have vivid blue aquamarine stones, along with diamonds in an art deco design, designed and made by Boucheron. They have enormous sentimental value because of their source, which was a clear source of comfort when she wore them on her first public outing following the death of her husband, Prince Philip.
8. Queen Victoria's Bow brooches (£120,000)
Queen Victoria clearly loved that bling and the monarch had three bow brooches created using a selection of diamonds that she already owned. These pieces weren't just a cute idea though, they actually had a very symbolic meaning.
"According to The Court Jeweller, all the jewels that had once belonged to her grandmother, Queen Charlotte, were awarded to her cousin, the King of Hanover," explains the experts at Steven Stone. "She lost numerous pieces, including a set of three diamond bow brooches, which Queen Victoria wanted to recreate in her honor."
After Queen Victoria's death, they were left to the royal collection, meaning they will be passed down from monarch to monarch in the years to come.
Now in the hands of Queen Elizabeth, she prefers to wear them as separate pieces, rather than as a trio. She wore one of them as part of her Diamond Jubilee on June 13, 2012, on a visit to Nottingham with the Duchess of Cambridge.
9. Australian Wattle brooch (£110,000)
This is another of Queen Elizabeth's brooches that was a personal gift. She received it during her Commonwealth tour in 1954 as a gift from the Australian prime minister. The Australian Wattle brooch symbolizes the national flower of Australia, made of platinum and set with white and yellow diamonds.
She loved it so much that she wore it on the very same trip!
Most notably, the monarch wore it at the wedding of Prince Charles and the future Queen Consort, Camilla Duchess of Cornwall.
10. Queen Mary's Lover's Knot brooch (£100,000)
Not to be confused with the other bow pieces, the Lover's Knot brooch is another piece inherited from Queen Mary. It's the largest bow brooch owned by the Queen, featuring stunning pave diamonds set in gold and silver.
Queen Elizabeth wore the brooch at Prince William and Kate Middleton's wedding in 2011 and at Princess Margaret's wedding in 1960. The name 'Lover's knot' marks the occasion and has a special meaning.
Queen Mary also passed down her Lover's Knot tiara which is part of the same collection. This is now worn by the Duchess of Cambridge, and nothing showcases Kate Middleton's glossy hair quite like it!
11. Queen Victoria's Diamond Jubilee brooch (£100,000)
Originally a gift to Queen Victoria from her family for her Diamond Jubilee in 1897, the center stone for this piece is a beautiful large pearl, surrounded by rows of sparkling diamonds. It also has a detachable pearl pendant on a diamond chain.
It was declared an Heirloom of the Crown upon her death, and it soon became a favorite of the Queen Mother who wore it to the wedding of Queen Elizabeth and Prince Philip.
12. The Duchess of Teck's Emperor of Austria brooch (£100,000)
The brooch was given to the Duchess of Teck, mother of Queen Mary, by the Emperor Franz Joseph of Austria when he was named godfather of her son Prince Francis.
Most famously, celebrating another child, Queen Elizabeth II stayed true to the brooch's legacy by wearing it in Prince Edward's first official photograph back in 1964.
Aoife is Junior News Editor at woman&home.
She's an Irish journalist and writer with a background in creative writing, comedy, and TV production.
Formerly Aoife was a contributing writer at Bustle and her words can be found in the Metro, Huffpost, Delicious, Imperica, EVOKE and her poetry features in the Queer Life, Queer Love anthology.
Outside of work you might bump into her at a garden center, charity shop, yoga studio, lifting heavy weights, or (most likely) supping/eating some sort of delicious drink/meal.