The hobby Queen Camilla has given up due to her age
Queen Camilla has confessed that she's had to give up one beloved hobbies - "I think I'm too old"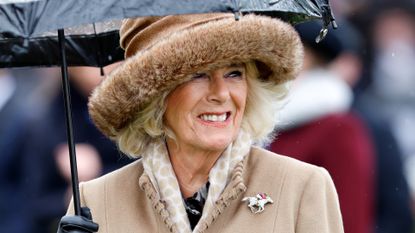 (Image credit: Getty)
Queen Camilla no longer rides horses due to her age, she has confessed to a group of schoolchildren in Hamburg.
Queen Camilla told a group of schoolchildren that she no longer rides horses, something she used to love.
The Queen Consort shared this passion with the late Queen Elizabeth, who had a passion for horses and riding.
---
During King Charles and Queen Camilla's royal tour in Germany, Camilla told a group of schoolchildren about how she's had to give up her beloved hobby, horse riding, due to her age.
Addressing the assembled schoolchildren in Hamburg, Queen Camilla said, "I used to have horses I rode but sadly I don't ride any longer. I think I'm too old, but I have racehorses."
The Mail on Sunday revealed that while on the trip, Camilla still kept in touch with her stables, even watching a video of one of her horses giving birth.
Camilla herself added, "Last night I watched on my screen one of the foals being born, which was very exciting."
Camilla's love of horses is something she shared with the late Queen Elizabeth, who was a big lover of horses. But while Camilla has given up horse riding, Queen Elizabeth continued to ride horses well into her 90s.
While King Charles is also an accomplished horse rider, he does not share the same deep passion for the sport that his wife and mother have. Because of this, Camilla has taken over the day-to-day running of the Queen's stables, according to a royal insider.
John Warren, the late Queen's Royal bloodstock and racing advisor, has previously said that it is Camilla rather than Charles who has the greatest passion for horses, and therefore the Queen Consort is now in charge of maintaining the relationships with the late Queen's trainers and overseeing the stables.
He said, "He has always followed it, but it has been his mother's interest so it has been at arm's length. He owns a few horses himself, in particular with the [then] Duchess of Cornwall. She is absolutely besotted by racing."
King Charles was recently gifted his first race horse from the Royal Canadian Mounted Police, who gifted the late Queen Elizabeth eight horses during her reign.
His Majesty was said to be "pleased" as he was gifted the horse named Noble, who was part of 90 public performances. The King may even be seen riding her during public appearances, such as Trooping the Colour.
The horse is the first gifted to King Charles by the Royal Canadian Mounted Police, who gifted Queen Elizabeth with eight horses during her reign. Her Majesty's first horse, Burmese, was gifted to her back in 1969 and she rode the horse at Trooping the Colour for an impressive 18 years.
Noble arrived at the Royal Mews at Buckingham Palace last month, and The Palace said that the new arrival was "settling in well."
Robyn is a celebrity and entertainment journalist and editor with over eight years experience in the industry. As well as contributing regular to woman&home, she also often writes for Woman, Woman's Own, Woman's Weekly and The Sun.