The chic royal who may have inspired Princess Catherine's decision to wear a floral tiara for the coronation
At King Charles' coronation on Saturday, Kate wore a floral headpiece - but was this European royal her inspiration?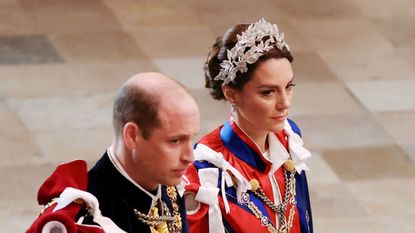 (Image credit: Getty Images)
On the day of the coronation, Kate Middleton wore a floral tiara that is still making headlines almost a week later - but we recently unearthed a vintage picture of a European royal who may have inspired her sartorial decision for the momentous day.
Princess Catherine's coronation outfit was a hot topic, even weeks before the celebration, with folks around the world wondering what Kate was going to be wearing for the historic day.
The Princess ended up wearing a gorgeous Alexander McQueen dress with a royal cape, paired with a diamond, floral tiara that paid respect to King Charles - perfectly fit for a princess, we might say. Princess Charlotte, Kate's daughter, also wore a matching Alexander McQueen dress with a similar floral tiara to match her mom for the special day.
This floral tiara specifically was an explosive point of conversation, with people asking where she got it, how much it costs, and even what her inspiration behind wearing it was.
People had thoughts as to why Kate may have chosen the bejeweled headpiece with one person tweeting, "Kate Middleton decided to copy Lady Mary's wedding tiara! What would the Dowager Countess think? #Coronation".
After seeing this tweet, we had to have a look to see just what this Twitter user was referencing - and we found some photos that definitely seem to point to inspiration for Kate's tiara.
The tiara worn by Princess Mary of Denmark in the above photo isn't from her wedding day per se (her wedding tiara had a veil attached and was shorter in length) - but Princess Mary has sported quite a few tiaras in her day, and we found that this particular one from 2004 was super similar to the one Kate wore on coronation day.
Princess Mary (then Lady Mary) wore this stunning piece in 2004 when she and her now husband Prince Frederik attended the Christiansborg Palace in Copenhagen for a gala.
While Kate Middleton and Princess Mary don't have many interactions on the whole, it's certainly possible that she could have been inspired by the Danish royal - especially seeing as Princess Mary always seems to have impeccable style (we're particularly obsessed with her emerald pants and navy blazer combination while riding a bike in Australia).
The coronation celebration saw many luxurious and enviable outfits from royals and dignitaries all over the globe - sporting a style we're calling 'stealth wealth.'
While Princess Mary opted for a deep purple skirt and blazer, Princess Beatrice wore a hot magenta dress, complete with puffy sleeves and a flattering A-line silhouette. We also loved Queen Letizia of Spain's coronation look, which consisted of a bubblegum pink peplum set.
Madeline Merinuk is woman&home's US lifestyle news writer. She covers celebrity, entertainment, fashion, and beauty news but is also obsessed with internet trends - you can find her reciting trending TikTok sounds out loud at any given time.
After winning multiple student journalism awards for her investigative work, she graduated from Hofstra University in 2021 with a B.A. in Journalism. After graduating, she worked at today.com, the digital site for the Today Show, where she wrote pop culture news and interviewed big-name personalities like Emily Ratajkowski, Haley Lu Richardson, Emma Corrin, and more.
Her personal interests, in no particular order, are: cheese, Joni Mitchell, reading, hot yoga, traveling, having multiple chapsticks in every handbag at all times, and dancing to ABBA songs as if she were in the Mamma Mia movies.