Queen 'doesn't want to be on tenterhooks' while waiting for the 'next nuclear bomb' to drop with Prince Harry and Meghan Markle
The Queen is 'worried' about what her grandson will say next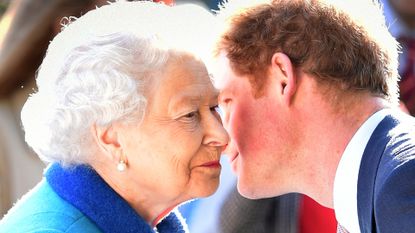 (Image credit: Getty)
The Queen will feel the effects of Prince Harry 'dropping nuclear bombs' as she will 'be on tenterhooks', according to a royal source.
---
When they stepped down as senior royals back in 2020, Prince Harry and Meghan Markle promised that "everything they do will continue to uphold the values of Her Majesty."
However, according to the Sunday Times, a royal source says it is hard to see that what Harry and Meghan are doing "would equate to the values of the Queen, who has never encouraged people to discuss deeply personal family relationships in public."
They quoted a source who is said to know the Queen well as saying, "She doesn't want to be on tenterhooks all the time, waiting to see what the next nuclear bomb will be – that will take its toll."
While a second palace source told the newspaper, "Ultimately, they are bashing the institution that has put them in the position they're in, the longevity of that strategy is not sustainable."
Also, a friend of the Prince of Wales is quoted as saying that Charles is "completely bewildered by why his son, whom he loves deeply, feels this is the way to go about managing family relationships."
This comes after Harry and Meghan are thought to have turned down his offer for them to stay with him at Balmoral.
A royal insider explained, "He hasn't wavered, despite the attacks, which seem to be coming with increased vigour. The Prince of Wales reiterated his invitation for Harry and Meghan, and the whole family if they wished, to come and stay with him this summer while he is at his home on the Balmoral estate.
"He thought it might be a good opportunity for everyone to take stock and relax, but the invitation was declined."
The Duke and Duchess of Sussex are also thought to be 'avoiding' Prince William and Kate Middleton during their UK trip, despite staying at Frogmore Cottage which is a five minute drive from the Cambridge children's new school, Lambrook.
So it seems a royal family reunion definitely isn't on the cards...
Robyn is a celebrity and entertainment journalist and editor with over eight years experience in the industry. As well as contributing regular to woman&home, she also often writes for Woman, Woman's Own, Woman's Weekly and The Sun.