What will Prince Charles be like as a King? Here's why he'll be different to previous monarchs
He will take over the throne from his mother, Queen Elizabeth II.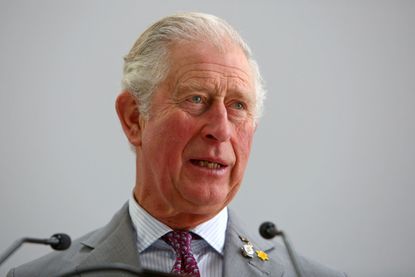 (Image credit: Getty Images)
As of April 2011, Prince Charles surpassed his great-great-grandfather King Edward VII to become the longest serving heir to the British throne - having been first in line to be monarch for over 59 years.
At 71 years old, the Queen's eldest son has been preparing for his upcoming role as King for over 65 years, with his mother having been made monarch when he was just four years old. He was made Prince of Wales at the age of 21, in 1969, and since that day has likely been anticipating his eventual step up to King.
Charles will immediately become King when Queen Elizabeth II dies, before being coronated a few months after. But what will Prince Charles be like as King, when the day finally comes?
We took a look back at how Charles has conducted his royal duties thus far - and how that might hint at a very different kind of monarch when he takes the throne...
Will Charles be as outspoken as he has been as the Prince of Wales, when he is King?
Prince Charles has arguably redefined the idea of a royal during his time as the Prince of Wales, having regularly been outspoken about the issues he is passionate about. And it's an attitude he's passed on to his sons Prince William and Prince Harry, who are vocal about making a change.
Charles has always been vocal on the topic of climate change, making his very first speech on the issue 50 years ago, back in 1970 - when he was just 22 years old.
In a recent interview, he confessed that people considered him to be 'rather dotty' for caring about such things back then, although his words prove he was years ahead of the general public.
And he's continued to be outspoken on the issue, to try and bring about change. During a speech last month, he told the audience, "We really do have to pull our fingers out now, because the theory is we have got this decade left [to save the planet]."
Prince Charles's tendency to be open and honest on the causes close to his heart is unlike the attitude of a typical, historical monarch. His mother, Queen Elizabeth II has famously stayed very discreet and quiet on any mildly controversial issues. Throughout her 68-year reign, the Queen has remained impartial on anything topical or political.
But the way in which Charles has approached his role as heir apparent suggest that he could take a different route, and redefine his new version of the monarchy - speaking out on issues he doesn't agree with.
Will he be named King Charles III?
Charles's mother, Queen Elizabeth II, was actually unusual in keeping her birth name as her regnal (reigning) name.
Monarchs before her famously changed their names when they became King or Queen. The Queen's own father, King George VI, was actually christened Albert, but didn't use the name as King.Her grandfather, Edward VII, was also born as Albert, but again, did not use the name during his reign.
So will Charles continue to use his real name?
Carolyn Harris, PhD, historian and author of Raising Royalty: 1000 Years of Royal Parenting, explained that he has been known by the public for so long as Charles that he may be inclined to continue using his birth name as King.
She said, "The Prince of Wales has been known by the public as Prince Charles for his whole life, so it is certainly possible that he will retain Charles as his regnal name as King."
Will Camilla be Queen when Charles is King?
It's a question that's been debated for years, due to Camilla's rather rocky entrance into the royal family and public life. So will Camilla be known as Queen when her husband takes to the throne?
It seems the palace has finally confirmed that she will in fact be called Princess Consort, rather than Queen Consort.
Many royal watchers have long speculated that Camilla will be called Princess Consort when Charles is King, due to her current use of a secondary title.
Upon their marriage, it was announced that she would use the title Duchess of Cornwall, rather than the corresponding title to the Prince of Wales - Princess of Wales - out of respect for Princess Diana, who was well known as Princess of Wales.
But the Duchess of Cornwall relates to one of Charles secondary titles - Duke of Cornwall. As a result, many believe that using the same method of styling when Charles is King, using the secondary title, makes a lot of sense.
Others have suggested that she could possibly still be made Queen Consort, given how public opinion towards the Duchess has changed as time has passed.
Carolyn Harris shared her opinion, saying, "The longer the couple are married before Charles's accession to the throne, and the greater Camilla's public profile, the more likely she is to be formally styled Queen when Charles becomes King."
But it seems we won't know for sure until the time of Prince Charles' coronation.
How else might Prince Charles modernise the monarchy?
The Prince of Wales has long been reported to openly desire a 'slimmed-down' monarchy. So it was always thought that this would be a part of his plan when he takes to the throne.
However, over the last year it seems that this idea has been forced into motion on its own, given Prince Harry and Meghan's departure from the royal family, and Prince Andrew's stepping down.
So while Charles may have had a vision for who will be supporting him as monarch, it's likely that this is in somewhat of a state of flux following the events of the past year.
But - with Charles as King, it's likely that he will still be keen to maintain only a small circle of senior royals - so we can probably expect to see a continuation of Prince William and Catherine's busy schedule of royal duties, and less from the likes of Princess Eugenie and Princess Beatrice.
MORE:Why Sophie Wessex could be the perfect choice to step up following Harry and Meghan's departure from the royal family (opens in new tab)
Prince Charles' reign will also take begin during a very different time to his mother's.
And for that reason, the future monarch has been clear about how he'll be adjusting some aspects of the role, to change with the times.
Back in 2015, he confirmed that he will be keeping the traditional monarch title of 'Defender of the Faith', but will be "ensuring that other people's faiths can also be practised."
The 'Defender of the Faith' title reflects the soverign's position as the Head of the Church of England - but many have noted that it really only takes into account one religion, rather than the multi-faith society that England is nowadays.
As such, royal watchers speculated that Charles could drop the 'the' from the title. And while he has chosen not to do that, he has promised to take into account all faiths. So could we see this in practise at his coronation? We'll have to wait and see...
Amy Hunt is an experienced digital journalist specialising in homes, interiors and hobbies. She began her career working as the features assistant at woman&home magazine, before moving over to the digital side of the brand where she eventually became the Lifestyle Editor up until January 2022. Amy won the Digital Journalist of the Year award at the AOP Awards in 2019 for her work on womanandhome.com.