Why Sophie Wessex could be the perfect choice to step up following Harry and Meghan's departure from the royal family
Could she be just what the royal family needs?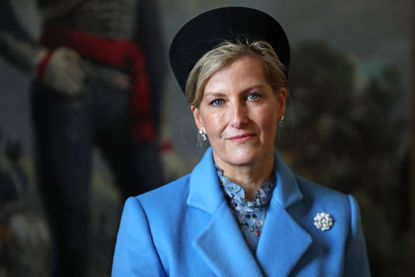 (Image credit: Getty Images)
Following the news of Prince Harry and Meghan Markle's departure from the royal family, rumours are flying that Sophie, Countess of Wessex, has been singled out by the palace to help ease the burden of royal duties on the rest of the family.
Now that the Duke and Duchess of Sussex have officially left public life behind, the many official engagements that the family are required to carry out have now been left to just five main people - the Queen herself, Prince Charles and Camilla, and the Duke and Duchess of Cambridge.
Of course, less prominent royals such as Princess Anne regularly complete royal duties too.
But with the new absence of Harry and Meghan, it's no surprise that reports suggest the palace are looking for other members of the family to pick up a few more responsibilities.
And arguably, it's no surprise that Prince Edward's wife, the Countess of Wessex, has become a top choice to help do exactly that.
It's appearing more and more likely that the Countess of Wessex will continue to step up her royal duties in the Duke and Duchess of Sussex's absence, with the Royal Family Instagram recently posting videos of Sophie during a particularly busy day of engagements.
A day in the life of Sophie, Countess of Wessex
Naming the Instagram stories, 'A Day with Sophie', they followed the Countess as she attended various meetings and events in London.
First up for Sophie was an engagement at Central School of Ballet, of which she is patron. At the visit she unveiled a plaque for the new dance facilities - which are named after her.
The videos then showed Sophie posing at St. James's Palace, posing for a portrait for St John's ambulance, a charity for which she is Grand President.
Later, Sophie attended more meetings, before, in the evening, heading to the world premiere of a new film, Sulphur and White. A busy day indeed!
The stories suggest the royal family are certainly putting an increased focus on the Countess of Wessex in Harry and Meghan's absence - and her busy day suggest she's more than happy to up her royal duties.
Why might Sophie Wessex be a brilliant choice to step up royal duties in Harry and Meghan's place?
She's one of the Queen's closest confidantes
It's regularly been reported that the Queen and her daughter-in-law Sophie Wessex are very close, and she is arguably a logical, safe choice, given her long and happy marriage to the monarch's youngest son.
It's been said that ever since Prince Edward proposed to Sophie (formerly Sophie Rhys-Jones), she and the Queen have got on very well.
In fact, the monarch allegedly even allowed Sophie to use apartments at Buckingham Palace before she and Edward even got engaged. The newlyweds also spent their honeymoon at Balmoral Castle - the Queen's Scottish holiday home, showing how close the couple are to the Queen.
The Countess is also often spotted by the side of the Queen on the way to church at Sandringham during the festive period.
Following Sophie and Edward's marriage in 1999, the couple moved to Bagshot Park (opens in new tab), in Surrey, which is just a short, 20-minute drive from the Queen's main residence of Windsor Castle.
In the past, the Countess of Wessex has confessed that their close proximity to the Queen mean that she and her family see her very often, and get to spend a lot of quality time together. In an interview with Sky News back in 2015, she said, "We are a lot more fortunate because we live so much closer to the Queen, so when she spends a lot of time at Windsor, weekends, you know our children are more fortunate, because they can go out and have tea with her on a regular basis.
"And Louise goes over there riding, so she sees quite a lot of us."
Of her children, she also explained that they are incredibly close to their grandmother. Sophie said, "The adore her. They adore both of them actually.
"She takes a genuine interest in them and loves to hear what they have to say about activities that they've been doing. And of course if they share an activity with her, such as particularly Louise with her riding."
Sophie is also said to be very popular with her brothers and sister-in-law, specifically Prince Charles. So she could well be a brilliant choice for Charles' vision of a more slimmed-down monarchy when he becomes King.
So there's every chance that both the Queen and Charles would be delighted for Sophie to take on more duties, now that Harry and Meghan will no longer be doing so.
Sophie Wessexes strong charity work and patronages
Before her marriage, and for a few years after, Sophie Wessex worked in public relations, and even had her own successful PR firm.
But in 2002, Sophie took up the role as a full-time working member of the royal family, and since then, has accumulated over 70 patronages and associations - so it's likely she could take on a few more if asked.
The work that the Countess of Wessex has done for charities since then, both on her own merit, and on behalf of the Queen, has been hugely valuable.So Harry and Meghan's stepping down could be a brilliant chance for her to expand on all of the great work she's done so far.
MORE:How to get the Countess of Wessex's style on the high street (opens in new tab)
And in fact, the Countess has many charitable interests that align with Harry and Meghan's royal interests - so it would make a lot of sense if she were to step up and fill in for the gaps that the couple have left behind.
Sophie has long had an interest in women's equality, and on International Women's Day in 2019, the Countess publicly announced her commitment to champion the Women, Peace and Security (WPS) agenda and the UK's Preventing Sexual Violence in Conflict Initiative (PSVI).
She's taken on many royal tours abroad to bring awareness to the subject of gender-based violence and women's role in peacebuilding too, most recently in Sierra Leone, where she was just last week, and Kosovo in 2019. In Sierra Leone, she also helped shine a light on the need for access to education for girls and women in the developing world, visiting technical schools there. This is a subject the Duchess of Sussex had begun to build upon in her royal role, so it's likely a gap that Sophie could continue to fill in an official, royal capacity, now that Meghan is no longer an HRH.
The Countess of Wessex has also taken on many military appointments since become a member of the royal family - for example, she is Royal Colonel of 5th Battalion The Rifles, and is also Colonel-in-Chief of the Corps of Army Music, and of Queen Alexandra's Royal Army Nursing Corps.
It's here that she could potentially take on some of the gaps left by Prince Harry, who has had to resign from all of his military appointments following his step back from the royal family.
Prince Edward's wife has also displayed a keen interest in ensuring opportunities for young people, and using fashion to drive change and encourage sustainability.She and Edward set up the Wessex Youth Trust in 1999 in order to help support charities that provide chances for young people and children. And in 2013, she became the first ever Patron of the London College of Fashion, to help champion the College's commitment to 'Better Lives', a system whereby the college uses fashion to make change in the world.
Of course, these interests of Sophie's tie in well with the work that Harry and Meghan had made clear they were interested in after their May 2018 marriage, so her contribution could be a valuable way to ensure the royal family stay involved in issues like these.
Sophie Wessex has also been a key player at official royal ceremonies and events recently - and could likely up her involvement in these.
For example, just recently, she attended a reception for the UK-Africa investment summit at Buckingham Palace, alongside Duchess Catherine, Prince William and Princess Anne.
When Harry and Meghan were still working members of the royal family, they would probably have been next in line to attend official royal events such as these.
But now that they have taken a step back, with Sophie's reputation and popularity within the family, she is a logical next choice.
Of course, Sophie Wessex 'stepping up' is - at the moment - purely speculation, with the palace not yet having confirmed whether or not she will be taking on more royal duties.
But we reckon she'd be brilliant if she were to choose to step into a larger working role within the family!
Amy Hunt is an experienced digital journalist specialising in homes, interiors and hobbies. She began her career working as the features assistant at woman&home magazine, before moving over to the digital side of the brand where she eventually became the Lifestyle Editor up until January 2022. Amy won the Digital Journalist of the Year award at the AOP Awards in 2019 for her work on womanandhome.com.