The Queen's royal dresser uses this alcoholic drink to clean the monarch's diamonds
We didn't expect this!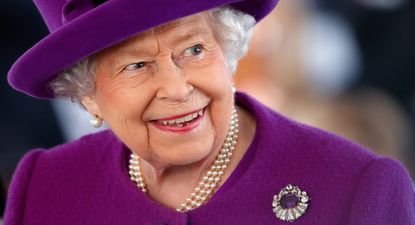 (Image credit: Getty Images)
The Queen is always immaculately dressed, but a palace insider has revealed just how she keeps her diamonds sparkling.
The Queen's royal dresser, Angela Kelly, has explained that she uses a surprising ingredient to keep her jewellery in tip-top condition.
In her memoir titled The Other Side of the Coin: The Queen, The Dresser and the Wardrobe, Angela says the secret behind Queen Elizabeth II's shimmering jewels is a certain alcoholic spirit - the Queen's favourite drink, gin!
She writes, 'A little gin and water come in handy to give the diamonds extra sparkle.Just don't tell the jeweller!'
Angela says part of her job is to make sure the monarch's jewels (opens in new tab) and tiaras are in the best condition.But it seems she still calls on the professionals to give the stones a thorough clean.
She says, 'The Queen's jeweller will give the stones a deep clean when necessary, so for me it's just a matter of a quick polish and they're sparkling once more.'
So it seems the Queen is a big fan of gin, in more ways than one!Her cousin, Margaret Rhodes, once revealed the monarch enjoys a gin cocktail every day before lunch.
Angela also added that 'a drop of washing-up liquid and water will get rid of any hairspray stains,'when it comes to getting jewellery ready for special occasions.
Having worked for the Queen since 1994, Angela knows all the nifty tricks which go into her looks.
The book, which was published two weeks ago, details a number of royal wardrobe secrets
Angela says that she regularly wears in the Queen's shoes for her, too.In the book, she writes, 'The Queen has very little time to herself and not time to wear in her own shoes, and as we share the same shoe size it makes the most sense this way.'
Lizzie Thomson is a regular contributor to woman&home, and also contributes to Metro.co.uk, Ideal Home, Culture Trip, and Evening Standard, covering all things lifestyle.